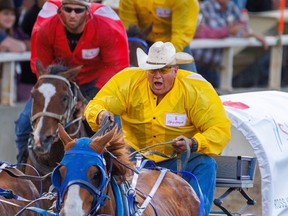 Article content
Fresh off of winning the 2022 Ponoka Stampede Championship, Ross Knight now has a bigger goal in mind.
Article content
The newly branded Cowboys Rangeland Derby kicked off with the first of 10 nights of chuckwagon racing on Friday and Knight finished third in the fifth heat in a time of 1:15.07 aboard his SummitESP outfit.
"It's really good to be back in Calgary," said Knight of St. Walburg, Sask., who would have liked to celebrate his 56th birthday with a faster time.
Article content
He finished a full two seconds behind Night 1 winner Darcy Flad, who guided his Equi Pride wagon to victory in the second heat.
Aboard his Private Sale Financing rig, Doug Irvine won the ninth heat in 1:13.14 to place second on the night. Also in Heat 9, Layne MacGillivray (Spray Lake Sawmills) finished 27/100ths of a second behind Irvine and currently sits in third spot overall.
Article content
Although he didn't accomplish his goal of finishing in the top 10 on opening night, Knight has confidence that he can make up time over the next eight nights to earn one of the three final-heat spots on Championship Sunday on July 17. The top three in the aggregate after Saturday, July 16, will go into that championship final heat, and the winner of that finale will be declared the 2022 Calgary Stampede Rangeland Derby Champion.
"I think we've got as good a shot as everybody else," said Knight in regards to winning the popular spectacle that returned to the GMC Stadium on the Stampede grounds for the first time since 2019. "There's 27 wagons. Anybody can win every day. I think we have a really good shot, but she's going to be tough. A penalty can make a difference, just a bad turn can make a difference and the races are really tight."
Article content
In previous years, each of the nine nightly heats featured four wagons racing around the barrels in the infield a figure-eight formation before traversing the track to see who could cross the finish line in the fastest time.
As a safety measure, this year's show kicked off with just three outfits racing head-to-head against each other in each heat.
"There'll be more room out there with only three wagons," said Knight, who raced last season on the Canadian Professional Chuckwagon Association circuit where most shows featured three wagons per heat. "This year they're all four wagons.
Last Sunday in Ponoka, Knight sped to a time of 1:20.50 to edge out Jordie Fike by 5/100ths of a second to win the $50,000 Tommy Dorchester Championship final heat. Obrey Motowylo finished third, while current World Professional Chuckwagon Association standings leader Rae Croteau Jr. wasn't far behind in fourth.
Article content
"Some days you've just got luck on your side," said Knight, who returned to compete on the WPCA tour this season following his stint with the CPCA in 2021. "It's one of the biggest shows that we go to and one of the hardest ones to win, other than Calgary.
"I've got some new horses, so they're actually really running, so we've been having to go a little farther around all the time. We were two-wide to the second corner and then they ran three-wide the rest of the way. We just beat Jordie and Obrey out."
Not bad for the veteran reinsman, who qualified for one of two wild-card spots (the other went to Croteau) to compete in Ponoka.
"The WPCA changed their format this year and they kept 34 members from last year," Knight explained. "We ran in the CPCA last year, so we had to come back on a permit format. There was 10 permit drivers in Grande Prairie (at the outset of the season) and five of them went back to the CPCA and there were five fighting for the two spots to get into Ponoka."
Article content
Following his impressive result, Knight moved up to 11th in the WPCA standings and he thinks he can climb even farther.
"We've been having a really good year," Knight said. "Our horses are working really well and the new horses have all really stepped up and are doing good."
What's making this Stampede even more special for Knight is that his son Casey took time off from his job as a policeman in Saskatoon to make his return as an outrider in Calgary.
"This'll be his first show he'll be back riding at," said Knight, whose son will celebrate his 30th birthday on Wednesday. "He outrode for a bunch of years and he had to go get a career."
CALGARY STAMPEDE
RANGELAND DERBY
Friday — Night 1
* Driver Sponsor Final time Faults $$$
1. Darcy Flad Equi Pride 1:13.07 0 $6,000
Article content
2. Doug Irvine Private Sale Financing 1:13.14 0 $5,200
3. Layne MacGillivray Spray Lake Sawmills 1:13.41 0 $4,600
4. Chanse Vigen Philip Millar Lawyers PC 1:13.45 0 $4,200
5. Todd Baptiste Sore Oilfield Services 1:13.58 0 $3,900
6. Vern Nolin McCaws Drilling & Blasting Ltd. 1:13.98 0 $3.600
7. Chance Bensmiller Flynn and Partners 1:13.98 0 $3,500
8. Codey McCurrach Western RV Group/Simco Mgmt. 1:14.15 0 $3,400
9. Obrey Motowylo Shel-Bar Electronic Industries 1:14.42 0 $3,300
10. Kurt Bensmiller Versatile Energy Services 1:14.47 0 $3,200
11. Kirk Sutherland Silverhill Acura 1:14.53 0 $3,100
12. Mark Sutherland Cowboys Casino 1:14.54 0 $3,000
13. Dallas Dyck Friends of the Balance Foundation 1:14.61 0 $2,900
Article content
14. Chad Fike Shaw GMC 1:14.62 0 $2,900
15. Jason Glass Birchcliff Energy 1:14.73 0 $2,700
16. Cody Ridsdale Dream Catcher Log Homes 1:14.92 0 $2,700
17. Troy Dorchester Cam Clark Ford 1:15.02 0 $2,500
18. Ross Knight SummitESP 1:15.07 0 $2,500
19. Kris Flanagan Arminox 1:15.19 0 $2,500
20. Evan Salmond MobSquad 1:15.25 0 $2,500
21. Danny Ringuette Genesis Aviation 1:15.40 0 $2,500
22. Mitch Sutherland J Vair Anderson 1:15.64 0 $2,500
23. Roger Moore National Motor Coach 1:16.04 0 $2,500
24. Kris Molle Visit Lethbridge.com 1:16.91 2 $2,500
25. Jordie Fike Kazen Auto Group (Summit) 1:17.40 2 $2,500
26. Troy Flad Quick and Quality Projects Ltd. 1:17.74 0 $2,500
27. Chad Harden AK Casing & Tubing 1:18.19 0 $2,500