Key events:
As the New South Wales floods move north, parts of the Hunter are bracing for wild weather while others are crossing their fingers they remain in the safe zone.
Maurice Collison is the mayor of the Upper Hunter Shire, a council covering Murrurundi, Scone, Aberdeen and Merriwa. They've been saved from rainfall this time around, with all eyes on the Lower Hunter.
Head south-east of Merriwa, and you'll hit the New England highway, currently shut off at Singleton due to rising flood waters.
The BoM has warned major flooding is likely at Singleton from this afternoon, with river levels forecast to be well above the March 2022 flood level of 13.15 metres.
"We're lucky we're on the edge of it," Collison said.
In the whole shire we only have one road out west that's closed … the rest are all open. We're very very lucky, but our neighbours aren't.

We've offered assistance if that's needed. We certainly wish them all the best in getting over this flood event, we've had our fair share over the years.

Water is a very dangerous thing … we have to be cautious and take orders from SES and the police.
The Port Authority of NSW has just tweeted this picture of the cargo ship Portland Bay arriving in safe port under tow after two nights stranded off the coast of Sydney.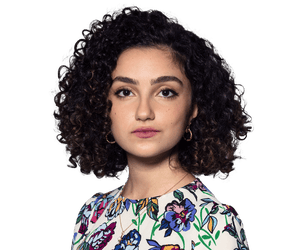 Rafqa Touma
Universities chief defends call for funding increase
Just circling back to the National Press Club for a minute, addressing a question challenging how Universities Australia (UA) can "justify asking for more money" if cases of universities running a surplus "are so huge", UA chair John Dewar said "one or two outliers don't represent a whole sector".
He said:
2022 is the toughest year because we have the fewest international students in Australia since the start of the pandemic, and we could forecast that.

I think that this year, a lot of vice-chancellors are saying they will be reporting deficits.
To prepare for "the worst year", Dewar explained, "a lot of universities may have generated more surplus revenue" to cover costs.
Macquarie Bank passes on interest rate rise
Macquarie Bank is next off the ranks to pass on the 0.5% rate increase, announcing it'll be passed on from 14 July.
For savers, the interest rate for transaction accounts will be up to 1.75% up to $250,000 from the same date. The six-month term deposit interest rate will increase to 2.4% and one year to 3.25%, both for balances up to $1m.
Ardern says NZ-Australia relations in 'reset'
Jacinda Ardern says New Zealand is seeing the "reset" of its relationship with Australia that she had hoped for, and the Albanese administration "fundamentally represents a government that takes a different view to Kiwis in Australia and the contribution they make".
The NZ prime minister was speaking to reporters about Australia's decision to make immediate flood assistance available to New Zealand residents living in Australia. Asked if that decision would have been possible under former PM Scott Morrison, she said: "No – in fact, we did explicitly see the opposite."
This for me is a sign of progress. It's a sign that there is recognition of the contribution that New Zealanders have long made to Australia – and now we need to continue that progress. It's a sign, I hope, of the relationship experiencing that, you know, that reset that we had hoped for.
The lack of support, protections or access to government benefits for New Zealanders who settle long-term in Australia has long been a point of tension between the two countries – flaring up, in particular, when Australia opted to deport long-term residents to New Zealand on criminal record or bad character grounds, under the "501" deportation policy.
Ardern said:
We've consistently raised the issue of New Zealanders rights here in Australia and consistently made the point that New Zealanders are Australia's best migrants in terms of the contribution that they make to the tax take here and the economy.

I see this as progress … And we'll be working to continue to see progress. It will take some time, we recognise that, but this is emblematic, I think, of the steep change we're seeing in the relationship.
Ardern is on her second visit to Australia since Albanese took office, in what many regard as a sign of warming relations between the two countries.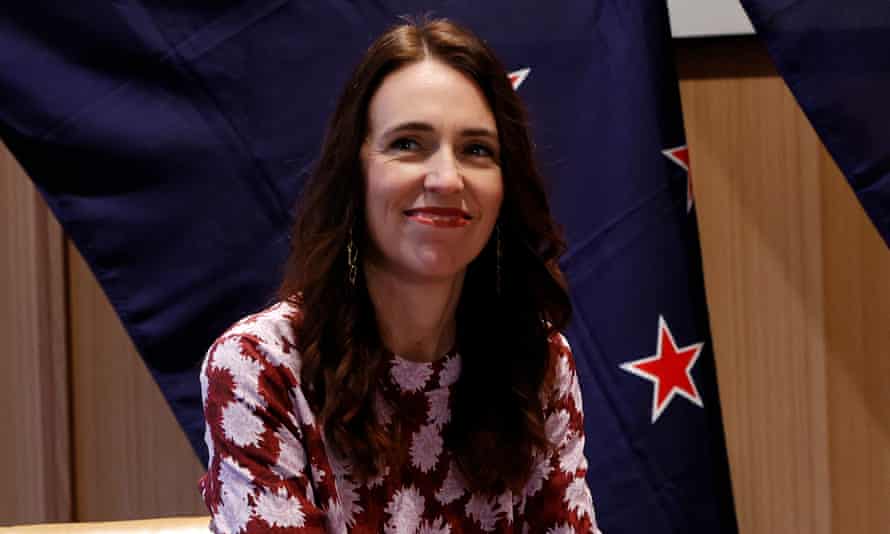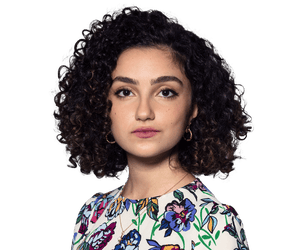 Rafqa Touma
Universities chief calls for more investment
John Dewar, the Universities Australia chair, acknowledged "constraints the government faces fiscally" in answering a question on whether the Albanese government is "going to listen" to universities' case for greater investment amid aged care, childcare, energy transition and other priorities.
"That is why the case I am making today is based on return for investment," he said following a National Press Club address on Wednesday.
The country faces serious challenges around productivity and skills.
Dewar pointed to a "thorough" revue in the works of the job-ready graduates legislation, introduced under the Morrison government, that "won't happen quickly".
The job-ready graduates reforms to university funding raised university fees for some students studying arts, commerce and law, to fund an expansion of in-demand courses like teaching, nursing, maths, science and engineering.
Dewar also addressed a commitment with the minister for education, Jason Clare, to make progress on the development of a "university accord", adopting "a model that exemplifies the kind of relationship we want with government – one in which we help for return in investment".
The Guardian's deputy picture editor, Blake Sharp-Wiggins, has been in the Hunter capturing the effects in the region, which the SES said had been the focus of flood activity today.
Flood water has inundated farmland as well as homes and roads.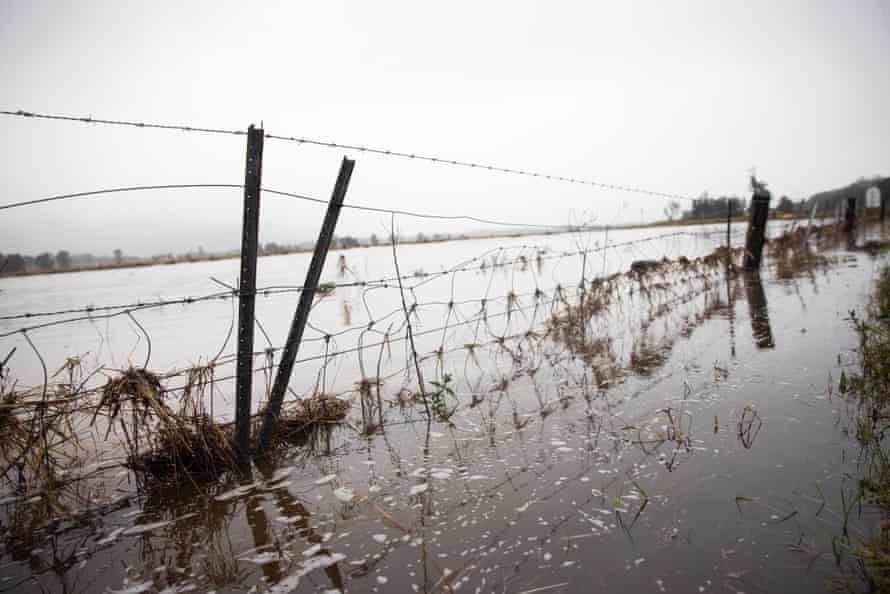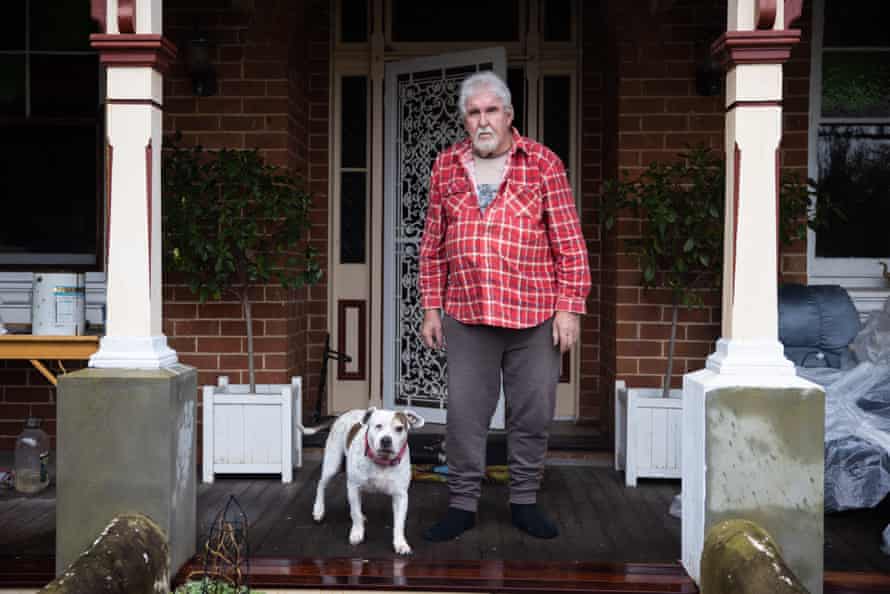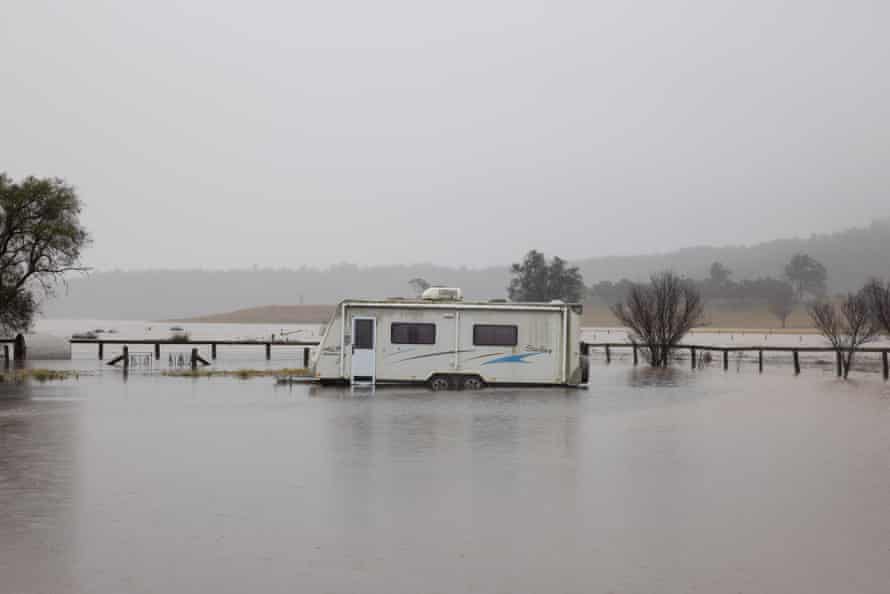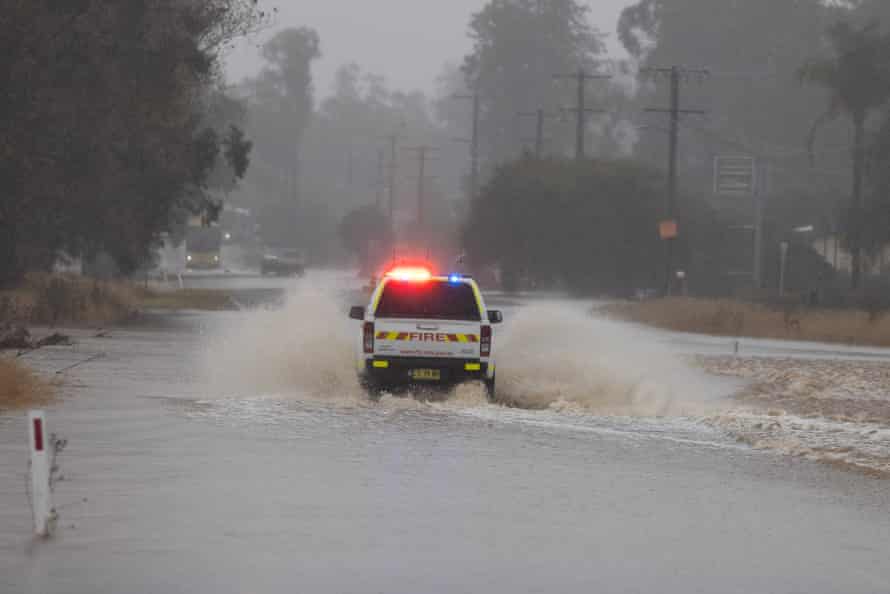 Queensland warned to brace for new Covid wave
Queenslanders are being urged to prepare now for the state's third Covid-19 wave, with hundreds of people already in hospital, AAP reports.
Chief health officer John Gerrard said most of the Covid-19 cases were the BA4 and BA5 subvariants, which could evade both natural and vaccine immunity, so this wave could be bigger than Queensland's largest in January.
He said on Tuesday the peak would come at the end of July or early August, or later, and place even greater pressure on hospitals.
These subvariants can evade immunity whether that be acquired through vaccination or natural infection.
Gerrard urged people who had not had a booster vaccine to get one, particularly a fourth jab for people over the age of 65 as they were more likely to be hospitalised.
He said only half of eligible Queenslanders over the age of 65 had received a second booster, which was "very disturbing".
Gerrard ruled out ordering mask mandates or any other public health measures to deal with the coming wave, but he urged older Queenslanders and immunocompromised people to consider wearing a mask in crowded public places.
These waves are likely to continue off and on every few months for some time to come, it could be years, and if we keep implementing legal mandates every three months and then withdrawing them, I think that will be just divisive, and it's not helpful and I think people will not follow them.

So I am not not at all in favour of mask mandates at this stage.
ANZ passes on rate rise in full
AAP is reporting ANZ has followed the lead of the Commonwealth Bank on Wednesday in passing the rise on in full by increasing interest rates on variable home loan products.
NAB and Westpac have yet to make announcements but are expected to follow suit.
The new rates for Commonwealth Bank customers will come into effect from 15 July, with the standard variable rate for owner-occupied borrowers rising by 0.50% to 5.80% per annum.
Rates on other products have risen to 6.20%, 6.38% and 6.64%.
Meanwhile, ANZ also announced it would increase the bonus interest rate on some of their savings accounts by 0.5%.
ANZ said the 0.5% change would increase monthly repayments by $119 on an average home loan of $450,000 for an owner occupier paying principal and interest.