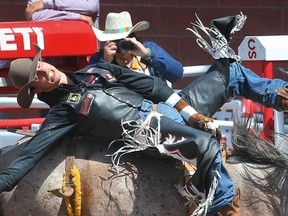 Article content
A Rum Flavoured experience led to a $4,500 payday for Tim O'Connell on Saturday.
Article content
The defending Calgary Stampede bareback champion matched the boozy bucking bronc jump-for-jump and was awarded a score of 86 to tie fellow competitors R.C. Landingham and Clint Laye for top spot on the afternoon.
"Me and him have had a history with each other back when I was younger, kind of in my rookie seasons," said Laye of Rum Flavoured. "He tortured me for a long time. I don't know if I made eight seconds for the three times I got on him altogether."
Article content
A tip from his wife Sami before his ride gave him the confidence to survive the eight-second adrenaline rush in the infield in front of GMC Stadium.
"My wife told me to stay close and be aggressive and I told her that he'd never tied off to somebody who knows what he's doing like me — not in a cocky way or anything — but I'm just a different person than I was seven years ago," said the 31-year-old cowboy from Zwingle, Iowa. "I'm more mature. I understand what buckers feel like and what you need to do on 'em now.
Article content
"I treated him like an eliminator. We had a really good day with each other."
O'Connell has been having lots of great days so far this year as he's won bareback titles at rodeos in Louisville, Kent., Springfield, Mo. and Woodward, Okla.
"Things are just rocking and rolling the way I want them to right now," he said. "I feel good. I'm riding strong.
"Drawing good horses is making me excited to get on these horses. It's all you can ask for. When you're drawing good, feeling good, everything goes good and there's not a bad day in this office."
O'Connell definitely didn't mind sharing top spot on Day 2 of the rodeo with Landingham and Laye.
"I'm so happy for each of these guys," he said with the duo standing within earshot. "This isn't a competition between us. It's a competition between human and animal.
Article content
"This is more of a brotherhood than people understand. We're the last of a dying breed in this event and we take care of our own."
Following two days of action, O'Connoll leads the aggregate standings with $9,000 in earnings, which is just $1,000 more than Landingham has accumulated.
Landingham thrilled the crowd on Saturday with an 86-point ride atop Disco Party.
"I didn't know anything about him," said the 31-year-old bareback rider, who hangs his hat in Hat Creek, Calif. "I talked to some guys from up here that have seen him quite a bit in the bronc riding.
"He kind of fought his head today. I could tell when I was riding him he was throwing his head around. He didn't really know what to do. He's still a younger horse, but he's starting to get it figured out."
Article content
Like O'Connell, Landingham had no qualms sharing the spotlight with his buddies.
"Heck, we only get paid to win, so we're all happy when each of us wins," he said. "Tim's a three-time world champion and Clint Laye's a great friend of mine. I rodeoed with him for a few years. He's mostly up here now. It's good to be back in Canada hanging out with these guys."
Laye, the 2015 Stampede champ, also didn't have a problem with the three-way tie for top spot.
"I like looking out over the chutes and seeing my buddies make good rides," said the 28-year-old cowboy from Cadogan, Alta. "It builds a lot of energy up inside me to see them doing good and making jam-up rides."
Laye's jam-up of a ride was also worth 86 points on Soap Bubbles, a horse on which he had a good scouting report.
"I've seen him tons," he said. "He's just so honest, big and strong. He's a great draw."
After going home empty-handed on Friday, Laye climbed to fourth in the standings thanks to his $4,500 windfall at one of his favourite rodeos.
"I love coming to Calgary — it's sure become a pretty big part of my life in the summer," said Laye, whose ultimate aim is a return trip to the winner's circle on Showdown Sunday. "It'll probably be about like the last time, just kind of be in shock for quite a while before it sinks in."