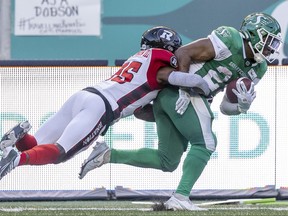 Article content
REGINA – It went from bad to worse Friday night for the Ottawa Redblacks.
Article content
While the Redblacks lost 28-13 to the Roughriders – their fourth straight defeat to start the CFL season – starting quarterback Jeremiah Masoli was helped off the field late in the game after a brutal cheap shot to his legs by Saskatchewan's Garrett Marino.
Minutes later, Redblacks receiver Nate Behar angrily teed off on the Roughriders, in particular Marino, who celebrated his hit below the knee on Masoli
Article content
"I want to make three things abundantly clear," started Behar. "No. 1, there was no excuse for the way we played; we lost, they kicked our asses. No. 2, anybody who supports (Marino) and cheers for that dude when he's running off the field flexing, I hope you find a way to sleep tonight. That same dude who raises s–t in the bottom of a pile, that same dude who went low on one of the best quarterbacks, one of the best dudes in this league – I literally cannot believe what I witnessed. That was the most ridiculous thing I've seen. People scream and cheer for that? I know this is the heartland of Canada, everyone's supposed to be all smiles. But that was ridiculous. And, No. 3, when refs let s–t go for God knows how long, you know what happens. When you let people headbutt and punch for quarters and quarters at a time, you know what the hell is going to happen. I know I'm going to get fined and I don't care.
Article content
"Absolutely, there's a code in football. (Masoli) has two beautiful children he has to support. And you go through his shins and get up flexing and calling him stuff nobody should be calling anybody? That's beyond any code."
Behar said Marino approached a bunch of Redblacks players at dinner Thursday night at The Keg.
"He came up and said some crazy stuff to us, like it's Friday Night Lights in Texas," said Behar. "Grow up, bro. Nobody gives a damn about you. I didn't even know his name until we had to see him on the field and point at his nameplate because he had just injured our star quarterback. He put this in motion at 7:30 p.m. (Thursday). I don't care if we have to play them again. I'm sure they're all going to be yipping and yapping … 'Behar you're this, Behar you're that.' I don't care. It's bulls–t, it's absolutely bulls–t."
Article content
"That was the worst thing to do in football, you got to have respect for the game," said Redlacks linebacker Avery Williams. "It really frustrates me."
The second quarter was a killer with the guys in green outscoring Ottawa 19-3. Once again, the Redblacks struggled to score touchdowns. With one touchdown Friday, the offence now has five on the season – three of those coming in Game No. 3.
While the Redblacks got after Saskatchewan quarterback Cody Fajardo – with five sacks – they also allowed way too many yards on the ground.
After the Riders started on their own 46-yard line, a sack by Praise Martin-Oguike got the ball back for Ottawa – on its 28. But the Redblacks turned the ball over on downs when a third-and-one gamble was stopped short. After a sack by Lorenzo Mauldin IV, Brett Lauther booted a 50-yard field goal. It was 3-0 5:01 into the game.
Article content
The Redblacks put together a drive of their own, highlighted by an elusive 19-yard run by William Powell, a Roughrider during the 2019 and 2021 seasons, before Lewis Ward tied the game with a 20-yard field goal.
Saskatchewan had a drive extended when a coach's challenge got a pass interference penalty called on Avery Williams. On the Ottawa 41, the Riders successfully converted a third-and-two gamble when Jamal Morrow found the edge around the right side and ran for 19 yards. A sack by Tre Hornbuckle forced the Riders to settle for a 28-yard field goal and take a 6-3 lead early in the second quarter.
Saskatchewan extended its lead to 13-3 with a 19-yard touchdown catch by Duke Williams and a convert. With a bit less than three minutes left in the first half, Ward booted a 42-yard field goal. One play later, Frankie Hickson found a big gap as he started right, then cut back to the left side and raced into the end zone for a 63-yard touchdown. The convert attempt was wide left. It was 19-6.
Article content
A pass interference penalty (40 yards) on Ottawa was followed by a 25-yard catch by Kian Schaffer-Baker. It set up an 18-yard field goal, giving the Riders a 22-6 halftime lead.
A bit more than five minutes into the second half, Masoli scrambled around to buy time and found a wide-open Nate Behar for a 22-yard touchdown. With the convert, it was 22-13. But a 12-yard Cody Fajardo touchdown pass to Schaffer-Banker (the two-point convert attempt was unsuccessful) gave the home side a 28-13 lead. Masoli was intercepted by Larry Dean. Saskatchewan took over on its 47-yard line.
After Masoli left the game, the Redblacks had the ball deep in Saskatchewan territory, but Caleb Evans was sacked for a loss on a third-down gamble.
Article content
Up next for the Redblacks is a game in Hamilton – against the 0-4 Tiger-Cats – next Friday.
THE END AROUND: Last-minute lineup change for the Redblacks. Rookie Cyrille Hogan-Saindon made his first career CFL start, replacing left guard Hunter Steward (lower-body injury) …  Nice 41-yard kickoff return by Terry Williams, who slipped out of a few tackles, set the Redblacks up with good field position mid-way through the second quarter … A couple of really nice back-to-back punts in the second quarter by Ottawa's Richie Leone (51 and 52 yards) with the ball angled toward the sideline and the returner forced out of bounds with no gain. His next punt travelled 59 yards, with just a six-yard return … A big hit by Pete Robertson forced Williams, who had been playing well, out of the game late in the third quarter.