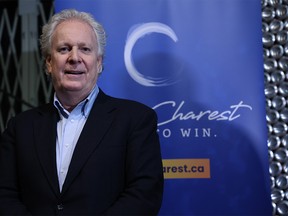 Article content
Jean Charest is in Calgary early, giving us his own version of a Stampede Sneak-a-Peek.
Article content
Charest takes little time before telling your scribbler he wants to do something called the Alberta Accord if he wins the leadership of the federal Conservatives and then beats the Liberals at the ballot box in the next election.
The Alberta Accord is an agreement Charest says he would sit down and start to negotiate with the Alberta premier within 30 days after his government takes office.
He would complete it within a year.
The man who was Quebec premier, served in federal cabinet posts and was leader of the federal PC party, says there would be changes to equalization to make it fair for Alberta.
He would take the part of the Canada pension funds going to Alberta and return it to management in Alberta as the Fair Deal panel suggested, a move Charest says makes sense and "would be an extraordinarily powerful economic tool" for the province.
Article content
It would be an Alberta Pension Plan, like in Quebec.
Charest goes on.
"I want the province to have the ability to have its own police force if it chooses to do so. That's not my decision."
And …
"I'd do an agreement on immigration like the one in Quebec that gives Alberta powers on immigration to recruit its own immigrants according to its own needs."
Charest insists he gets it.
We do briefly chat once again of the bygone days when he and former premier Ralph Klein were pals.
"Albertans feel they've been left out. A lot. A lot. And not recognized for the efforts Albertans have made in the area of the environment or contributing to the economy, without any recognition at all for the fact they've allowed this country and every region to prosper."
Article content
For Charest, he is the individual who can make things happen because he believes he is the one who can win the country and form a national government in Ottawa, "which includes Alberta and puts them in the front row."
How does he crack the tough nut of Alberta, where many Conservatives want Pierre Poilievre to be the party's top gun?
He points to his Alberta Accord.
"This is how we're going to fix it. This is how, from now on, we're going to treat Alberta. Alberta is going to get an Alberta Accord," says Charest.
"We are going to sit down and address the issues Albertans care about and for which they have not been acknowledged and that have been neglected for too long.
"This is going to translate into real substantive change."
Article content
In the candidate's mind, he returns to a familiar selling point.
Charest says it's really simple. He is more electable.
"The clear choice is whether or not we're going to be in opposition or whether we're going to win the next election campaign and form a national government."
He does mention Poilievre, the Conservative MP also running to be party leader, who barnstormed across the country drawing impressive crowds.
Charest says he has the experience. He's "run something." He feels he can bring people together.
"I don't want to be attacking Pierre. I think Pierre would be a very good minister in my government. He has a lot of talent, he's bright and he's a good communicator."
The man is clearly not disturbed by those who claim he's soft. He won't be red meat enough for them. He is not enough of a conservative.
Article content
He's been around the block a few times. He says it doesn't bother him.
The talk turns to Prime Minister Justin Trudeau and the Trudeau Liberals and Ottawa, a faraway place where many of us feel like strangers in a strange land.
"The problem in Ottawa is it's a bubble. It's a media bubble, too."
Don't I know it.
"How many people really understand this country is being run by the provinces? Day to day, the provinces do the heavy-lifting. Health care, education …
"By the way, everything the federal government runs they do not run well. It's broken. This federal government is broken. Passports, airports, immigration."
At this point he's banging the table, speaking of Trudeau.
"He lives in a different world than you and I live in, a different agenda, this left-wing politics and the virtue-signalling."
Article content
Charest keeps hearing Trudeau is big on the environment.
"I think someone has to explain to Mr. Trudeau that press releases do not reduce greenhouse gas emissions.
"And this assumption Ottawa knows best. This bubble in which they think they run the country. They don't run the country.
"I've never seen it so bad."
Charest is ready to get into his Uber ride and head out.
He says he built the last pipeline in Quebec and believes in oil and gas.
He was in a government that did away with the National Energy Program and pushed free trade, a move backed in Alberta and Quebec.
"Why can that not be the same in the future?" asks the candidate, knowing many Conservatives and others are pissed off with the way things are.
"It's not just about the anger. It's what we do about the anger."