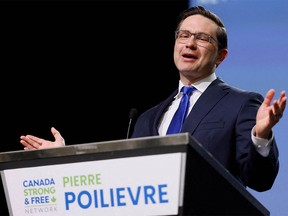 Article content
You wouldn't expect Pierre Poilievre to hold back.
Article content
The MP many say is a shoo-in to be Canada's next Conservative leader come September isn't going to change his tune this late in the game.
As the saying goes, he's going to dance with the ones who brung him, surfing the I'm-as-mad-as-hell-and-I'm-not going-to-take-this-anymore populist wave to the hoped-for big win.
Just mention negative commentary from some in the chattering classes and Poilievre, raised in the south suburbs of Calgary, takes aim with a politically heavy-calibre response.
"They want to protect the status quo that has served them so well. The corporate media has profited mightily from Justin Trudeau's policies," says Poilievre.
There's Global News.
The Conservative leadership race frontrunner says they're owned by a company wanting Prime Minister Justin Trudeau's censorship plans to pass, a law that will see the social media of Canadians subject to government censorship.
Article content
For Poilievre, they back the Trudeau brainwave "because it will allow the government to force people to watch more news online from Global. How do I know that? They've testified to that fact at committee. They've sent their representatives to ask us to pass C-11, the censorship law.
"I'm fighting that law. That's why Global News has become so biased. They want to protect Trudeau.
"They want to support his censorship law that will mean more people are forced to watch the mainstream media content that comes out."
He isn't done.
"There is a very small group of privileged elites who have gotten rich by making everyone else poor. They worry that I'm going to bring more competition to the telecom sector.
"No wonder CTV is so biased. They're owned by Bell, Justin Trudeau's favourite phone company."
Article content
He still isn't done. Let the recorder roll.
"The liberal media will fight me tooth and nail because they want to protect the status quo and campaign for their leader Justin Trudeau."
Poilievre is pumped for the fight.
"I expected it from the very beginning. The political establishment in Ottawa wants us to elect a docile, Liberal Lite leader who they can walk all over and who will do nothing but apologize for everything we believe.
"They know if we do that Trudeau will win the next election in a landslide. Grassroots Canadians want someone who is going to stand up and fight for them. They don't want a pushover or a sellout."
At the Calgary Stampede, the candidate scored a lot of support. From Calgary, he went to northern Alberta and then on to B.C.
Article content
If he becomes the Conservative party leader, and the smart money is betting heavy on him, Poilievre says "what you see is what you get."
"People know what to expect from me. You've known me long enough to know what to expect. There is no grand pivot. I am who I am."
He speaks of Alberta.
"I think Albertans should have the same powers as Quebecers have in their jurisdiction. I will always support Alberta's right to make its own decisions inside a united Canada.
"Albertans are tired of being told to pay up and shut up."
Poilievre has touched a nerve. Where it goes, no one knows. Whether he can beat the Liberals, what he will actually deliver is all for the speculations of the present and the reality in the future.
But the Poilievre talking points push a lot of buttons in a Canadian politics where the scripts are often tightly bound nothing burgers.
Article content
The man slams Trudeau. Many slam Trudeau.
He slams big, bossy government. Many slam big, bossy government.
He points to 30-year-olds living in Mom and Dad's basement and many do.
He points to moms and dads who might lose their house because of rising interest rates and there is even more bread and butter to chew over.
He vows to tackle inflation when establishment seat warmers in their comfy cocoons with big, fat pay cheques and even bigger and fatter perks aren't hurting much from the squeeze on the rest of us who don't have a ticket on the gravy train.
"It's going to be a common-sense conservative party that will get government back to basics," says Poilievre.
And, believe it or not, many folks are putting aside their long-suffering cynicism to give the system one more shot.
"That's what I love most about this experience. I feel like people have hope."