[ad_1]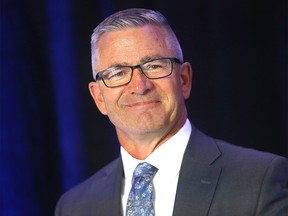 Article content
Politics here is often a circus.
Article content
And politicians all pray the oil roller coaster will take us to the top when they're the ones in charge.
This week, we see the roller coaster. It's a doozy. Puts Vegas to shame.
Budget numbers for the Alberta government come out and oil sure makes them a beauty.
Travis Toews makes sure you know he was the one in charge when it was time for the ride.
It was Toews who was budget boss in the government of Premier Jason Kenney.
It was Toews who was budget boss until he decided he wanted to be UCP leader and Kenney's replacement as premier.
So, budget boss or not, it is Toews who makes sure he is there to take the bows.
The province is in the black. Almost 4 billion bucks in the black.
Say what!
There was supposed to be a sea of red ink, an ocean of ugliness, more than $18 billion in the hole in one year alone.
Article content
How did this turnaround happen?
Was it a miracle?
Did somebody up there want to give Alberta a break?
No, apparently it was Toews and he just happens to be in the running to be the next premier and is backed by many members of the legislature on the Kenney government side.
Toews put out a news release to make sure we connect his dots.
His strong financial stewardship yielded the budget surplus.
He was the architect of the surplus budget.
Alberta is in strong financial health because of his leadership.
He was putting Alberta's fiscal house in order.
He said balanced budgets don't happen by accident.
Then you look at the fine print, recalling bygone days when budgets did get balanced with pain inflicted using sharp scissors and wielding the more-than-occasional axe.
Article content
So what's this?
Who is the real hero?
The province expected to take in $43.7 billion last fiscal year. They thought the oil price would be $46 a barrel, paid in American greenbacks.
They took in $68.3 billion.
Do the math on that, baby.
That's an increase of $24.6 billion. That's billions with a B. A big B.
Toews and his hired hands looked in the crystal ball and it looked like the province would take in $2.9 billion from the oilpatch.
But no fortune teller would have seen $16.2 billion from the oilpatch instead of $2.9 billion.
Now that's one hell of a roller coaster ride!
Expenses were $2.5 billion higher.
Chump change in a world where oil truly is black gold and we're all reminded of that fact every time we pass a gas station.
Article content
And all this is for the financial year wrapping up at the end of this past March.
The budget year we're now in, the sky's the limit!
$15 billion in the black? More?
Apparently, it is Toews who gets the credit.
Oil isn't saying a word, too busy pumping the cash into the Alberta government's bulging treasure chest.
Toews is in Calgary Tuesday.
He's campaigning.
It's his budget and if you've got it, flaunt it and bank on enough people not interested in going beyond the headlines or crunching the numbers.
Toews is selling himself as the steady hand on the wheel who won't spend like crazy and will put money in the Heritage Fund and will start to whittle away at a debt that's at $93 billion.
What you see is what you get.
In his movie, he will be the bean counter who may bore the hell out of you but will be a safe harbour in today's stormy seas.
Article content
Politics is a game of promises and he's promising not to overpromise.
Readers do not flock to this story but, then again, few souls have a shelf of economics textbooks for bedtime reading.
On this day, Jason Nixon, the new budget boss and Kenney's legislature quarterback and a man accustomed to being in the bad books, does the official announcement of the budget happiness.
Nixon is not his rambunctious self. He sounds subdued.
He's responding to Danielle Smith's no-holds-barred approach to Ottawa, a candidate for the UCP leadership some deep thinkers believe could actually be ahead of Toews.
Nixon goes on about how you can attract money to Alberta by offering stability while fighting Ottawa.
"I think we can walk and chew gum at the same time," he says.
Funny thing.
I know a few politicians who not only can't walk and chew gum at the same time, they do a bad job chewing gum.