Article content
Someone had to go after Danielle Smith.
Article content
It had to happen unless the other contenders just wanted to take their ball and go home.
We're told the former Wildrose leader is the clear front-runner in the race to replace Premier Jason Kenney.
We're told she is the front-runner by quite the margin.
The smart money says she could have double the votes of her nearest rival.
Smith's appeal to those with a UCP card or looking to get one is said to be real and big.
She is serving up all political red meat all the time and that's what a lot of those voting for a new UCP leader in October apparently want on their plate.
As loyal readers of this column know, Smith came out of the chute hard and fast.
If elected UCP leader and therefore premier, a Smith-led government would not enforce made-in-Ottawa laws it believes step on this province's rights or the interests of Albertans.
Article content
Some other UCP leadership hopefuls think this Alberta Sovereignty Act is way out of line, some kind of fantasy.
But if they go after Smith, does it just make her more popular among those buying UCP memberships as well as among her current loyalists?
By knocking her, can candidates who want nothing to do with any Smith-style Alberta Sovereignty Act bring enough folks to the UCP to support their cause?
At a steakhouse where they serve actual red meat, Travis Toews is talking over a rib-eye steak.
Toews was the budget boss in the government led by Premier Jason Kenney. A lot of deep thinkers figured he would be at the head of the pack to take over the reins of the UCP.
Toews believes Smith's brainwave is exactly the wrong direction.
Article content
"I believe in additional autonomy for Alberta to create more opportunity and prosperity, not to create chaos and see tens of billions of dollars flee the province."
Chaos?
He says Smith's proposed law "effectively asks Albertans and Alberta businesses to, at times, disregard federal law."
"Quite frankly, there's going to be a lot of Albertans and a lot of Alberta businesses that simply will not outright ignore federal law.
"Can you imagine if you have an economy where some businesses choose to disregard federal law and others choose to follow it, the uncertainty and unpredictability that creates, the unlevel playing field that creates in an economy?"
Toews says it would create "outright chaos" and "instead of investment flying into this province I believe there'd be a great chance we would see investment flee the province."
Article content
Besides, says Toews …
"We live in a country where the rule of law is important. If you don't like the law, you change the law but you don't disregard it. That's a problem."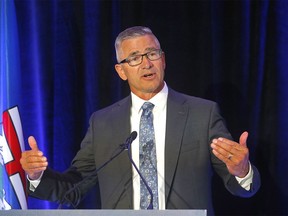 On Twitter, Toews sends individuals to a piece written by Howard Anglin.
Anglin was a bigshot in the Kenney government, is a close friend of the premier and a researcher at Oxford University.
He calls Smith's proposal the Alberta Suicide Act, a sideshow scam.
The learned Anglin brings out his well-thumbed thesaurus.
For him, Smith's idea is baloney, bunk, balderdash and bunkum.
Hooey, hogwash and hokum.
Flim-flam, tommyrot, poppycock and fiddle.
A political and legal hoax. Nuttier than a squirrel turd. Straight out of the camp of cranks and kooks.
Article content
Flagrantly unconstitutional, says Anglin, the legal scholar.
But, he acknowledges, for those who like the idea, that's fine because it would force a constitutional crisis and, for them, remedy injustices done to Alberta.
Anglin, agreeing with Toews, says it would be "an economic disaster."
"Companies would relocate their headquarters out of Alberta faster than they moved from Montreal to Toronto in the 1970s when Quebec separatism was ascendant."
Smith isn't backing down.
"It would seem establishment types forget Alberta has constitutionally protected areas of exclusive jurisdiction," she says.
"We intend to defend these rights and the charter freedoms of Albertans from further federal intrusion.
Article content
"No wonder Ottawa walks all over us if this is the kind of advice Alberta premiers have been receiving."
Smith soldiers on.
On her Facebook page, she tells us about a Thursday night rally at a northeast Calgary hotel and conference centre with a special guest, former Flames star Theo Fleury, fresh from doing the Tucker Carlson show on Fox.
One of Fleury's tweets yesterday is aimed at the World Health Organization.
"Hey, WHO, take off your masks and shove 'em up your ass!!!!"
Other recent tweets.
"The World Economic Forum is a cult" and "The whole green climate emergency is being manufactured so that nobody can travel and they can control your freedom of movement …"
Meanwhile, there was a "wild rumour" the UCP could disqualify Smith from running for leader.
Her camp isn't buying it, believing everyone knows it would lead to the demise of the party.
But if Smith's leadership run is indeed a go, what exactly will be the game plan of UCP leadership candidates to derail Danielle Smith going full steam ahead?