Reviews and recommendations are unbiased and products are independently selected. Postmedia may earn an affiliate commission from purchases made through links on this page.
Article content
Did you know that wild blueberries are called the brain berry? Seriously – this juicy little fruit bursts with goodness, flavour and health.
Article content
According to the Wild Blueberry Association of North America (a trade group of growers and processors from Atlantic Canada, Quebec and Maine), the benefits of blueberries have grown rapidly to include everything from the berry's anti-inflammatory properties to helping with blood pressure issues and – some studies report – helping with memory issues in older adults and children.
Plus a 2021 study found the high intake of anthocyanins (the purple/blue pigments found in blueberries) correlated with a slower age-related decline in cognitive brain performance.
I just like blueberries because they're delicious! A fast and natural snack that's low in calories (about 40 calories in a cup), virtually no fat, a good source of fibre and an excellent source of manganese and vitamin C. They're also rich in antioxidants. Great on their own, on vanilla ice cream or plain yogurt, in a salad or a muffin – it's a given, blueberries are amazing.
Article content
And when blueberry season is over, there's always frozen blueberries (preserved at their peak) to enjoy during fall and winter.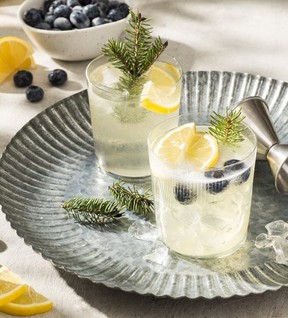 Boreal Beer
Adapted from a recipe courtesy of Ungava Ginger Gin; ungavagin.com
In a Highball glass with ice, pour in 1-½ oz. of favourite gin steeped in a small cube of ginger for 15 minutes. Remove ginger and add 1/2 oz. lemon juice. Top off glass with ginger beer or ginger ale. Add 2  Tbsp. frozen blueberries and lemon wheel. Serves 1.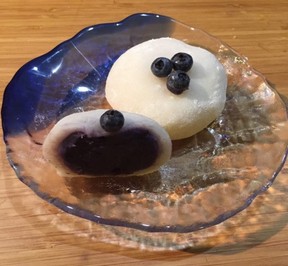 Wild Blueberry Daifuku Mochi
Recipe courtesy www.wildblueberryassociation.ca.
1 cup wild blueberries
1 cup lima beans
1/2 cup brown rice syrup
1/2 cup cane sugar
1 tsp. salt
Dough:
1-1/2 cups glutinous rice flour
3/4 cup cane sugar
1/2 cup water
Wash and soak beans  for 12 hours. Strip off skins. Place beans in a pot with enough cold water, bring it to a boil in moderate heat. When it starts boiling, add 3/4 cup of cold water. Again, bring it to a boil, and again, add another 3/4 cup cold water. Let the beans cook in moderate heat for about 25 minutes, and discard any foam. Strain the beans twice with a colander lined with a cheese cloth.
Article content
Add brown rice syrup, sugar, and salt. Return pot to moderate heat. Blend beans with a hand blender to make a smooth paste; stir paste constantly. Add wild blueberries.
Dough: Mix rice flour, sugar and water in a bowl. Transfer the paste to a cloth (about 30 minutes). Transfer hot mochi onto a surface dusted with potato starch, and let it cool. Cut paste into very small pieces, about 1/4 cup each. Brush off excess starch from each piece. Flatten each piece with your hands into a thin circle. Carefully use each circle to wrap a ball of bean paste and pinch it to close.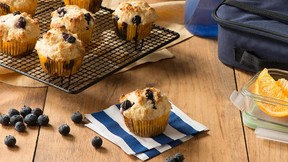 Lemon and Blueberry Cottage Cheese Muffins
Cottage cheese makes these classic muffins super moist and tender. Recipe courtesy eggs.ca. Makes 12 muffins.
Article content
2 cups all-purpose flour
½ cup granulated sugar
2 tsp. baking powder
½ tsp. baking soda
½ tsp. salt
Pinch ground nutmeg
2 eggs
1 cup cottage cheese
1/3 cup unsalted butter, melted
1 tsp. lemon zest
3 Tbsp. lemon juice
1 tsp. vanilla extract
1 cup blueberries
Preheat oven to 400°F. Line 12 muffin cups with paper liners. In large bowl, whisk together flour, sugar, baking powder, baking soda, salt and nutmeg. Set aside.
In separate bowl, whisk together eggs, cottage cheese, butter, lemon zest, lemon juice and vanilla.
Stir egg mixture into flour mixture just until moistened; fold in blueberries. Divide batter evenly among prepared muffin cups. Bake for 20 to 22 minutes or until muffins are golden brown and tops spring back when lightly pressed. Place pan on rack; let cool.
Article content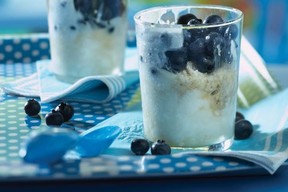 Small Blueberry Skyscrapers
Delightful, nutritious and delicious; adapted from a recipe courtesy dairyfarmersofcanada.ca. Serves 4.
1/3 cup regular instant rolled oats uncooked
3/4 cup water
1/4 cup 2% ricotta cheese
1/4 cup Quark cheese
4 tsp. maple syrup
1/4 tsp. vanilla
1 cup fresh blueberries
Add 3/4 cup water to 1/3 cup rolled oats. Cook oatmeal in the microwave for 2 minutes or until cooked. Refrigerate.
Place 1 Tbsp. ricotta cheese and 1 Tbsp. Quark cheese in the bottom of four transparent glasses.
Measure 1 tsp. maple syrup and pour into each glass. Add 1 or 2 drops vanilla into a small spoon, then pour into each glass. Using a small spoon, thoroughly mix all the ingredients. Measure 2 Tbsp. of oatmeal and place on top of cheese mixture in each glass. Spread oatmeal to cover cheese mixture. Add 1/4 cup blueberries on top of oatmeal.