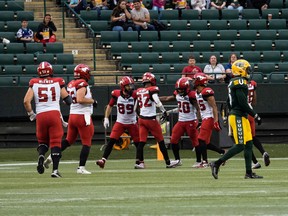 Article content
EDMONTON — The only thing that could stop the Calgary Stampeders was the rain.
Article content
On a night where stormy weather caused a one-hour, four-minute delay at Commonwealth Stadium, the Stamps (4-0) dominated the hapless Edmonton Elks (1-4) en route to a 49-6 victory in which the scoreline somehow didn't paint the whole picture of just how lopsided a game it was.
The Stampeders have been good this year.
Article content
Thursday night, though, was something different.
It might have taken a little while for them to get going, but once they did there was nothing the Elks could do to stop them.
The Stamps scored three touchdowns on offence.
They scored on defence.
They scored on special teams.
Essentially, the Stampeders scored at will.
"It's nice not to have to do the big comeback," said Stamps QB Bo Levi Mitchell, referring to their first three games of the season in which they trailed at halftime. "Excited that all three phases showed up, I still didn't think we had the hottest start, we had things there and just didn't execute. I thought the defence played well early, it's good to get ahead but not only that, don't let a team come back. Put the foot on the neck and finish the job."
Article content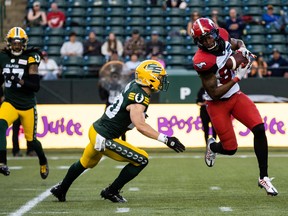 The Stamps were one of the league's three remaining undefeated teams heading into Thursday's game, but hadn't looked convincing for all four quarters of any of their wins. It was understandable if most experts had them ranked slightly below the B.C. Lions and Winnipeg Blue Bombers, who face off this weekend in Vancouver.
There can be no doubts anymore. The Stampeders made a statement on Thursday night.
Bo Levi Mitchell completed 17-of-22 passes for 279 yards and two touchdowns, including a game-breaking 89-yarder to Malik Henry.
Ka'Deem Carey ran the ball for 104 yards.
By game's end, Mitchell had the most passing yards (1,112) of any quarterback in the CFL this season. Carey had the most rushing yards (279) in the league and Henry was tops around the country in receiving yards (388).
Article content
"We just want to play good football, and once again we did," said Stamps head coach Dave Dickenson. "We had some turnovers, we want to tighten those things up, but I think we're balanced. We have a good running back, good running game, not just Ka'Deem. I think we have playmakers on all sides of the football. If we can do that, we'll stay explosive."
If you were to pick a player of the game, though, it might have been Cameron Judge.
Judge finished with five defensive tackles, a sack and two fumble recoveries, one of which he ran to the end zone for a 63-yard touchdown. He was the star of a destructive defensive performance by the Stamps, who got sacks from Mike Rose, TJ Rayam and Isaac Adeyemi-Berglund, while also getting interceptions from Trumaine Washington and Tre Roberson.
Article content
Roberson's late-game pick brought the team's season total to seven, passing their total of six from the entirety of last year's 14-game season.
"It was pretty enjoyable out there, good time," Judge said. "We preach getting the ball and we were able to do that tonight."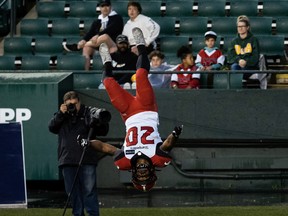 The Elks had some bad injury luck, to be sure, with quarterback Tre Ford leaving the game in the first quarter with a shoulder injury and then third-stringer Kai Locksley being forced out in the fourth by what looked to be something similar.
That made life difficult for the Elks, but nothing about Thursday's game suggested that a different quarterback would have made a difference. Whether it was Ford, Locksley or Nick Arbuckle, the Stamps harassed them and forced them into bad decisions.
Article content
On special teams, Jalen Philpot looked electric as the Stamps' primary option on kickoff returns, and Peyton Logan returned a missed field goal 122 yards for a touchdown — and added a 21-yard touchdown run on offence.
If this story just feels like a list of impressive plays by the Stamps, well, it's hard to do anything else. The Stamps were just that good and the Elks had no answer. For the sake of it, we should probably note that Luther Hakunavanhu also had a nice touchdown. That will probably get lost in all the other noise, but the young Canadian receiver's continued development remains impressive.
So now, the Stampeders have made their statement.
With the Bombers and Lions squaring off this weekend, the Stamps will be one of only two undefeated teams by the time Sunday rolls around. If their success this season has been flying under the radar, that's over now.
With back-to-back games against the Bombers coming up over the next couple weeks, the challenge is going to get a lot harder than what the Stamps faced on Thursday night in Edmonton.
You can only beat what's in front of you, though, and the Stamps beat the bricks off the Elks.
"We're just trying to build," Dickenson said. "It's good to chalk up good wins early in the season, but our schedule, we haven't beat a lot of teams with a lot of wins right now, so now we're going to have to go play an undefeated team."