Article content
Two Calgary talents plan to hoop it up with Canada at the inaugural GLOBL JAM basketball showcase beginning Tuesday in Toronto.
Article content
Yvonne Ejim, a forward with the NCAA's Gonzaga Bulldogs, and Phillipina Kyei, a centre with the NCAA's Oregon Ducks, have been named by Canada Basketball to the nation's under-23 women's team for the international spotlight on the game's rising stars.
The 6-foot-1 Ejim saw action in all 34 regular-season games for the Zags as a sophomore in 2021-22, and had her first career start. She averaged 10.1 points, 5.6 rebounds, 1.1 assists and 1.3 steals per game while shooting 51.6% from the field.
Article content
The Calgarian joined the Zags after graduating from Edge School in June 2020, where she played both basketball and volleyball.
"Gonzaga is an inviting and positive environment, and it's an amazing basketball program they have created," said the 20-year-old Ejim, who was named Miss Basketball Alberta for her junior season that saw averaging 24.8 points per game on 56.4% shooting to go along with 15.5 rebounds, 3.5 assists and 4.3 steals per game. "I knew Gonzaga was the place I was going to get the best four years out of my life. The academics are a bonus, but the family atmosphere and the competitiveness I felt from the university and team was something I really wanted."
Article content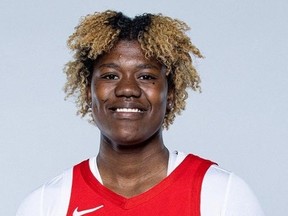 For her efforts, Ejim was named the West Coast Conference Sixth Woman of the Year for the 2021-22 campaign — a year after she was named to the conference all-tournament team in her freshman season.
In the NCAA Women's Basketball Tournament, she shot 70% from the field and 92.9% from the free-throw line in the Zags' two games.
Internationally, Ejim has been part of the Canadian national program, most recently at the 2019 FIBA U19 Women's World Cup in Thailand. The 18-year-old also competed with the Canadian national team at the FIBA U17 Women's Basketball World Cup in Belarus in 2018, averaging 6.9 points, 6.9 rebounds and 1.7 assists.
The 6-foot-8 Kyei appeared in 27 games off the bench for Oregon last season as a freshman, averaging 3.7 points and 3.3 rebounds in 8.6 minutes per game. She shot 51.9% from the field and blocked 15 shots.
Article content
Kyei's family immigrated from Ghana to Calgary, when she was 13 years old and picked up a passion for basketball.
She left Calgary for Toronto's Crestwood Prep, from where the Ducks brought her to the West Coast school.
With a round-robin preliminary round format, Canada's women's team faces Belgium on Tuesday (4 p.m. MT), the U.S. on Wednesday (4 p.m.) and France on Thursday (4 p.m.). Canada's U23 men take on Brazil on Tuesday (7 p.m.), the U.S. on Wednesday (7 p.m.) and Italy on Thursday (7 p.m.). The semifinals follow Saturday, and the championship games go Sunday.
GLOBL JAM will be broadcast nationally from at Mattamy Athletic Centre on Sportsnet.