From passport pandemonium and air travel anarchy to missing visas, a look at Canada's dysfunctional government services
Article content
The last few months have seen story after story of a federal government breaking down on the services it is supposed to provide Canadians. One senior bureaucrat speaking to National Post compared it to a body rotting from the inside, and there doesn't seem to be a real fix in sight. Here is a sample of some of the more notable malfunctions:
Article content
Passport pandemonium
If you've needed a new passport within the last few months, good luck.
Those whose essential travel document expired within the last two years of the COVID-19 pandemic are now facing a harsh new reality when it comes to getting a renewed passport. Long lines, camping overnight outside passport offices, desperation, tears, flared tempers and the occasional fist fight.
That is if they weren't willing to pony up hundreds of dollars, at a rate of $25 to $50 per hour, to pay someone to wait in line at the passport office for them.
Between April 1 and June 13, the government says it received nearly 550,000 new passport applications, an influx that the minister responsible for Service Canada, Karina Gould, said officials were not ready for.
Article content
That is much higher than the average number of requests during the pandemic lull where Service Canada received barely one-fifth of the normal passport application volume, but well lower than the regular pre-pandemic volume.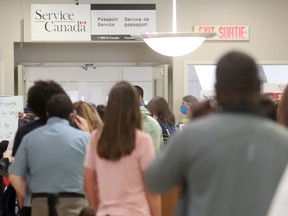 In fact, compared to annual averages pre-2020, the number of passports being processed in 2022 would be officially considered "low volume."
Despite that, the situation at passport offices hit a critical point in late June, with hopeful applicants sometimes camping two nights in a row in front of a federal building in Montreal just to nab a new passport.
Gould said that offices in the city are seeing upwards of 500 people in line daily when they normally process between 150 and 200 applications.
Article content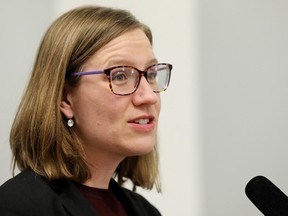 The president of the union representing passport workers, Kevin King of the Union of National Employees, said the unprecedented wait times are due to a series of factors, from more people letting their passport expire during the pandemic to the federal government's failure to see the post-lockdown rush coming and train enough new employees to help.
Gould's office told the Toronto Sun in early June that 11 per cent of passport officers are currently working from home.
Montreal passport workers recently told the mass of campers in front of their offices that they would only let them in the office if they had a flight within 24 hours. Television camera crews captured images of applicants pleading and sobbing, because they risked missing a wedding, a funeral or seeing an ailing family member.
Article content
Prime Minister Justin Trudeau has repeatedly called it "unacceptable," and yet it keeps going.
The situation became so dire recently that the government decided to set up a new cabinet committee that will look at how to improve the situation. One of those potential solutions is to put an end to teleworking arrangements for Service Canada employees working on passports, committee co-president and minister Marc Miller told La Presse in late June.
Since then, the situation in Montreal has shown small signs of improvement, namely that people flying out within 24 to 48 hours can generally get their passport on time and don't have to camp in front of Service Canada offices overnight.
This week, the federal government issued an urgent request for tender, looking for suppliers to provide 801 chairs to a Montreal passport office, so more people standing in line will be able to sit.
Article content
— Christopher Nardi
Lost in translation
Interpreters have been some of the more discreet essential workers during the pandemic, tirelessly translating the words of elected officials in both official languages during virtual press conferences, committee meetings and parliamentary proceedings. Much of it over Zoom.
But more than two years of faulty internet connections and lack of proper microphones have left them exhausted and injured. Many have quit. Others are close to it.
From March 2020 to February 2022, the 65 permanent interpreters at the Translation Bureau reported a total of 208 hazard reports in Parliament. Most of them reported ear pain and headaches, but other reported symptoms also included excessive physical and mental fatigue.
Article content
The Canadian Association of Professional Employees (CAPE) union said it has been sounding the alarm on interpreters' health and safety concerns with parliamentary committees and MPs from all political parties since the start of the pandemic.
But those concerns have only started to be taken seriously in past months when a lack of interpreters forced parliamentary committees to cancel their meetings and slow down their work, obstructing the ability of Parliament to do its job.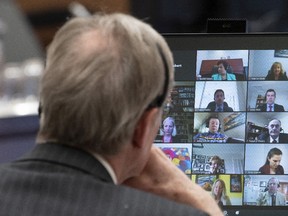 Interpreter representatives indicate that tinnitus — a high-pitched ringing sound in either one or both ears — is now widespread, affecting almost all those who worked during the pandemic.
Roughly one-third of the interpreters were forced to take medical leave due to injuries caused by poor sound quality in virtual meetings. Between March 2020 and October 2021, 24 interpreters took a total of 280 days of sick leave, which amounts to nearly 12 days off work per interpreter.
Article content
And those do not include all the freelancers, who cannot submit hazard reports and who are regularly asked to cover assignments off Parliament Hill.
"I'm terribly upset. It's devastating for my membership. It's devastating to the fact that their quality of life has suffered and some people have left the profession as a result of it," said CAPE president Greg Phillips.
"Interpreters are a scarce resource. And as a scarce resource, they should've been protected and helped sooner and longer, because an interpretation is a unique skill," he added.
The Liberal government just passed a motion, with help from the NDP, to extend hybrid Parliament for another year, meaning MPs can keep Zooming in virtually if they can't be in the House. Phillips is "cautiously optimistic" that work conditions for his members will improve now that Parliament is installing a new audiovisual system and putting in new consoles that should increase the sound-quality levels.
Article content
But that comes too late for many interpreters who are already injured, often because elected officials did not bother to simply use a decent microphone.
— Catherine Lévesque
Air travel anarchy
After two years of travelling not much further than their front doors, Canadians ready to take to the skies this year were faced with airport staff shortages, ongoing COVID rules and lineups, leading to cancellations, delays and frustrating waits.
Air Canada CEO Michael Rousseau announced his airline would be cancelling flights this summer just as the busy summer season heats up.
"This surge in travel has created unprecedented and unforeseen strain on all aspects of the global aviation system," he said. "Regrettably, things are not business as usual in our industry globally and this is affecting our operations."
Article content
In total, the airline will cancel 154 flights a day for the next two months.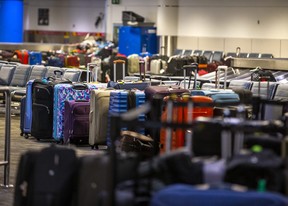 Airlines and airports laid off tens of thousands of workers from 2019 to 2021 as lockdowns, travel restrictions and safety concerns saw passenger loads drop to fractions of their pre-pandemic levels. April 2020 saw 97-per-cent fewer air travellers from the year before. Statistics Canada shows there were 106,000 workers employed in scheduled air transport and related industries in March 2019; in August 2021, there were fewer than 37,000, less than a third as many.
As travel bounces back, painfully long lineups have become routine at Toronto's Pearson Airport, especially for returning travellers who have to go through customs checks, including a requirement that they show proof of COVID vaccination.
Article content
The government has removed the vaccine requirement for domestic travel and hired more than 1,000 new security screeners, but travellers are still finding themselves waiting in hours-long line-ups or stuck on the tarmac as holdups snowball into more and more backups. Waits for security screening have started to decline but reports of delayed and missing luggage have gotten worse.
Unprecedented and unforeseen strain
Despite calls for loosening rules, the government has kept a requirement for international travellers to be vaccinated and requires travellers from overseas to use the ArriveCan app. The need to use the ArriveCan app extends to the land border as well, delaying millions of Americans who usually make the trip in non-pandemic times.
Article content
Testifying for Parliament, earlier this month, Neil Parry, vice president of operations at the Canadian Air Transport Security Authority, told MPs the rebound came much sooner than his agency expected.
"The demand that occurred in April and May was well above our forecasted demand, I would wager to say above the industry's expected demand," he said. "We've recently seen the pent-up demand for air travel materialize at airports much earlier than I think many anticipated."
Beth Porter, CEO of the Tourism Industry Association of Canada, said these airport problems are leading to bigger problems, as tour operators, hotel owners and other people in the tourism industry deal with travellers rescheduling, missing or cancelling their bookings, which have their own knock-on effects. With travel horror stories in the news, some travellers are opting to stay home.
Article content
"It's putting a negative light on the idea of travel. And certainly causing people to think twice about getting on an airplane," she said. "We think that it's going to take us well into next year before we can get back to where we would have been for domestic travel in 2019."
Potter said the industry is hearing from a lot of people who want to travel and are finding ways around the current bottlenecks in the system.
"We're hearing, 'I'm trying to come but I don't want to come through Toronto, or I heard Montreal airport was a mess'."
She said the industry's biggest concern right now is what happens in the fall, whether business travel returns to regular volumes, but she said the summer is also crucial for many tourism operators.
Article content
"A busy day in July, that can equal a week's worth of revenue in February. So, these are very important especially on the leisure side."
— Ryan Tumilty
Vanishing visas
For foreign travellers from countries that Canada doesn't permit entry from without prior arrangement, getting a visa to visit here has been a tense game of hit and miss. Just as Ottawa started lifting travel restrictions, would-be visa applicants began encountering long, unexplained waits that frustrated their plans to visit Canada.
In December, Sky Sports Formula One Racing Analyst Karun Chandhok — a citizen of India living in the U.K. and married to a Canadian— arrived at a Canadian foreign office in London to renew his 10-year temporary residence visa. His plan was to visit Canada in June, to cover the Canadian Grand Prix in Montreal for the Sky network. While processing these sorts of visas typically only take a few weeks, his application was still showing as "in process" after six months.
Article content
Visa-processing delays have also hamstrung the travel plans of doctors and scientists from around the world who had planned to attend the first post-pandemic World AIDS Conference this summer. Two-hundred and fifty AIDS and HIV organizations from around the world to signed a letter recently to Immigration Minister Sean Fraser's office , urging his office to break the logjam and allow delegates to attend the conference.
Delegates scheduled to attend last month's Collision Conference in Toronto also reported long delays. As with the AIDS Conference, most of Collision's frustrated applicants were from Africa and southeast Asian nations.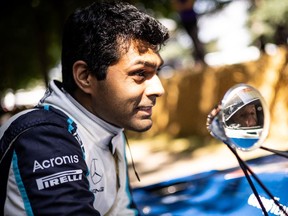 As of June, the Immigration, Refugees and Citizenship Canada (IRCC) visa application backlog sits at 1,471,173, with 771,482 of those for temporary residence, or visitor, visas. IRCC spokesperson Nancy Caron pointed to the volume of visa requests as a complication.
Article content
"In the first four months of 2022, IRCC received 1,441,594 temporary residence application, which compares to 1,075,376 for the same time period in 2019, before the pandemic," Caron said. In 2019, IRCC approved 1,068,425 of those visitor visa requests, she said, suggesting there were 6,951 requests unprocessed or refused.
In the first four months of this year, she said IRCC approved 1,068,425 of the visitor visa requests, which suggests 373,169 were not processed as of April. More recent figures were not available.
An appreciable portion of that backlog are temporary residence applications from those fleeing the Russian invasion of Ukraine, Caron said — amounting to just under 300,000 individuals.
Impacts of the backlog aren't being felt equally around the world.
Article content
Chandhok told the National Post his father, who lives in India, renewed his visa on the same day as he did in London — and received his visa in a little over two weeks.
— Bryan Passifiume
Access denied
Government transparency in the form of access-to-information requests was famously frustrating well before the pandemic. But the already broken system got even worse during the pandemic, critics say.
Access to information is used by journalists, academics, and others to request information from government that wouldn't be available otherwise. It can capture documents such as briefing notes prepared for ministers, and department documents and emails. That's if the system works as advertised, which it never really has.
Article content
Even before the pandemic, "the system wasn't working," said lawyer Michel Drapeau, an adjunct professor at the University of Ottawa, who specializes in access to information and privacy law.
He said institutions already couldn't meet the deadlines set out in legislation to respond to requests. Government institutions are supposed to respond within 30 days to an access-to-information request, although they can ask for extensions if there's a large volume of records or if they have to consult with other departments or other third parties before releasing information.
The performance standard the government sets is to close 90 per cent of access to information and privacy (ATIP) requests within legislated time frames. Excluding data from Immigration, Refugees and Citizenship Canada, which accounted for most of the closed ATIP requests that year, in 2020–21 "49.3 percent of institutions that closed a request met this standard, a decline of 11.6 percent," according to the Treasury Board.
Drapeau said once the pandemic started, public servants were working from home, and the records involved weren't necessarily available electronically. The work of an ATIP co-ordinator can also require face-to-face contact with colleagues to figure out where to find the relevant records.
Article content
"So, the fact that they were not at the office and working from home, understandably, it took more time and more confusion," he said.
But more than two years into the pandemic, government institutions have had ample time to figure it out, according the federal information commissioner.
In her annual report released earlier this month, Caroline Maynard noted that government institutions have now had more than two years to adapt. "Realistically, COVID-19 can no longer be used an excuse for not living up to legislative obligations in the area of access to information," she said.
Maynard pointed out that fully 65 government institutions had no capacity or only partial capacity to process secret and top-secret electronic records by the end of 2021–22 fiscal year. Staff in 28 institutions had either no access or limited access for processing physical files.
"This indicates to me that a number of institutions are not meeting their legislative obligations, while some appear to consider them as optional," she said.
Drapeau pointed out that government statistics can't fully illustrate the extent of the problem. "What it will not show is people like me, and probably a number of others, who basically cease or reduce (requests), or did both, because we simply we simply understand that we're not going to get what we're after."
— Anja Karadeglija