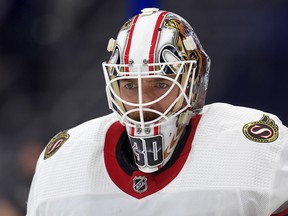 Article content
Eleven years ago, Kyle Dubas went on the Sault Ste. Marie Greyhounds' website to explain that he was trading for Jack Campbell when the team already had a No. 1 goalie in Matt Murray for depth purposes.
Article content
This week, in another general managing move that involves the two goaltenders, Dubas may soon have to justify to local loyalists why he's bringing in Murray as Campbell's replacement on the Maple Leafs.
Campbell, despite 31 wins for Toronto last season, appears to have priced himself out of Dubas' cap-strapped reach once league-wide free agency commences Wednesday. Though there's a shrinking number of teams in the bidding, Edmonton, Buffalo and Washington have ample coin to be in the last round of the goalie pool, which includes Campbell and Darcy Kuemper, fresh off his Stanley Cup in Colorado. The Leafs do not.
Article content
By all accounts, Dubas is staying in touch with Campbell's agent, Kurt Overhardt, but it behooves Team Soupy to see what the wider world can offer. Campbell, who was cheap for a couple of years at $1.6 million US for Dubas, might triple that on the market this week.
Article content
Which brings Murray full circle to the Dubas orbit. The goaltender is pricey and perplexing, with two more years at $6.25 million owed by the Ottawa Senators, but trade talks between the clubs heated up at last week's NHL draft in Montreal.
While it always seems weird to have the opponents in the Battle Of Ontario making deals, it's hardly unprecedented and the Sens could take back half of Murray's salary to get a desired return from their rivals. Motivated to move on from him with other goalies in their stable, the Sens will talk with anyone and are likely in serious discussions with Edmonton as well. Smaller pieces on all clubs involved could be in play, too.
When Murray torpedoed a pre-draft trade this week that would've sent him to Buffalo, a team not on his list of desired addresses, many interpreted that as trying to engineer a reunion with Dubas or get the chance to play behind Connor McDavid's flying circus with the Oilers.
Article content
The Leafs and most of their supporters loved Campbell the person, but the club isn't 100% sold on committing to the longer term he seeks. At 30, he's two years older than Murray and can be high maintenance when in ultra-competitive overdrive, blaming himself for team failures. He has also lost two straight Game 7s in the opening round.
Murray, meanwhile, has won two Stanley Cups with Pittsburgh and seemed set there as Marc-Andre Fleury's successor, but his time in Steeltown didn't end well and inconsistent play followed him to Ottawa. Injuries and a humiliating demotion were part of his sour 2021-22 season. His record was 5-12-2 and, though he did maintain a .906 save percentage, it's unknown how a daily dose of heavy media attention in Toronto might adversely affect him. There would also be a new goalie coach awaiting him in Curtis Sanford, his fourth since his last days in Pittsburgh.
Article content
The Leafs had an eye on other stoppers before crunch time arrived, but Fleury stayed put with the Minnesota Wild, Ville Husso was traded from St. Louis to Detroit, Alexandar Georgiev went from Manhattan to Denver and broadcaster Nick Kypreos tweeted Sunday that talk of Anaheim's John Gibson being dealt to Toronto or anywhere else won't happen according to Gibson's agent.
And because there's no such thing as implausibility this time of year, a rumour circulated Sunday that the Leafs could take a run at Jake Allen of the Habs, who is an affordable $2.8 million next year. That's if Carey Price can manage to get through his many health concerns.
ICE CHIPS
Monday at 5 p.m. is the deadline for teams to submit qualifying offers to retain the rights for restricted free agents. For the Leafs, that's defenceman Rasmus Sandin and forwards Pierre Engvall and Ondrej Kase. With concussions still a concern, Kase might not get one, as he also has arbitration rights and a good chance at winning a better salary … Matthew Tkachuk will be qualified of course, but it's what happens to Calgary teammate Johnny Gaudreau on Wednesday that has captivated Cowtown. A handsome offer of eight years that should come in around  $9.5 million a year was reportedly forwarded to Gaudreau days ago, but he has not yet acted. The  American-born star would be the feature of UFA day … On Sunday, the Avalanche gave Georgiev a three-year deal with an AVV of $3.4 million … The turbulence in Chicago continues amid reports the Blackhawks will not qualify forwards Dominik Kubalik or Dylan Strome. Kubalik was a seventh rounder who did wonders for Chicago, Strome was chosen third overall by Arizona in 2015, just ahead of Mitch Marner and might entice his hometown Leafs … Winger Bobby Brink, a second rounder of the Flyers in 2019, will miss significant time after an off-season hip injury according to Anthony SanFilippo of CrossingBroad.com.