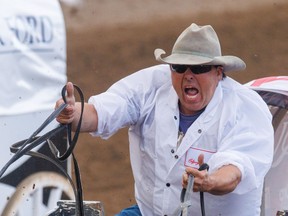 Article content
Darcy Flad kicked off the newly-branded Cowboys Rangeland Derby in fine fashion on Friday.
Article content
Aboard his EquiPride chuckwagon, the 51-year-old reinsman from Bodo, Alta., traversed the track in front of GMC Stadium in a quick time of 1:13.07 to win the top day-money prize of $6,200.
"It's the highlight of my life," said Flad, who has 16 years of driving experience on both the World Professional Chuckwagon Association and Canadian Professional Chuckwagon Association circuits. "It's the first day-money I've ever had (in Calgary). I can't say enough about it.
Article content
"This is pretty tough and if you're ever going to win a day-money, this is the place you're going to want to win it at."
Ahead of Saturday's races, Flad appeared on the grandstand stage with his family and sponsor to receive his bronze.
"I could sure get used to standing here," said Flad, whose late father Herman won the ultimate chuckwagon driving prize in 1980. "I've been shooting for the stars for a long time. Finally, a guy got lucky to at least get one night of a high. I'm going to take it, I tell you that."
Article content
Although he and his outfit were more than two seconds slower on Saturday, Flad's total time of 2:28.39 still kept him in contention to vie for the 2022 title.
The top three drivers in the aggregate standings after nine days of racing will advance to the championship final heat on Sunday, July 17.
For Flad, chuckwagon driving is definitely a family affair. And it started with the influence his dad had on him early in his life and throughout his formative years.
"That's why I'm here today," he said. "As a matter of fact, when I pulled in (to the infield) and seen all those people in the grandstand, I thought to myself we're probably missing one guy here and that would be my dad."
One person who Flad has had by his side whenever he needs him is his 21-year-old son Layne, who's in his second season competing on the WPCA tour.
Article content
"He means everything to me," said Flad of his son, who helps him take care and transport all of their 40 horses from show to show.
The elder statesman would like nothing more than to see Layne keep up the tradition of Flads competing at the Rangeland Derby in Calgary.
"Hell or high water, he has to be here, because it's hard to not go down the road," said Darcy, who bragged that his son will be heading back to the University of Saskatchewan in the fall for his fourth year where he'll be majoring in mechanical engineering. "We've got to get him here somehow. These young guys, we can't leave 'em out because it really affects the sport, because us old guys, the time's moving on by us — and yet I'm not ready to quit by all means."
Currently sitting in 27th spot in the WPCA driver standings, Layne said he'll have to start compiling better results when the second half of the season resumes with the Battle of the Foothills in High River July 21-24.
Article content
"I've just got to run a little tougher on the tour and hopefully they'll take a look at me for next year," said Layne, who has enjoyed working together with his father to help each other throughout the season. "We feed off of each other and we bounce ideas off of each other. You can ask what's going on if you're not sure. It's helped me a ton and I know that I wouldn't be anywhere close to where I am right now without him."
While he's disappointed to not be racing in Calgary, Layne thoroughly relished the chance to watch his dad's big moment on Friday.
"It was amazing," he said. "When he was turning the top barrel, I had a good feeling he was going to be able to get out in front. I was watching as he was going down the backstretch and he was out in front by two wagon lengths.
"Coming down the lane they were running hard. I drove that outfit lots, so I could see what he was seeing on the seat. I knew how much speed that he had and it was tremendous."