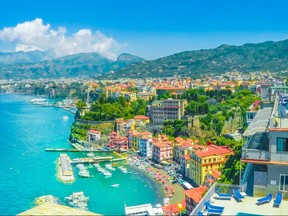 Article content
A tourist hot spot in Italy has prohibited visitors from walking around wearing bikinis because the exposed skin is upsetting locals.
Article content
The mayor of Sorrento, Massimo Coppola, said locals can't handle the sight of torsos, The Times reports.
Those who break the new rule could face a fine of up to £425 ($560).
Coppola said he recently witnessed "behaviour that is seen by the majority of people as contrary to decorum and to the decency that characterizes civilized cohabitation."
That must have been some skimpy swimwear.
The mayor added that the crackdown is necessary so as not to ruin the reputation of the coastal town, located on the country's southwestern Amalfi Coast.
Article content
"The continuation of this situation, as well as causing discomfort and unease in the resident population and among visitors, could lead to a negative judgment on the quality of life in our town, with consequences for its image and for tourism," Coppola said.
Going forward, Sorrento Municipal Police officers will be patrolling the streets to make sure people are not walking shirtless or in their swimwear.
Article content
Local journalist Max Tamanti said seaside towns across Italy have turned into scenes from "Dante's Inferno," due to all the scantily clad beachgoers walking about.
He said summer resort towns that rely on the influx of holidaymakers cannot allow the "macabre procession" of barely clothed tourists to go on.
Sorrento, located near Naples and Pompeii, is an influencer's dream, what with the picturesque pastel architecture and cliffside restaurants overlooking the sea.
Kim Kardashian lands Sports Illustrated Swimsuit issue cover

Bikini doc hits back at sexist study

Instagrammer loses followers when she nixed posting bikini selfies