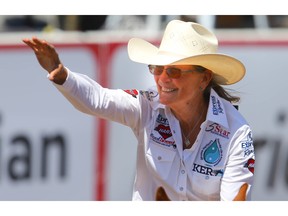 Article content
Better late than never.
Article content
That's usually not the rule to follow in barrel racing.
More often than not, that won't pocket you a payday.
But Dona Kay Rule hasn't really played by the barrel racing rules, arriving late on the scene in the sport and finding quite the later-life success on rodeo's clover-leaf.
She's 64 and proving to be a strength in what she calls "a young woman's game," with fans loving what they're seeing from Rule through two days of the Calgary Stampede.
And she's loving them back.
"Oh my gosh, Canadians are wonderful," said Rule, of her first trip to both Calgary and the Stampede. "And your land is beautiful, and I love your national anthem. It's just been a great experience."
It's been quite the great ride for Rule to get here.
The long-time horse trainer from Minco, Okla., didn't qualify for her first National Finals Rodeo until age 61.
Article content
It took that long only because of all the home duties — being a mother and a grandmother and running the family business — she had going for her back in Oklahoma.
But since then, she's been to two more NFRs and ridden into eighth place this year in the world standings with $60,117.
Not even a recent hip replacement could slow down Rule.
Now comes her first Calgary Stampede appearance, and it's going well.
After a Day 1 runner-up time for $4,500, Rule rode to top spot and $5,500 in Saturday's second round. Her 17.54-second trip was the best of this Stampede so far, helping her head in the direction of locking up a spot for Championship Sunday. Rule's raced to $10,000, while the next best aggregate total after two days belongs to last year's Stampede queen, Saskatchewan's Bertina Olafson, on $7,000. Rule's fellow WPRA star Stevi Hillman, of Weatherford, Texas, is next at $6,500.
Article content
The four racers with the most money after four rounds qualify from the Stampede's Pool A onto next Sunday's finale in the chase for the $50,000 champion's payday. 
"Stevi's an amazing hand, too," Rule said of Saturday's runner up with a just-miss 17.55s run. "So that's pretty fun for both of us to be right at the top."
Rule credits her ride, High Valor, for helping her find success in her 60s. 
She got him when he was just four and has since trained 'Valor' into a two-time horse of the year on the world scene.
He's 13 now and is Rule's only horse at Stampede — a sight not often seen among barrel racers.
"He's just an incredible animal," Rule said. "He's been a single-horse winner his career, so I'm really proud of him. He's just so fast and so efficient. Some of them come with a really great mind, and he's one of them." 
Article content
And Valor could soon carry Rule to a Stampede bronze.
"You can't really worry about that," added Rule. "What you do is do your job and let the chips fall where they may. Because they're all animals. And things change — the ground can change. You just love and care for them the best you can."
CLEAR STEER
Another first-timer at the Stampede is Dick Tavenner, who won his event Saturday, as well.
The cowboy from Rigby, Idaho, wrapped up the steer-wrestling win with a quick 4.2-second journey in front of a lively crowd.
"It's awesome here — next to none," Tavenner said. "You always watch it as a kid. Everybody down in the States watches it, because it's a big deal. I knew the atmosphere coming into it and was excited to be here."
Tavenner used Oscar, his 17-year-old gelding, to get the job done.
Article content
"He gets better with age …" said the Idahoan, "like fine wine.
"Kinda feels great to get the monkey off your back. (Friday), I was just a couple (of seconds) out of it, so I just wanted to make good on the day (Saturday). It feels great to win it.
"It would be just a cool rodeo to win. It would be life-changing. I mean … the money is obviously awesome, but just being a Calgary Stampede champion is pretty bad-ass."
ZEKE AGAIN
The other event winners Saturday included a repeat from Day 1 who's a familiar name to Stampede fans.
Yup … it was Zeke Thurston, of Big Valley, Alta., makin' eight and winning the saddle bronc competition for the second-straight day. 
This time, the three-time Stampede champ did it aboard Yuppie Bubbles, posting 85.5 points for the $5,500 payday. With $11,000, Thurston has more money than any rodeo contestant through two rounds.
Article content
Kole Ashbacher, of Arrowwood, Alta., and Sage Newman of Melstone, Mont., were next with matching 84.0 scores on Don't See You and Peigan Warrior — on a re-ride — respectively.
Another big name at the Stampede through the years, Caleb Smidt, of Bellville, Texas, took another step to winning here again after being crowned the 2019 king of tie-down roping. 
Smidt had a 7.1-second trip for the top money, beating a slow-ish field by a wide margin. Oklahoma's Tyler Milligan was a second-and-a-half back for second spot. 
And 2021 bareback champ Tim O'Connell was the best of the bunch Saturday with 86.0 points aboard Rum Flavoured.
AROUND THE CHUTES
The bulls got the better of the cowboys for the second-straight day. Only three riders stayed aboard, including winner Reid Oftedahl, of Raymond, Minn. He put up 87 points on Jayded for the $5,500 first-prize payout Saturday. One day earlier, only four cowboys were able to last the full eight seconds, including winner Josh Frost, of Randlett, Utah, who took the Day 1 round aboard Big Bird with an 88.0 but couldn't pocket the cash until a re-ride was completed 24 hours later. That re-ride didn't go well, as Aussie rider Ky Hamilton was bucked off by Just a Vertigo and then trampled by the bull. Hamilton eventually left the infield walking wobbly and got warm hugs from the crowd. The Australian did not ride his second-round bull later Saturday … Among other injured cowboys are bareback rider Dantan Bertsch, of Tompkins, Sask., who did not participate Saturday due to an upper-body injury, and saddle bronc rider Cole Elshere, of Faith, S.D., who broke his leg Friday … Novice bareback made its 2022 debut at the Stampede on Saturday with Ethan Mazurenko, of Thorhild, Alta., scoring a top mark of 74.5 aboard Unsoft Marshmallow. Mazurenko came into the Stampede in second spot of the Canadian standings. Half of the six-member novice bareback field made eight seconds … Day 3 of the Stampede rodeo goes Saturday at 1:30 p.m. (Sportsnet 360).