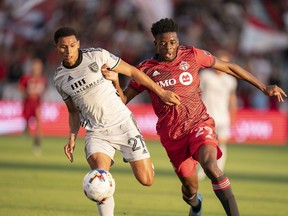 Article content
After a week of seismic activity in Toronto FC's front office, the Reds hopes for a much-needed victory on Saturday night were flattened by the San Jose Earthquakes.
Article content
TFC had roared back from a 1-0 deficit with two spectacular goals late in the second half — by GTA lads Deandre Kerr and Jonathan Osorio — to take a 2-1 lead.
But then in stoppage time, San Jose midfielder Jack Skahan tied the game 2-2 when he scored following a Toronto giveaway by Ifunanyachi Achara. Just prior to that goal, TFC goalkeeper Quentin Westberg made a huge save on Jeremy Ebobisse that looked to be the one that would preserve the win.
Article content
The draw was a heartbreaking result for the Reds, who dominated most of the match. TFC desperately needs to start piling on wins as the club sits six points out of a playoff spot in the MLS Eastern Conference with 15 games remaining and five teams to leap over. Chances of all five of those teams going into a second-half-of-season swoon is highly unlikely. On top of everything else, four of TFC's next five MLS games are on the road.
Article content
"It's just a game you have to win," said TFC coach Bob Bradley. "When you get a good response, when you get some goals, when you have a chance now at the very end to just finish the game, take your points, reward yourselves … (But) we let the three points slide away."
Ebobisse scored to give the struggling Earthquakes a 1-0 lead in the first half.
Saturday's game marked the inaugural appearance of left-back Domenico Criscito in a TFC uniform. Criscito joined the Reds from Genoa following the end of the Italian Serie A regular season and demonstrated quality and creativity on the left side, though the 35-year-old tired near the end of the game and suffered a cramp in his right hamstring before being substituted out in the 80th minute. He received a big ovation from the crowd.
Article content
"My last game in Europe was in May. I've been training for the last month and I've been training with (TFC) only three or four times so, with the coach, we were thinking about playing the first half and maybe a little bit more," said Criscito of his first outing for Toronto. "And I made it, thankfully, to 80 minutes. But because of the cramps I had to leave. But I'm very happy and actually I wanted to play more.
"It was really a beautiful and great atmosphere and actually the fans helped us a lot. It was a great welcome and I want to thank the fans for it," said Criscito when asked for impressions of his first MLS match.
Not playing for Toronto on Saturday was Criscito's Italian national teammate Lorenzo Insigne, who is nursing a calf injury and won't be ready to take the field in a game until at least July 23, when TFC hosts Charlotte. Also not in the lineup was TFC centre back Carlos Salcedo, who is on the cusp of being dealt to FC Juárez of Liga MX as a result of family issues back in Mexico.
Article content
TFC acquired veteran MLS midfielder and Canadian international Mark-Anthony Kaye on Friday in exchange for 19-year-old midfielder Ralph Priso, a 2023 international roster slot, a natural 2023 first-round MLS SuperDraft pick and General Allocation Money (GAM). Kaye was not in the lineup against San Jose but should be ready for Toronto next game on Wednesday night in Chicago.
Earlier in the week, the Reds traded star attacking midfielder Alejandro Pozuelo (the 2020 MLS MVP) to Inter Miami for $150,000 US in GAM. TFC is attempting to acquire former Juventus winger/attacking midfielder Federico Bernardeschi now that the 28-year-old's contract with the club has expired.
After Ebobisse's first half goal, Ajax native Kerr tied the match in the 71st minute when he picked up a nice pass from Osorio at midfield, advanced down the pitch, cut to his left ahead of a defender and then left-footed a blast into the lower left corner for his third goal of the season. Osorio picked up his team-leading sixth assist on the goal. Four minutes later, Kerr played give-and-go with Brampton native Osorio, who scored via a beautiful left touch into the corner, his fifth of the year.
Article content
Ebobisse's goal came off a TFC giveaway by Chris Mavinga and ended with Benji Kikanovic feeding Ebobisse a perfect pass into the box. The French striker then buried it into the bottom left corner. Leading up to that goal, Mavinga, who has struggled this season, had played with a lot of confidence.
As the second half wound down, TFC had two great chances to score on one play, starting with Kerr making a nifty move in the box to get a left-footed shot away and then Osorio's rebound being blocked. On the subsequent corner kick by Criscito, Kerr headed the ball off the cross bar.
Osorio came close to tying it up in the 55th minute when he picked up a nice pass from Kerr, danced around a couple of San Jose defenders and right-footed the ball towards the right side of the goal with Earthquakes 'keeper James Marcinkowski making a nice arm save.
Ayo Akinola was stopped by Marcinkowski from point blank range late in the game after being sent in towards the goal all alone.