Key events:
WICKET! Harshal run out 3 (India 195-8)
Yes-no- what- wait – oh. Confusion beaten by Buttler's throw.
WICKET! Karthik c S Curran b Mills 11 (India 195-7)
Smashing catch from Sam Curran, harrying back, catching it on the run and holding on as he lands with a thump on his tummy.

19th over: India 186-6 (Harshal 3, Karthik 3) It's the miserly Jordan who Harshal and Karthik must get away. And they can't, though they pick up a cheeky single from a Buttler overthrow. India are falling short of their magnificent start here. Super bowling by Jordan: 4-0-23-2.
An email wings in from David Keech: "Bit of cricket history from a 72 year old who has been following cricket intently since age 10. Years ago, in the Colin Cowdry and Peter Mays days and earlier, it was the done thing to walk – admit you are out – when you know you've hit the ball. Then umpiring standards went downhill and pretty much all walking stopped. The thinking was "If I'm going to be given out to a horrendous decision I need to cash in if the mistake is in my favour". It was the reason DRS was introduced in the first place. Of course with DRS there should be no reason not to revert to walking but old habits doe hard ….."
18th over: India 181-6 (Harshal 1, Karthik 1) Topley is back, the camera pans up and we see the trees in their best summer bloom behind the hotel. A great towards-the-death over, just four runs from it and the crucial wicket of Hardik. Two new batters to face the last three overs.
WICKET! Hardik c Brook b Topley 51 (India 180-6)
Hardik is ready to pummel, but slices instead, sending the ball square to deep point where Brook jogs in and says thanks very much.

17th over: India 178-5 (Hardik 50, Karthik 0) A wide, a four, a wicket and then a six as Hardik slots Parky back over his head for six into the crowd.
WICKET! Axar c Roy b Parkinson (India 171-5)
Parkinson repays his captain's confidence, spots Axar moving towards him, sprays wide and Axar can only flinch helplessly to Jason Roy at cover.
16th over: India 165-4 (Hardik 42, Axar 13) Jordan takes the ball, with fives overs left. He restricts India to one off the first three, nailing the wide but not too wide, ball. Axar can't put bat on leatherl till the fourth ball which he bottom edges and it limps over the rope. Oiled zip from Jordan, who is clocking up just under 90mph.
15th over: India 157-4 (Hardik 40, Axar 8) A better over from Parkinson, Hardik has a mow and, I think, that's a missed stumping by Buttler as the ball flies by for leg byes. No boundaries.
14th over: India 149-4 (Hardik 34, Axar 7) Hardik grabs an early boundary off Curran, then India are content with singles.
What was it Boris Johnson wrote about Gordon Brown, " like David Brent haunting The Office in that excruciating episode when he refuses to acknowledge that he has been sacked." Shame is going out of fashion, discuss.
13th over: India 141-4 (Hardik 28, Axar 5) Livingstone's first over leaks all over: Hardik thumping two boundaries, before Azar joins in with a cover smash. Buttler is

unsmiling
thinking behind the stumps.
Overseas listeners – this is for you: (thanks both)
12th over: India 126-4 (Hardik 18, Axar 0) Suryakumar happy to play the angles, on his toes, sending Jordan through backward point, till being done by Jordan
WICKET! Suryakumar c Buttler b Jordan 39 (India 126-4)
Buttler calls for and wins his first review as official captain. Jordan looked unconvinced, but his slower ball works its magic, Suryakumar gloving behind to Buttler.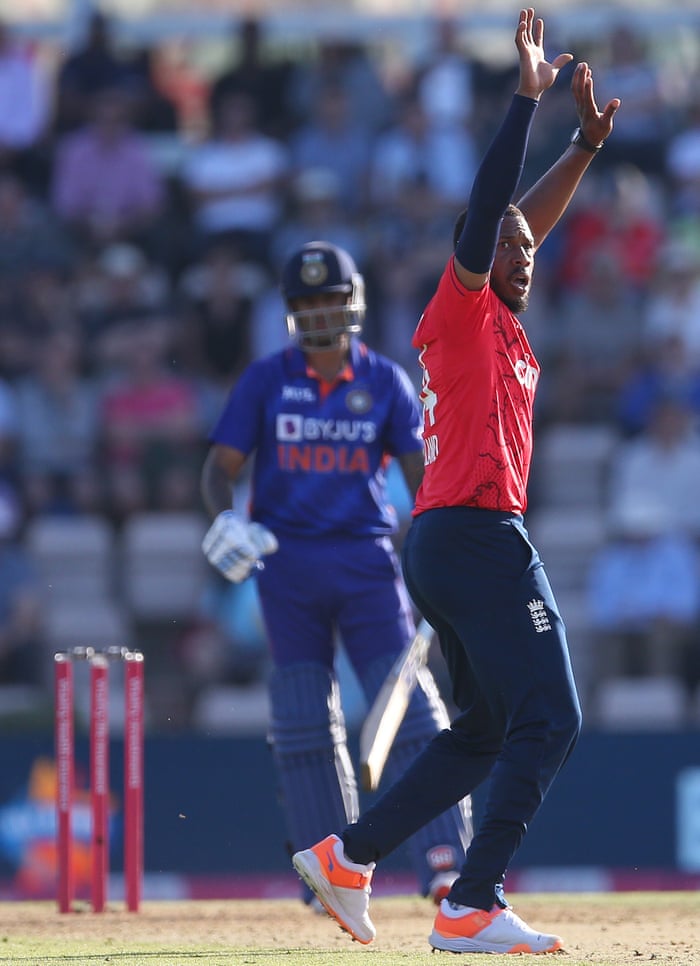 11th over: India 120-3 (Suryakumar 34, Hardik 17)I've never tried to eat a Magnum while doing a T20 OBO before. Turns out it is as tricky as bowling to Hardik who wafts a Tymal Mills slower ball with a flourish over third man for four. Then Suryakumar casually flicks him for six behind his ears.
10th over: India 105-3 (Suryakumar 27, Hardik 10) Hardik charges at Parky's second ball and lofts it back over his head for four. A genuine wide, then a wider legit ball which Hardik ploughs through the off side for four more. Malan can't stop another drive in the inner circle and they grab two more. At the half way stage of their innigns, it's advantage India!
9th over: India 91-3 (Suryakumar 21, Hardik 1) Buttler beckons to Chris Jordan to solve the Indian conundrum. He immediately brings an element of decorum. and then the wicket of the tricky Hooda. The wicket ties Jordan with Adil Rashid as the leading England wicket taker in T20 cricket.
"Incidentally a friend texted me yesterday offering a ticket for tonight's game,, "writes William Milner from his gorgeous overseas bar, "which obviously I could not accept but it was £130! £130 for a T20 game – surely that is the wrong price??
WICKET! Hooda c Mills b Jordan 33 (India 89-3)
Mills makes no mistake at short fine leg as Hooda takes a spade to a hot potato.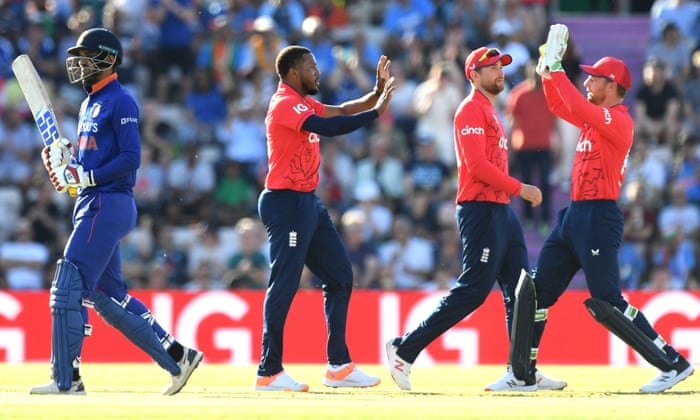 8th over: India 86-2 (Hooda 32, Suryakumar 21) Parkinson , fresh from pocketing a catch, gets his turn. Suryakumar thrashes his first ball through backward point and the fifth flies over cover, beating the fielder. And the sun still shines.
7th over: India 75-2 (Hooda 31, Suryakumar 11) Tymal Mills, shirt characteristically untucked, and Yadav helps his second ball over his shoulder and up and away.
A word of warning from David Keech:
"For those of us outside the UK we can pretty much only listen for free to home test matches via the TMS overseas link. It doesn't appear for white ball stuff, I suspect due to contractual reasons. There are several subscription options I believe but I don't know the details. Be very wary of any pirated sites offering video or audio for free. I followed one of these links once and in spite of anti-virus software got 10 a second pop-ups and a heavily infected hard drive that only a complete reinitialize and reinstall solved."
6th over: India 66-2 (Hooda 29, Suryakumar 4) India on a mission here as Topley's over goes for 16 , Hooda letting fly, bat ripping through the air and sending the ball for flying fours over third man and backward point.
5th over: India 50-2 (Hooda 13, Suryakumar 4 ) Two identical sixes as Hooda smashes Moeen over Chris Jordan's head at long-on, jumping forward, back leg swinging joyfully to the right. Then the wicket, before Suryakumar comes in and sweeps a four first ball!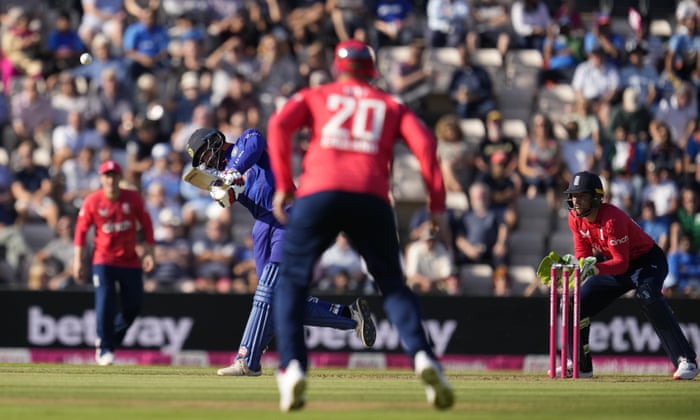 WICKET! Kishan c Parkinson b Moeen 8 (India 46-2)
Moeen again! An ungainly sweep from Kishan top edges behind and Parkinson catches it while falling on his backside and rolling over.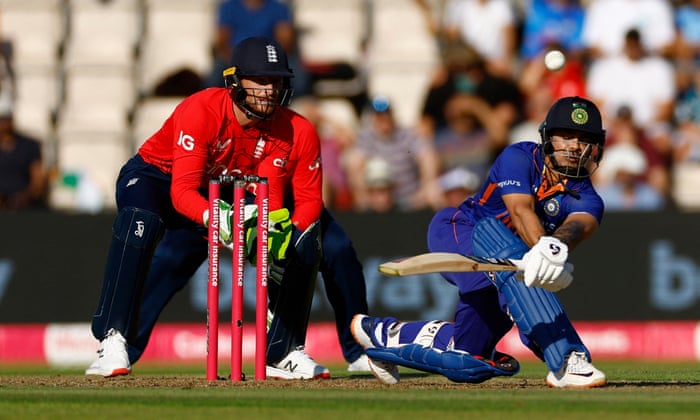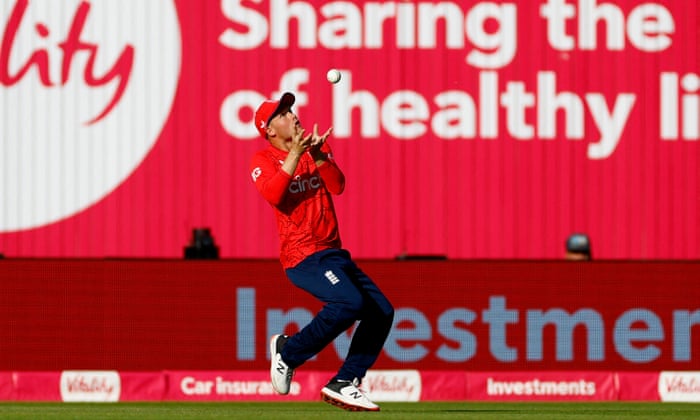 4th over: India 33-1 (Kishan 8, Hooda 0) A superb bit of fielding by Harry Brook sprinting around on the rope, parrying it away with his hand; and another by whoever is at point. Kishan, swirls, top-edges without control, but a running Parkinson can't reach it. Topley finishes off a busy over by cracking Kishan in the chest.
3rd over: India 29-1 (Kishan 4, Hooda 0) Moeen, thrown into the attack early on, makes the breakthrough. Rohit plummets down onto one knee and sweeps him behind square for four. And again: faster, higher, stronger. Before being beaten by a quicker one.
"Good evening." John Starbuck, hello! "Does having flames up their backsides mean England's bowlers will be turning on the afterburners? Brighter cricket already."
WICKET! Rohit c Buttler b Moeen 24 (India 29-1)
Great comeback by Moeen who had just been swept for a duo of boundaries. Forced onto the back foot, nibbles behind.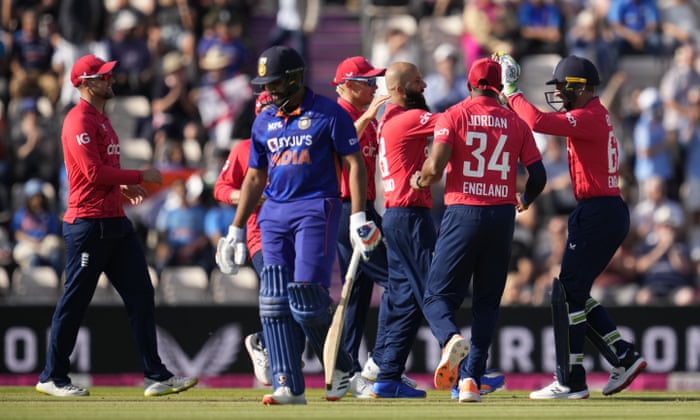 2nd over: India 20-0 (Rohit 16, Kishan 3) From the hotel end, Reece Topley, all long legs and mullet. Rohit watches for a ball then eases him off his ankles to the rope for four; four more square, bisecting the fielders. 11 from the over, without any risk.
In a surprising turn of events, Chris Tavare is dominating the early emails.
"I used to watch Kent play a lot in the early 1980s (I was a strange child!) and I can promise you that Tavare was EXTREMELY attacking, especially in the Sunday League," taps Stuart Burrows. "He would step to leg and batter stuff over cover. I was astonished by his transformation for England, since he was by the far the most attacking player Kent had until Chris Cowdrey came along, if I remember right."
1st over: India 9-0 (Rohit 6, Kishan 3) Sam Curran, hair fresh out of a bleach bottle, to start. Two quick singles, then Rohit powers Curran down the ground, Jordan dives full length at mid-off but can only parry the ball to the boundary. He wrings his finger – it looked painful.
The ground, btw, isn't – yet- full.
With flames up their backside, Brook and Parky have a jolly good laugh walking onto the pitch.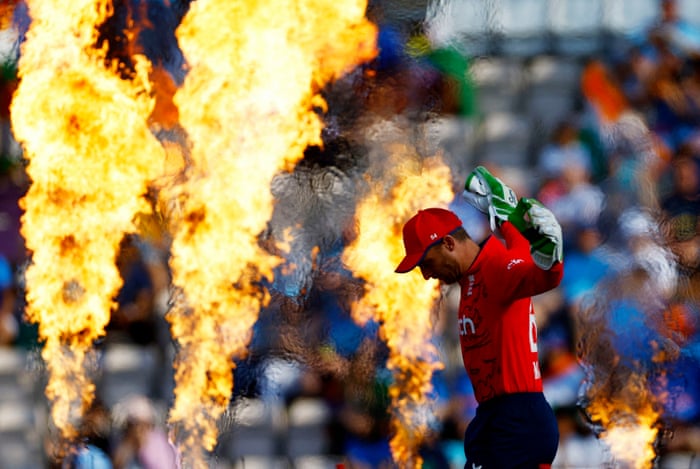 "Sorry to be a pain," writes William Milner, "but I'm sitting in a bar in symi in the Dodecanese sipping an ouzo and desperate to listen in – is this on TMS or any other website for those of us overseas?"
You lucky thing. I'm afraid the BBC aren't giving it out today – can an OBO-er help?
And I hope that ouzo sups better than what we drank on a sixth form classical civ trip to Greece. Our lack of civilisation probably didn't add to the taste, to be honest.
Anyone want to hazard a guess at the amount of boundaries we're going to see today?
And if you're sick to death of boundaries, Steve has written something on a stonewaller for the ages.
Adil Rashid has been given a leave of absence to make a Hajj pilgrimage to Mecca – so Lancashire's Matt Parkinson plays, alongside Lancashire teammates Livingstone and Buttler.
A debut for left-arm medium-fast bowler Arshdeep Singh.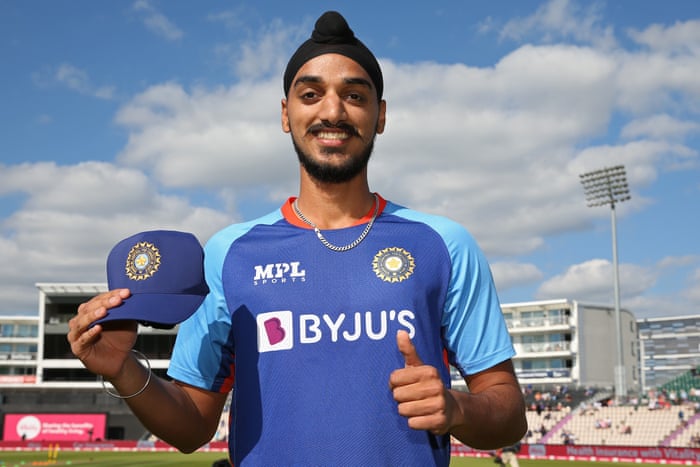 No debuts for England, but when there is an abundance of riches, there is plenty to play for.
India: Rohit, Kishan, Hooda, Suryakumar, Hardik, Karthik, Axar, Harshal, Bhuvneshwar, Arshdeep, Chahal.
England: Roy, Buttler, Malan, Livingstone, Brook, Ali, S Curran, Jordan, Mills, Parkinson, Topley.
England are back in red, with an underlying lion motif.
India win the toss and will bat
The sky is Caspian Sea blue at Southampton and, hang on: here's Eoin Morgan, holding a microphone in slacks and (very) open necked shirt. "It is the end of something I'm extremely proud of but I'm excited for the future," he smiles, enigmatically.
Hello! So here we are, from Baz-ball to, er, Matt-batt in 48 hours.
Southampton is the venue for this, the first of three T20s in four days, between the top T20 sides in the world. These teams practically wash their smalls together, England captain Jos Buttler will toss the coin with Rohit Sharma, who he waved to on the IPL merry-go-round in the spring.
Buttler is on his first official gig as captain, after deputising for Eoin Morgan in the third ODI in Amsterdam. In the form of his life, there can't be a better time to take the wheel. This is also Matt Mott's first T20 series since he took over as white-ball supremo.
Harry Brook, Yorkshire wunderkind, is expected to play after a sensational summer in all forms of county cricket – Buttler has said he will try to balance experimentation with firming up a side. He has a few absentees – the injured, Jofra Archer and co, and the knackered, YJB and his Test buddies.
Sharma returns after a tussle with Covid, and goes into the game with India 2-0 up in the previous couple of games between the sides. Things blast off at 6pm.