Key events:
Lap 23/71: Sainz is told over the radio that his team will be going to "Plan E", whatever that means. Verstappen sets a fastest lap on his new hards.
Lap 21/71: Perez gets a black and white flag for exceeding track limits – next time it's a penalty.
How they stand
1 Charles Leclerc
2 Carlos Sainz Jnr
3 Max Verstappen
4 Lewis Hamilton
5 Lance Stroll
6 Yuki Tsunoda
7 Guanyu Zhou
8 Fernando Alonso
9 Esteban Ocon
10 Sebastian Vettel
Lap 17/71: After a flurry of pit stops, Verstappen, who has clambered back up to fourth, is now tailing Hamilton for third – and eventually picks him off. It looks like Red Bull are going for a two-stop and will be hanging their hopes on Leclerc flagging in the final stages.
Lap 15/71: Hamilton uses DRS to zoom past Magnussen into fourth. Leclerc is warned about track limits.
Lap 14/71: Hard tyres for Verstappen, who emerges in eighth, while Hamilton makes an audacious overtake at turn eight, zipping past Schumacher for P5.
Lap 12/71: Lecerc has another peek at Verstappen at turn six and goes for the kill, darting inside the Dutchman before he realised he'd left the opening. Verstappen heads straight into the pits.
Lap 11/71: It's a five-second penalty for Russell, who nips into the pits to fix some damage.
Lap 10/71: Leclerc attacks Verstappen going into turn three! Verstappen holds him off expertly, and then again at the next turn while his pursuer has DRS. But how long can he keep the defence up?
Lap 8/71: Leclerc is roaring up behind Verstappen with DRS, and both nearing the toiling Perez.
Lap 6/71: "Nothing I could do, he just turned into me," shrugs Russell. The top five: Verstappen, Leclerc, Sainz, Russell, Ocon.
Lap 5/71: Schumacher goes past Hamilton for seventh, while Perez isn't happy with Russell. "You saw it clear?" he barks on the radio. "I gave him room!"
Lap 3/71: A dramatic start but a good one for Verstappen, who has pulled a second clear of Leclerc. Perez has come out with new hard tyres. Vettell is also reporting damage.
Lap 2/71: Perez head into the pit with damage to his car – the stewards may take a look at that one.
Lap 1/71: Verstappen gets away well while Russell and Sainz battle it out behind him. Sainz goes off-track to give the Mercedes man an opening and comes back on just behind Russell. Russell then gets into a scrap with Perez – eventually there's contact and Perez spins out going into turn four!
All drivers are back on the grid now – and we're seconds away from lights out.
The drivers set off on the formation lap, with all of them on medium tyres bar Zhou Guanyu, Yuki Tsunoda, Sebastian Vettel and Fernando Alonso, who are on hard compounds.
The Mercedes team seem satisfied with the work done to Hamilton's car – a brake-pedal issue we think – so it's panic over.
Christian Horner is in bullish mood: "It's going to be a very tight race with the Ferraris today. We saw yesterday that Max was able to break that DRS but now we have Checo in the fight today but he needs to clear George quickly. It's all about working as a team and doing the best we can collectively, to get ahead of the Ferraris today. I think we want to run our fastest race because I think we've got a quick race car – you can overtake here."
There's some ultra-last-minute work being done to Hamilton's care on the grid – a repair job on the brakes, by the looks of it.
And here's Lando Norris: "A points finish not going to be easy to achieve but I think we have slightly better pace than the Haas, we know Fernando [Alonso] is at the back … but a double-points finish is the aim today."
Verstappen speaks: "To have this support all the time when I come here is just incredible. You need a good car, I've been lucky to have a good car and I hope today we can show that again and in a few hours time we can celebrate.
"It's amazing to be here and to see all the facilities that Red Bull have been improving all the time. The start is important but the general pace we have in the car is going to be crucial, but let's find out what we can do."
It's a hot afternoon in Spielberg. Fans will be expecting a gung-ho duel between Leclerc and Verstappen, whose close encounters always provide a real hook. It's a case of "catch me if you can" for the reigning champion, who is beginning to look like his next title is in the post. He starts at the opposite end of the grid to the old war horse Alonso. As for Hamilton, it will take an extraterrestrial display to reach the podium, but last week showed Mercedes' problems may not be terminal – and he has been known to snatch victory from defeat's jaws.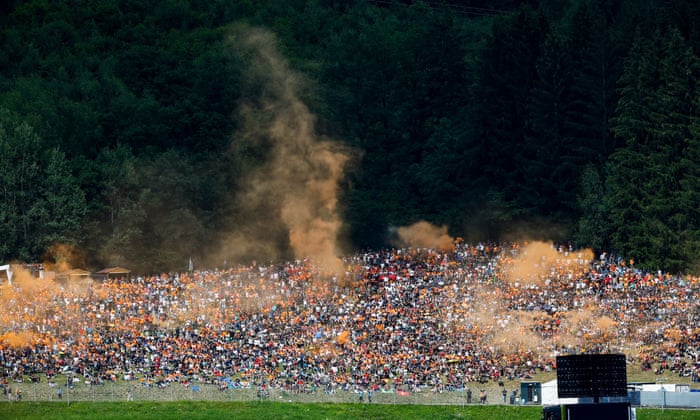 Here's our report from yesterday's sprint race:
The drivers' championship standings:
1 Max Verstappen 189
2 Sergio Perez 151
3 Charles Leclerc 145
4 Carlos Sainz 133
5 George Russell 116
6 Lewis Hamilton 94
7 Lando Norris 58
8 Valtteri Bottas 46
9 Esteban Ocon 42
10 Fernando Alonso 28
And the constructors:
1 Red Bull 340
2 Ferrari 278
3 Mercedes 210
4 McLaren 73
5 Alpine 70
6 Alfa Romeo 51
7 Alphatauri 27
8 Haas 22
9 Aston Martin 18
10 Williams 3
Fernando Alonso, who came eighth in Friday's qualifying before retiring ahead of yesterday's sprint race, has taken a new power unit for his Alpine – he'll start from the back of the grid as he would have done anyway.
A last-minute change to Valtteri Bottas's rear-wing spec and rear suspension means the Alfa Romeo driver will start from the pit lane.
… while Hamilton has hit out at those who cheered his 140mph crash on Friday as "mind-blowing" – and registered his disgust at the reports of deeply ugly behaviour in the stands this weekend:
Last season's great rivals, Verstappen and Hamilton, seem to have at last found some common ground: criticising the hostility and nastiness of certain spectators. Verstappen says the partisan fans who boo certain drivers – not least him, last week – are "not really F1 fans"…
After the sprint, the marathon. Yesterday's 24-lap race at the Red Bull Ring saw an unflappable Max Verstappen extend his championship lead by 38 points while his principal rival spent his energies scrapping it out in a dogfight with his teammate.
The intra-Ferrari struggle going on in Verstappen's rearview mirror will have been a pleasing sight for a driver keen to reclaim his position at the head of the pack after last weekend's miserable outing at Silverstone, where he heaved a damaged car to a lowly seventh-place finish.
On the podium at the end of that dramatic afternoon at Silverstone was Lewis Hamilton, whose Mercedes team pulled off a decent salvage job yesterday – he and George Russell coming eighth and fourth respectively – after both drivers ploughed into barriers during Friday's qualifying.
As for Verstappen's main ostensible title rival, he knows victory today is well within reach. "We are quick. We can get them tomorrow," said an upbeat Charles Leclerc over his radio after yesterday's race – but he was also clearly maddened by sacrificing vital seconds to a needless if entertaining duel with his fellow Ferrari. "We cannot afford what we did today," he told the media.
Ferrari have drivers at Verstappen's heels in second and third on the grid. They did not impose any team orders yesterday: laudable in theory, but inefficient in practice. At the home circuit of their major rival, can they get their tactics right and halt the Red Bull charge?
Lights out 14:00 BST.