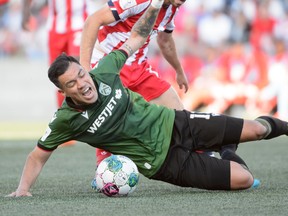 Reviews and recommendations are unbiased and products are independently selected. Postmedia may earn an affiliate commission from purchases made through links on this page.
Article content
True to form, there was little space to work with Saturday at TD Place Stadium.
Article content
The chances came few and far between with stingy sides Cavalry FC and host Atlético Ottawa battling for first spot in the Canadian Premier League.
So it came as no surprise, as well, that the match filled with shot-blocks ended in a draw between the league's No. 1 and 2 teams.
"A point is a fair result," said Cavalry GM/head coach Tommy Wheeldon Jr. "I think we edged possession and they edged some of the chances. It was a competitive game — a bit chaotic, at times — but you get that when you've got two top teams trying to get three points. It was a very good chess match between two teams that are on form and tough to beat." 
Article content
A well-deserved 1-1 result for both sides, indeed, keeping Cavalry (7-4-2) atop the table but still matched with Atlético (7-4-3) on 25 points.
Article content
At least the Cavs will certainly take it, especially without the services of much of their key attacking pieces.
Aribim Pepple, the hottest striker in the league with six goals in his last five games, was unavailable due to his sudden success.
"He's currently overseas in talks," said Wheeldon Jr. "We were approached by several English clubs on his availability, and we've provided consent as a club for him to travel to England to discuss a potential transfer opportunity."
The visitors were also without fellow fireballers Myer Bevan and Joe Mason — both still out with injuries. 
So instead, they relied on offence from another sudden on-fire source, as Jose Escalante threaded the lone goal for the visitors on another set-play conversion — his second free-kick goal in as many games.
Article content
Escalante scored from well out, lifting the ball over the wall and bending it past Ottawa goalie Nathan Ingham. It was set up after an Atlético defender knocked down Cavs midfielder Charlie Trafford a handful of yards outside the penalty box.
"Jose's on fire, isn't he?" said Wheeldon Jr. "He's confident, right? He does it in training. He's well-rehearsed. Last time, he put it in the top right corner. This time, he put in the top left corner. So he's got that cuteness about him."
It wasn't until the second half when Atleti cutely evened the score. 
In the 47th minute, Ballou Tabla fired home a ball past Cavs goalkeeper Marco Carducci and just inside the near post, completing a highlight play by the hosts. Teammate Zakaria Bahous knocked down a ball inside the box with his chest, and Tabla pushed it away from traffic to Malcolm Shaw, who quickly tapped it back to an active Tabla for a lasered left-footed equalizer to the top of the Cavalry net.
Article content
It looked like the Cavs might answer back with the best of chances during the middle stretch of the second half. But Ali Musse couldn't find the ball with the game potentially on the line.
"If Ali scores that one that gets caught up in his feet, I think that's the difference," said Wheeldon Jr. "But this is a tough (slow) pitch to play on — it's like futsol at times. And they train on it every day."
So then, it was Ottawa's turn to try to crack the tie, and they got several knocks at it.
First, captain Drew Beckie got his head on a corner kick in a bid to break the draw 77 minutes into the contest, but the ball was directed straight to Carducci.
A few minutes later, Atleti's Oliver Bassett fired a low shot from a long way out that Carducci easily got to on the line.
Article content
And the best chance for the home-side came in the 85th minute when Carl Haworth knocked a ball past the far post that both Shaw and Zach Verhoven couldn't quite reach while extending themselves to tap in.
"Both sides have got some clever plays in there," added Wheeldon Jr. "And both sides ended up defending quite well."
"I thought it was quite a good advertisement for the league," agreed Cavs midfielder Ben Fisk, a former Atleti captain. "Two top-of-the-table teams leaving it all out there, and two contrasting styles, which is always interesting to see."
The Cavs return home for a Thursday date with HFX Wanderers FC (5-2-6) at ATCO Field (6:30 p.m., OneSoccer, OneSoccer.ca).
FREE KICKS
Cavs captain Mason Trafford returned to the squad after serving a one-game ban due to yellow-card infractions, and fellow defender David Norman Jr. served the first of a two-game suspension for his part in a skirmish the previous game against host Pacific FC … The Cavs' Starting XI was: Carducci; defenders Trafford, Daan Klomp, Bradley Vliet and Karifa Yao; midfielders Escalante, Trafford, Sergio Camargo, Elliot Simmons and Ben Fisk and attacker Musse … Saturday's subs for the visitors were: goalie Julian Roloff; defender Roberto Alarcón; midfielders Joe Di Chiara, Elijah Adekugbe, Markus Kaiser and Skyler Rogers; and attacker Jean-Aniel Assi.