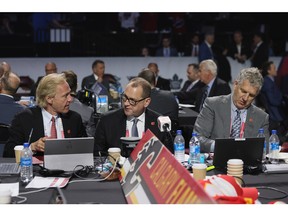 Article content
This turned out to be ideal timing.
Article content
For the past few days, Finland's Topi Ronni was attending a training camp hosted by his agent. As he headed home Friday, he was listening to coverage of the 2022 NHL Draft from Montreal, wondering when he might be selected.
As Ronni was removing his keys from the ignition, the Calgary Flames were on the clock. They cashed their second-round pick, No. 59 overall, on the dependable centre.
Article content
"I just came home, opened the door and heard my name from the TV, and then my parents came towards me and hugged me," Ronni beamed. "Good timing."
Ronni, who split last season between the pro team and junior club in Tampare, Finland, was one of three prospects welcomed Friday to the Flames' pipeline.
They also added a pair of power-forward projects — left-winger Parker Bell of the WHL's Tri-City Americans and Cade Littler of the BCHL's Wenatchee Wild — in the later rounds.
Article content
While Brad Treliving has a history of making major moves on the draft floor, this was an uneventful edition for the contingent from Calgary.
No first-rounder. No trades to announce. No news on whether Johnny Gaudreau will be staying put, although Treliving told reporters in Montreal that he remains optimistic about re-signing his star player.
These new guys won't make an immediate impact, but the Flames believe that Ronni has the potential to eventually skate as a middle-six centre at the Saddledome. 
Even before turning 18 in May, he'd already logged 19 appearances for Tappara in Finland's top professional league. As a draft-eligible, he also averaged just shy of a point-per-game while skating with the junior outfit and represented his country at the 2022 IIHF World U-18 Hockey Championship.
Article content
"He's real responsible positionally. With the national team, he played a lot against the other teams' top lines," said Flames director of amateur scouting Tod Button. "We think there's more offensively, but we like the fact that he's responsible and he thinks defence-first. We just have to push him out of his comfort zone and hopefully make him realize that you're allowed to make plays and you can carry the puck a little bit more.
"He played a lot in the men's league this year, as well, so when you're playing at that level, you know if you make a mistake offensively, you're on the bench. So he was responsible, and we liked that."
Ronni is anxious to prove the Flames added a well-rounded pivot with Friday's second-round holler. As he told Postmedia: "I think my major strengths are just my overall-ness and just that I can play both defence and offence."
Article content
While this young left-hander is expected to return to Tappara for the coming season, he was immediately — as soon as he walked through the door and heard his name on TV — envisioning a career in Calgary.
"Obviously, it's a milestone for me," Ronni said. "I've always been dreaming about NHL and now this is one step closer. I'm really excited to be a part of the Calgary Flames organization. They have a good history and I think good things coming up. So I'm really excited."
ICE CHIPS: Left-winger Dylan James, a grad of the Blackfoot minor hockey program, was the first Calgary-area talent selected in the 2022 NHL Draft. The Detroit Red Wings announced his name at No. 40. James was saluted this past season as the USHL's rookie of the year and has committed to the University of North Dakota … James was soon followed by fellow left-winger Rieger Lorenz, the leading scorer for the AJHL's Okotoks Oilers in 2021-22. Lorenz, who honed his skills in the Simons Valley system and will be a freshman this fall at the University of Denver, was nabbed at No. 56 by the Minnesota Wild.
Article content
MEET THE FLAMES' SELECTIONS
TOPI RONNI
Second round, No. 59
Position: Centre
Shoots: Left
Measurables: 6-foot-2, 180 lb.
Stats in 2021-22: 30 GP, 11 G, 18 A, 29 P, 53 PIM (Tappara U-20, Finland)
Fast fact: Finland's leading scorer at 2021 Hlinka Gretzky Cup with six points
PARKER BELL
Fifth round, No. 155
Position: Left wing
Shoots: Left
Measurables: 6-foot-4, 201 lb.
Stats in 2021-22: 64 GP, 18 G, 31 A, 49 P, 33 PIM (Tri City Americans, WHL)
Fast fact: Top setup man for Tri-City with 31 assists in 2021-22
CADE LITTLER
Seventh round, No. 219
Position: Centre
Shoots: Right
Measurables: 6-foot-3, 201 lb.
Stats in 2021-22: 50 GP, 25 G, 20 A, 45 P, 32 PIM (Wenatchee Wild, BCHL)
Fast fact: Committed to NCAA's Minnesota State Mavericks
Twitter.com/WesGilbertson