[ad_1]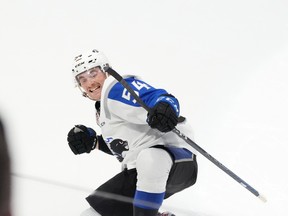 Article content
These promising prospects have a whole lot in common.
Article content
They were both picked by the Calgary Flames in the 2020 NHL Draft.
They're now skating side-by-side as defence partners for the Quebec Major Junior Hockey League's Saint John Sea Dogs.
And Wednesday, Yan Kuznetsov and Jeremie Poirier have a shot at hoisting the Memorial Cup. The Sea Dogs, with the crowd on their side as tournament hosts, will battle the Hamilton Bulldogs in the championship showdown.
Article content
"It's a huge opportunity for them," said Flames director of amateur scouting Tod Button, who was in Saint John for a chunk of the Canadian Hockey League's marquee event. "And you don't even have to ask me — just go back and listen to every press conference Darryl Sutter had this year about winning and what it takes. Obviously, it's hard to win the Stanley Cup — it's four seven-game series. So anytime you win at any level and add that to your resume, it helps you at the next level when people talk about the process and what does it take.
Article content
"To experience it, that is really beneficial."
These blue-line buddies have been tracing a similar path ever since being selected about an hour apart at the 2020 NHL Draft — Kuznetsov, then skating for the NCAA's UConn Huskies, as Calgary's second-round holler, and Poirier as a third-rounder. They boast an identical stat-line in three appearances so far at the Memorial Cup, each with a goal and two assists.
Kuznetsov, who started this campaign at AHL Stockton before being reassigned to the junior ranks, is more of a stay-at-home sort, although the 20-year-old lefty from Murmansk, Russia, has been determined to add some offence to his toolkit. As he told Postmedia in a mid-season interview: "I definitely don't want to sacrifice my defensive game, because I think that's the most important. But just joining the rush at the right time, getting shots through, maybe make some plays at the blue-line, but definitely nothing fancy."
Article content
Poirier has always been capable of piling up points from the back-end but has been committed to changing his reputation as a guy who was sometimes a liability in his own zone. The 20-year-old left-hander from Salaberry-de-Valleyfield, Que., figured this would be an ideal stage to show off his improvements, saying several months ago: "You play the best teams in the country at the Memorial Cup and those teams have the best players in the country, so you have to be really good defensively if you want to compete and have success."
The Sea Dogs, who had a month of tuneup time — and made a surprise coaching change — after being eliminated in the opening round of the QMJHL playoffs, are now one win away from being crowned national champs. They earned a spot in the title game by posting a 2-0-1 record during round-robin play, including a 5-3 victory over the Bulldogs.
Article content
Wednesday's Memorial Cup final (4 p.m. MT, TSN) should be the final junior outing for both Kuznetsov and Poirier. They will likely be in Calgary next season with the Flames' soon-to-be-relocated farm team.
Button was certainly impressed with this defence duo — for fans watching from home, keep an eye on Nos. 2 and 54 — while scouting the tournament in Saint John.
"They've made significant improvements over two years in the parts that our development team wanted them to work at. That being said, there's still a road ahead — it's a different level when you turn pro to be able to apply those things," Button said. "I think Jeremie has made significant strides in the defensive part of his game, and Yan also. Yan is moving pucks. He's a bit more poised with it. He's more patient. On the offensive blue-line, he's finding lanes. He's not just throwing it back in the corner. He's playing not high-risk, but he's playing smarter and more poised and more patient, which leads to more offensive opportunities.
"Jeremie, he's always had that part. He was more of a gambler/risk-taker. I always found, and one of the reasons I think we got him in the third round, is because he wanted every play to be a home run. Now, he's learned to hit a single or advance the runner or whatever the case may be. He's not trying to go for broke on every play.
"You're right that Yan was more of a defensive defenceman that we thought would always take care of his own and Jeremie was more the offensive guy, but they've added to those weaker parts of their game. That's the part I was most impressed with, and that's why I think it bodes well for the future."