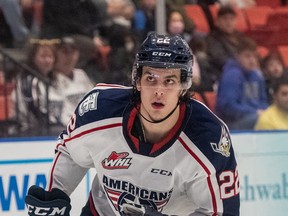 Article content
This kid has a heck of a shot.
Article content
With the scouts sniffing around ahead of the 2022 NHL Draft, he picked the right time to showcase it.
In parts of two previous seasons with the Western Hockey League's Tri-City Americans, Parker Bell had mustered a grand total of just one goal.
He popped this past winter for 18 tallies, plus a team-leading 31 helpers, flashing enough power-forward potential to be selected as a fifth-rounder by the Calgary Flames.
Article content
"I think it was just his determination. He's one of those players that you can just see the fire in his eyes daily," said Americans coach Stu Barnes — a guy who played 16 seasons in the NHL — of Bell's breakout campaign. "He wants to get better and he wants to be successful. He has a great shot. He can score from distance at the Western League level, for sure, and I think that will translate well going forward.
Article content
"And he's hungry to score. He wants to score all the time. You know, those guys aren't always around anymore, but he's one of those guys, he wants to score goals. If he gets a chance to shoot it, it's going at the net, and he got rewarded this season."
Bell, already a big dude at 6-foot-4 and 201 lb., now has a shot at eventually earning a job at the Saddledome.
He was tracking the draft from home in Campbell River, B.C., surrounded by loved ones and a few best buds, when the Flames gave them something to celebrate at No. 155 overall.
"I just saw my name on the TV there and I kind of blacked out. It was pretty cool," Bell said just minutes later. "It's a pretty surreal moment for me and my family. I've come a long way here and it's a lot of hard work to get here. It's unreal.
Article content
"I'm just really excited. I can't really think straight right now."
The Flames like Bell's straight-line game and willingness to crash the net and figure there's potential for him to add more meat to an already imposing frame.
"He's a project as far as he hasn't done a lot of high-level training," said Calgary's director of amateur scouting, Tod Button. "We think there's a body there that can really fill out and make him stronger and bigger."
Bell, who turns 19 in September, took a big step with the Americans in 2021-22. The talent-hounds took notice.
He put up 49 points in 64 regular-season outings, emerging as a standout story for a squad that finished in the basement in the WHL's Western Conference.
"I think it was opportunity and then confidence in myself, confidence in my game and confidence in my abilities," Bell explained. "I feel like confidence is a huge thing in hockey, and I feel like it really came together this year."
Article content
Friday certainly should have been another confidence-booster for this broad-shouldered left-hander.
While Bell prides himself on being able to play a grinding game or more of a skilled style, "whatever is really needed to win," the Flames are likely envisioning a guy who can crash and bang in a bottom-six role while also being able to finish off some of his chances around the crease.
Especially in the long-shot stages of the NHL Draft, it's not a disappointment if you find a future depth dude.
Button described both Bell and seventh-rounder Cade Littler — a 6-foot-3 centre for the BCHL's Wenatchee Wild — as "long runway" prospects. In other words, patience please.
"I think that's a great way to put it — power-forward-in-training," said Barnes, who notched nearly 600 points on the biggest stage, of Bell. "He has great straight-ahead speed. He has an excellent shot. He uses that speed to drive wide and I think as he ages and matures and gets stronger, he'll continue to be more successful with that. And he's not afraid to play along the walls and battle for pucks and compete at the side of the puck, whether it's breaking out of his zone or on the forecheck.
"I'm excited for Parker because he stuck with his game all year long. You could really see he was a determined guy that wanted to be successful and help the team out night after night, and I'm glad he is getting rewarded for all his hard work. He has lots of potential ahead of him, continuing to grow as a player, and hopefully in the future he can do some good things for the Flames."