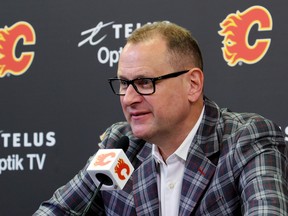 Article content
As soon as Johnny Gaudreau decided on goodbye, Wednesday was always going to feel like a letdown at the Saddledome.
Article content
While the Calgary Flames announced nine signings on the first day of NHL's free-agent window, none of these names will necessarily boost spirits for a fan-base coming to grips with the departure of their superstar left-winger. That's especially true after the jaw-dropping news that Gaudreau signed with the Columbus Blue Jackets, not what anybody had in mind when he informed Calgary's team brass that he was leaving town for family reasons.
Article content
Columbus is closer to home but … Columbus?!?
And for less loot — a lot less — than what he was offered to stick around Cowtown?
Oof. Ouch.
While Gaudreau was shopping his services to eastern-based employers, ultimately inking a seven-year, US$68.25-million deal in Ohio, the Flames' biggest moves Wednesday were to welcome back hard-hitting defenceman Nikita Zadorov and depth forward Trevor Lewis.
Article content
"You get up and you get to work," said Flames general manager Brad Treliving, asked about the beginning of the post-Gaudreau era. "You can't have a funeral. I know everybody is hanging their heads. You get to work. Yesterday, John made a decision to move on. We have to go on today. We move forward.
"You guys can all write all your stories and it can be doom and gloom. But for us, we have to go on."
Five of Wednesday's signings will at least have a shot at opening-night duties at the Saddledome.
Kevin Rooney, who spent the past two seasons with the New York Rangers, is currently pencilled in as fourth-line centre. Lewis will likely land on his right wing.
Zadorov will be a staple on the back-end, while Dennis Gilbert and Nicolas Meloche — with a total of 82 career NHL appearances between them — will be candidates for the role of sixth and seventh defenceman. Both scored one-way contracts.
Article content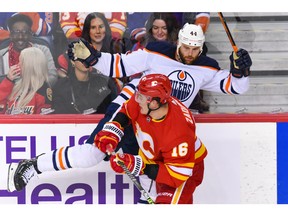 The Flames also signed forward Clark Bishop, blue-liners Nick DeSimone and Colton Poolman and goaltender Oscar Dansk, all minor-leaguers.
Treliving had cautioned against a "knee-jerk reaction" to Gaudreau's exit, and he stuck to his word in the opening hours of the free-agent frenzy.
After all, he wasn't going to find a 100-point player. There was just one available — the guy who'd called on Tuesday evening to inform that he'd be taking his puck-on-a-string show to another city. It's believed the Flames offered Gaudreau an eight-year package worth a grand total of US$84 million. Even Johnny's agent, Lewis Gross, admitted they couldn't have done much more.
With widespread speculation the wee winger would wind up in Philadelphia, New Jersey or perhaps on Long Island, word of his agreement with the Blue Jackets was as startling as the cannon-blast goal celebration at Nationwide Arena in Columbus. His new rink is roughly an eight-hour drive from his hometown of Carneys Point, N.J.
Article content
"Thank you Calgary, this city is so special to us," wrote Gaudreau's wife, Meredith, on Twitter.
Echoed his older sister Kristen, also on social media: "We love you Calgary!!!!! Gonna miss this team! Thank you for being great to the Gaudreau family!!"
Gaudreau, who finished second in the league scoring race last season, wasn't going to be replaced with one swing, however mighty. As Treliving reminded reporters Wednesday: "It's not just about a big name left, so let's go get a big name."
And he didn't.
While there was a lot of loot being tossed around by some rival GMs, Treliving's most expensive investment was Zadorov, who returns on a two-year deal worth US$3.75 million per winter.
Rooney was the only other gent in seven figures. He inked a two-year pact with an AAV of US$1.3 million. The 29-year-old left-hander is coming off a six-goal, dozen-point campaign in 61 outings with the Rangers.
Article content
It's possible the Flames, suddenly with some salary-cap wiggle room, remain in the bidding for Nazem Kadri or Ondrej Palat, both undecided into Wednesday evening.
"Like I said yesterday, not everything gets solved today," Treliving said, speaking before the Johnny-Becomes-A-Blue-Jacket bombshell and also before he'd hammered out a contract with Zadorov. "The idea that you just go out and, quite frankly, blow our brains out here today, it really didn't make sense. You also have to have opportunities. There has to be dance partners for you. At this particular time, we think we've made some signings that will give us some depth."
Zadorov is key to the Flames' identity as a miserable lot to go up against — the 27-year-old thumper was credited with 22 points, 77 penalty minutes and 181 hits in his first season at the Saddledome — and Lewis, 35, is a versatile veteran who'd earned Darryl Sutter's trust long before he arrived in Cowtown.
Article content
Rooney brings some speed and sandpaper and figures he has more offence to unlock, while Treliving described the defence additions as "younger players that we think have an opportunity to have some upside." Meloche suited up for 50 games with the San Jose Sharks in 2021-22, while Gilbert spent all of last winter with the Colorado Avalanche farm team. Both will be 25 when they report for training camp in Calgary.
"I think you've heard me say this before — today is not the last day that you have a chance to build your team," Treliving said Wednesday afternoon. "We'll continue to work at it."
ICE CHIPS
The Flames were hoping rugged rearguard Erik Gudbranson might return, but they weren't going to beat a four-year, $16-million offer from the Blue Jackets. "Erik had a hell of a year for us. We think highly of Erik," Treliving said. "Erik got himself a hell of a deal, and I'm really happy for him and his family" … Also on their way out were farmhand forwards Byron Froese (Vegas Golden Knights), Glenn Gawdin (Anaheim Ducks) and Luke Philp (Chicago Blackhawks) … The Blue Jackets visit the Saddledome on Jan. 23.