The 34-year-old veteran forward who grew up in Orléans and makes his off-season home here signed a three-year, $19.5 million deal
Article content
Claude Giroux is coming home to try to win a Stanley Cup.
Article content
The Ottawa Senators scored a big win in free agency Wednesday by signing the 34-year-old veteran forward—who grew up in Orléans and makes his off-season home here—to a three-year, $19.5 million deal not long after the market opened.
Trying to help this team push for a playoff spot next season, Senators' general manager Pierre Dorion and the club's hockey operations staff were thrilled to get Giroux to sign on the dotted line so he can help this group to the next level.
Article content
"You look at the Ottawa Senators right now and it's very exciting. They've got a lot of talent with guys who like to work hard and compete," Giroux told TSN. "I just like the character of the team and I'l fit right in with them.
"I wouldn't sign here if I didn't think we had the chance to win the Cup."
Article content
Dorion told a funny story about feeling compelled to make this move.
"Everywhere I've been going in the last two months everyone has been asking me if I'm signing Claude … So he pretty much saved my life," Dorion said with a smile.
Coach D.J. Smith, heading into his fourth season behind the bench, is thrilled with this acquisition of Giroux because it gives him options up front. The expectation is he'll play on the right side with Stuetzle and newly-acquired two-time 40-goal scorer Alex DeBrincat.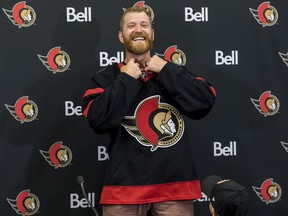 He said he discussed this possibility with late owner Eugene Melnyk four years ago and was pleased the club was able to get it done.
"I looked at when his contract was up and I told him that Claude was going to help us get to the next level," Dorion said. "When you get a chance to add a player of Claude's calibre, you just have to look at the package. It's the skill, it's the leadership, it's the intangibles of wanting to win.
Article content
"He was the one player a lot of Cup contending teams were after. To be able to add this kind of player to a team we've already feel we've improved. It excites us as an organization, our core players are excited, D.J. is excited and our fans are very excited."
While there had been speculation other teams would make a push for Giroux, nobody had the lure of coming home and being with a strong group of young players like Brady Tkachuk, Josh Norris, Drake Batherson, Tim Stuetzle, Thomas Chabot, Alex Formenton and Jake Sanderson that this group can provide.
A first-round draft pick (No. 22 overall) of the Philadelphia Flyers in 2006, Giroux suited up for 1,000 games with the club before being dealt to the Florida Panthers at March trade deadline. He has 294 goals, 629 assists and 923 points in 1,018 games.
Article content
He also has 95 games of playoff experience with 23 goals and 81 points. He had three goals and eight points in 10 playoff games with the Panthers in the spring.
He's one of the best players in the faceoff circle in the NHL. He finished last season ranked 13th in the NHL with a 60.3 per cent winning percentage. By comparison, Boston's Patrice Bergeron was No. 1 at 61.9.
Part of Giroux' role will be working with the likes of Shane Pinto, Mark Kastelic, Norris and Stuetzle on helping them improve at taking draws.
"A chance to play at home was very exciting," Giroux said. "Last year when we got the chance to play agains them that's when you knew what kind fo team they are. They're a hard team to play, they're well-coached. When the idea was to come home and play for the Senators I didn't look back after that.
Article content
"You think about it your whole career. A couple of weeks after the season, I had a thought about it and the more I started thinking about it, (this) made a lot of sense. This is a team you don't like to play against, they're a pain in the butt. They have a lot of character and a lot of skill, it's just something you want to be a part of."
Giroux understand this won't turn around over night but is confident the organization is headed in the right direction and that's why he agreed to terms here.
"With the pieces Pierre was able to add, and all those young players had great years last year, they're only going to get better," Giroux said. "Are we going to win the Cup next year? Probably not. I'm not saying we won't, but I'm just saying probably not.
Article content
"We have a full year to build on, work on our game together and our identity. When we do that, that's when we're going to start being dangerous. You don't get an identity within 10 games of a season. It takes awhile but when you start getting an identity, and you know how you want to play and what kind of team you want to be, that's when you start winning games."
Dorion presented Giroux with a sweater with no number on the back. That decision will be made another day.
Giroux summed up his excitement.
"I wish camp was starting tomorrow," he said.
He's not alone on that front.
Twitter: @sungarrioch