Key events:
65 min: Harder uses her nous to win a corner when she clearly had no support. It's a fine delivery from Thomsen that Sevecke heads over when she perhaps could have got over it more. She holds her head ruefully as she jogs away. A rare chance to get back in the match spurned.
63 min: The Danish changes have made no difference to the flow of Germany attacking play. The Danes are being gegenpressed to death.
60 min: Now Germany make a triple substitution: Lattwein, Popp and Brand replace Dabritz, Schuller and Bruhl. Lattwein's first touch is to glance a corner on to the near post. That's the fourth time Germany have hit the woodwork.
59 min: A moment before that goal, Denmark made a triple substitution. Madsen, Troelsgaard and Bruun were taken off and Gejl, Kuhl and Nadim (an Afghan refugee who is an incredible person) were brought on. Such upheaval before defending a corner was probably not helpful to defensive organisation.
Goal! Germany 2-0 Denmark (Schüller 57)
… from which Magull curls an inswinger into the six yard box that Schüller leaps up to head home. She got in front of Christensen, who was left flapping at the ball. They deserve their two-goal lead. They've been far the better side. Can Denmark respond?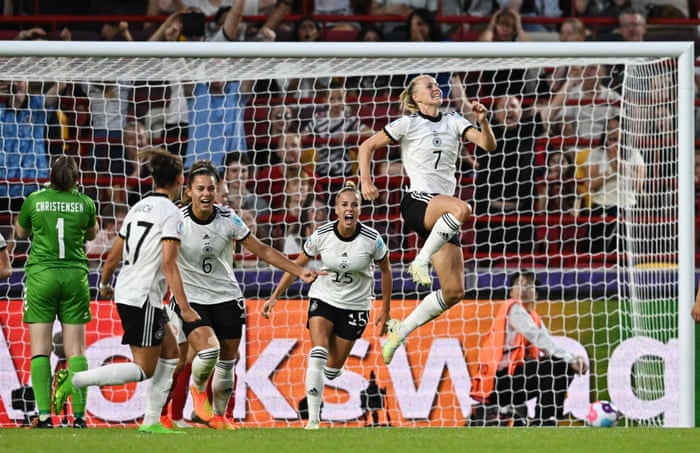 55 min: Magull rifles an effort at goal from 20 yards that Christensen pushes round the post. Corner …
54 min: A decent spell for Denmark. Perhaps some players are trying to avoid getting the hook. Madsen lets fly from distance but it's well wide.
52 min: Oberdorf shows a lovely little bit of skill to zip into the box and find Huth, who shoots at goal only to see it blocked. The ball breaks to Dabritz. She tries to turn and shoot but she sees only Danish defenders. She showboats with a dazzling little flick in the area and then works the ball wide to Bühl, who is tackled. This is all too easy for Germany and Sondegaard is lining up a number of Denmark changes.
51 min: Madsen does well to hold up the ball and works it back to Sevecke, who undoes all her good work by sidefooting the ball forwards to nobody. Madsen jump sin frustration.
49 min: Hegering pings a long diagonal ball out towards Veje strains her neck to head clear. Germany pick up possession and begin their next dominant spell of possession.
47 min: Germany have started the second half as they ended the first: in control.
45 min: Peep! False start. Peep again! Now the second half begins. There don't appear to have been any changes. And Denmark look to be sticking with three at the back. There is almost an immediate mix-up in the Danish defence. Then Germany attack down the left but Sevecke cuts out the cross and Christensen smothers the ball.
The good news for Denmark fans is that their team only trails by a goal and probably can't play much worse. A tactical tweak to deal with the treat of Huth would certainly help and then they need to consider how to get the ball into Harder and support her. We'll know shortly if Sondegaard has made any changes. Germany will surely stay as they are. Their tactics and team chemistry have been spot on.
Half-time reading
Half-time: Germany 1-0 Denmark
A simple ball over the top finds Schüller, who clatters a shot at Christensen. She parries to Magull, who heads wide. And that's that. Germany could be two or three goals to the good. A brilliant half by them and a very poor one from Denmark, who have much work to do.
45 min: There will be one minute of added time for Germany to improve their possession stats.
43 min: Germany are knocking the ball around for fun here, finding pockets of space and looking like they have 12 players. Lars Sondegaard may want to consider ditching his three-player central defence and matching Germany up. At the moment it's three on three when Germany attack.
41 min: Harder receives the ball with her back to goal. Hendrich is all over her, though, and the Denamrk captain is forced backwards. She needs some runners off her. She's clever enough to find them.
39 min: Oberdorf is booked for a lunge on Pedersen. The youngster loves a tackle and will have to watch herself now.
38 min: Germany change tack and go long. Schüller's flick on finds Bühl, who flashes a wicked right-footed drive over the bar.
37 min: Magull and Huth have been a class apart so far fro Germany. Harder has shown some nice touches for Denmark but has looked isolated when in possession.
35 min: Magull plays a lovely give and go in midfield before accelerating towards goal and crashing a low drive straight at Christensen. It came after Denmark ran out of ideas when trying to play out from the back and gave the ball away under pressure for the umpteenth time this evening.
34 min: A speculative effort from Thomsen on the right, who drops her shoulder and curls a left-footed shot towards the near post that Frohms collects comfortably.
32 min: Germany's press ruffles a few Danish feathers again. Huth, inevitably, is involved on the right and she plays in Gwinn on the overlap but a solid tackle from Svava halts the attack.
31 min: And now Denmark win a corner after an adventurous run up the left from Svava who has had a torrid time on the left so far. Thomsen's low corner is missed by everyone and bobbles through the area before Germany clear.
29 min: A chance for Denmark. Bruuns takes a high ball on her chest and perfectly sets herself up for a ferocious shot on the bounce from 18 yards out that Frohms has to leap to palm away. That came out of nothing but is a warning for Germany.
27 min: So if the question was: which Germany will turn up? The answer, so far, is a very good one, full of energy and invention.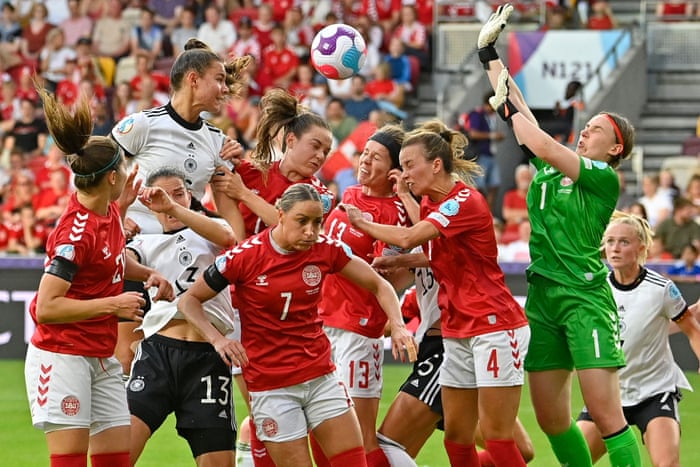 25 min: Harder gives away a foul as she tracks back and trips an opponent in frustration. Denmark need to have a think about how to deal with the Germany threat on the right. Huth plays in Schüller with a delightful through ball after some good build up play. She cuts the ball back into the six yard box where a panicked St Pedersen hoofs out for a corner. The corner is cleared but back Germany come.
22 min: The Danes haven't been able to cope with Germany's intensity. They've also been so sloppy in possession.
Goal! Germany 1-0 Denmark (Magull 20)
This had been coming. Bruun plays a woeful ball back towards St Pedersen, who loses out in a tackle with Magull on the edge of her box. The midfielder races into the box and absolutely smashes the ball past Christensen from 10 yards. The Denmark keeper had no chance. A deserved lead.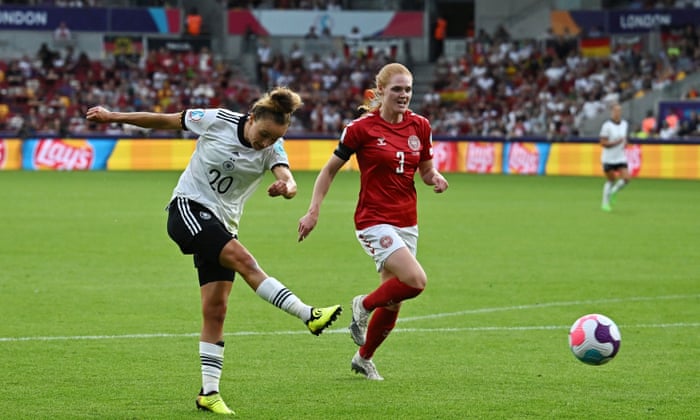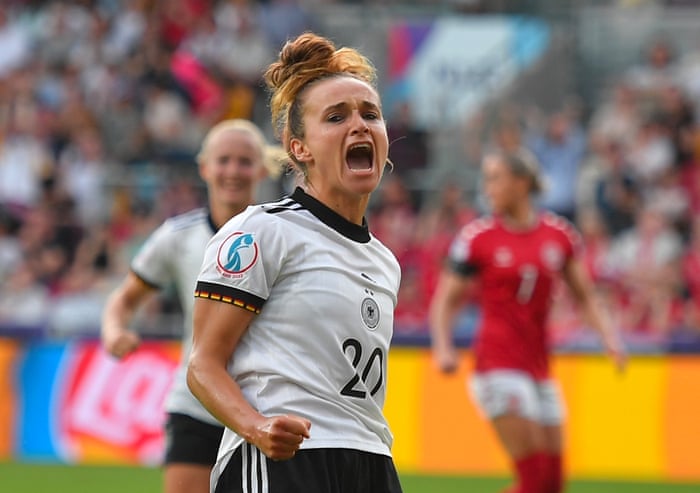 18 min: Huth shows Veje a clean pair of heels again and whips a vicious cross in to the six-yard box. It's ever so slightly behind Magull, who contorts her body to try and get a volley on goal, but the ball rather bounces off her thigh and into the arms of the diving Christensen, who is Denmark's busiest player by some distance.
17 min: I'm not sure wing-backs is working for Denmark here. Huth is getting acres of space on the right, as she sits in the pocket between Svava and Veje. It would also help if Denmark could keep hold of possession but they can't. They're treating the ball like a hot potato.
15 min: A Germany corner is held brilliantly by Christensen, who leaps above a crowd of at least eight players to claim.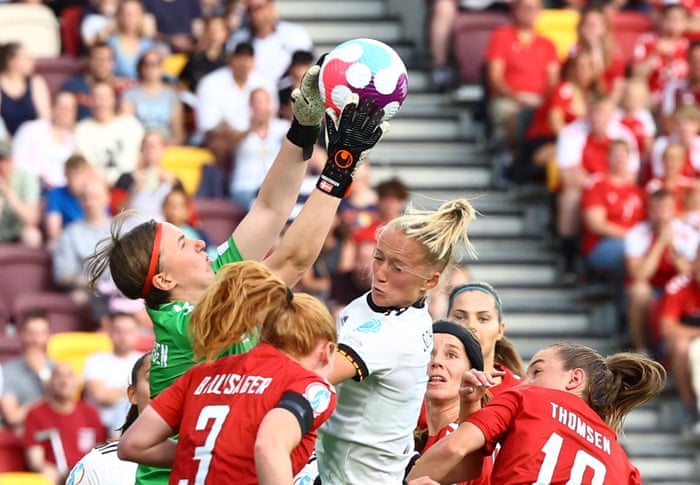 12 min: … only for Bühl to retrieve it and lay the ball off to Rauch, WHO HITS THE BAR AGAIN! This time the left-back smashes the shot at goal from 25 yards out. It takes a slight deflection on its way through I think. The rebound is headed against the post by Schüller, but she was offside. Germany are well on top.
11 min: Germany passing the ball around very nicely here and Denmark are unsure when to press. Huth gets her dancing feet going on the right and whips a delicious ball in that Denmark hook clear …
9 min: Rauch smashes the ball against the bar! The ball is cut back to the edge of the box, where the Germany left-back is lurking. Her eyes light up as she crashes a shot at the top corner that cannons against the corner of post and upright. The ball arrives at the feet of Dabritz, who drags wide. She was offside anyway. Germany are on top here.
7 min: Thomsen is clattered by Bühl, who looks well up for this. The Dane is soon back up on her feet and tormenting Gwinn over on the right. She sits the Germany full-back down with a sharp turn inside and then picks out Madsen, who glances a difficult headed chance wide.
6 min: After a nervy start, Germany are suddenly looking confident on the ball. Huth chases down a long diagonal and picks the pocket of Veje, who had got to the ball first. She races to the byline and pulls a cross back to Bühl, who does well to direct a header just over the bar. She had to really twist her neck to get to that.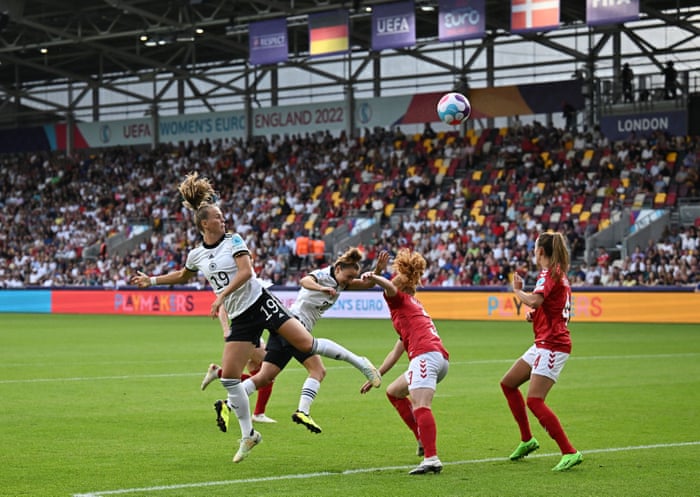 4 min: Huth zips up the right wing and lofts a cross into the near post but Denmark goalkeeper Christensen is out on it like a flash and gathers comfortably.
2 min: It's a sharp start from the Danes. Harder shows her skills early on with a swift turn before slipping in Madsen on the edge of the box. She tries to pop the ball in behind the Germany defence to Bruun, but Hegering is alert to the danger and steps in to pick up possession.
1 min: We're under way in Brentford. Denmark, in red, are shooting from right to left on my telly. Germany, in white, are going the other way.
There's a decent crowd at Brentford but I'm betting that it's below that of the earlier Group B game. The Denmark anthem is belted out by players and fans alike. Denmark has two anthems and this one is the civil one I believe: "There is a lovely land". Then Germany, who have only one, give a rousing rendition of "Das Deutschlandlied". I'd argue that was louder in the stands, too, so perhaps Germany have the better support. Time for kick off!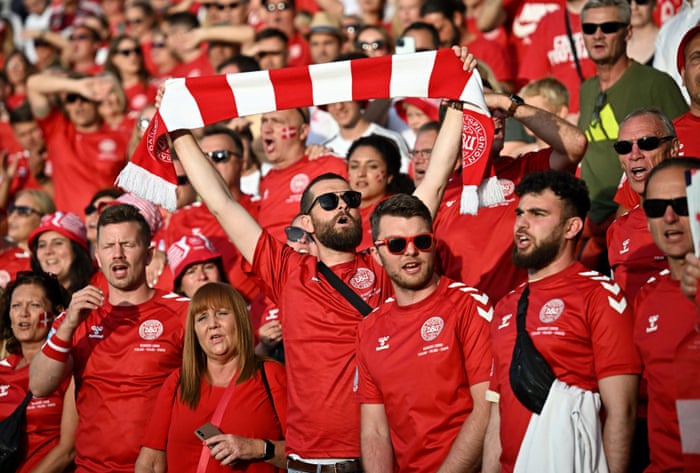 It's not long until kick-off now. The two teams are led out by their captains. Germany skipper Svenja Huth has her poker face on as she takes her side out. And Pernille Harder looks cool and collected as she strides out with her Denmark side in tow. Both captains are clever forwards with bags of experience and bundles of silverware. The game may well be decided by one of them.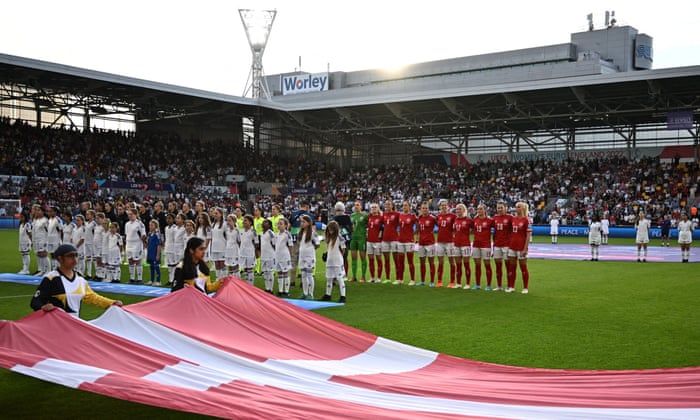 Germany were knocked out by Denmark in the 2017 quarter-finals, so revenge may well be in the air in west London. Here's how that one went down five years ago:
A bit of breaking news from the England camp. I really hope Covid doesn't sink its teeth into this tournament.
"Do you know what beers are being served at the concession stands," asks Peter Oh. "If Carlsberg is available but not Paulaner, the Danes will undoubtedly enjoy a massive psychological advantage!" Given the Fuller's brewery is just round the corner, I'm guessing they're keeping it neutral.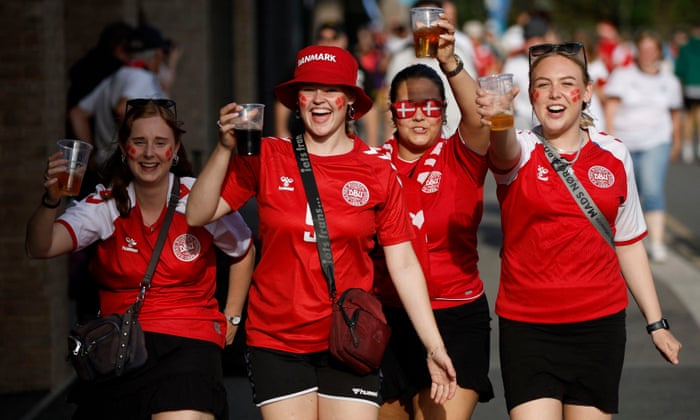 Another Women's European Championship record was broken earlier, with Spain v Finland attracting 16,819 fans, the highest-ever attendance for a group-stage game not involving a host. Can Germany v Denmark break that? Brentford's capacity is over 17,000, so it is big enough to see that record fall very quickly.
Spain lay down a Group B marker with their 4-1 defeat of Finland. Here's what our Spanish football correspondent Sid Lowe, in Milton Keynes (we don't get to write that much), made of the match:
The Finland coach Anna Signeul had warned that Spain have a lot of Alexia Putellas on their team, which might have been pushing it a bit, but they can certainly play, that's for sure. Cruelly denied the chance to grace this stage by a torn cruciate ligament suffered just 48 hours before it all began, the world's best footballer sat in the stands, crutches at her side, and watched her team mates give a demonstration of their art with a 4-1 victory over Siegneul's side in Milton Keynes.
Germany: Frohms, Gwinn, Hendrich, Hegering, Rauch, Oberdorf, Dabritz, Magull, Huth, Schuller, Buhl. Subs: Schult, Kleinherne, Lattwein, Lohmann, Freigang, Popp, Anyomi, Dallmann, Wasmuth, Brand, Doorsoun, Berger.
Denmark: Christensen, Sevecke, Ballisager, Veje, Thomsen, Troelsgaaard Nielsen, Junge Pedersen, Svava, Madsen, Bruun, Mosegaard-Harder. Subs: Svane, Thrige, Boye Sorensen, Karen Holmgaard, Sara Holmgaard, Nadim, Larsen, Bredgaard, Kuhl, Gevitz, Gejl, Worsoe.
Referee: Esther Staubli (Switzerland)
I'm not sure which team will pull in the biggest following at Brentford this evening but Germany manager Martina Voss-Tecklenburg will be hoping it's them. She believes that some of her less experienced players struggled with the atmosphere in the 3-1 defeat by England at Molineux in February. Here's what she had to say:
It is actually quite difficult to prepare the players for it. We saw that at the preparation tournament, the Arnold Clark Cup, when there were suddenly thousands of fans in the stadium against England and they made a huge noise – that did something to some of our younger players. There was no longer the same belief, the same certainty there. But the only way is to gain that experience.
And as if by magic, here's your photo of Thomas Frank with Denmark fans at Brentford. Now I'd like to see Christian Eriksen and Jan Molby. Oh, and the Laudrup brothers, Sofie Gråbøl from The Killing and Brigitte Nielsen, too. Or maybe that's asking too much?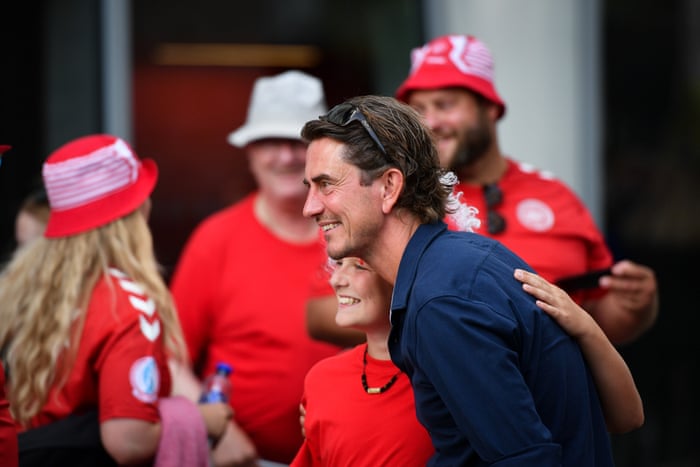 It's still a baking hot 27c in London so conditions will be sticky when the match kicks off. The players are already at the futuristic-looking Brentford Community Stadium, where Karen Holmgaard and Pernille Harder have led the Denmark players out to inspect the pitch. There couldn't be a better place for the Danes to play, given Brentford's links with their home nation. Perhaps Bees boss Thomas Frank will be in attendance to cheer on his nation tonight. He likes leading a singalong so he'll be perfect for getting the atmosphere going.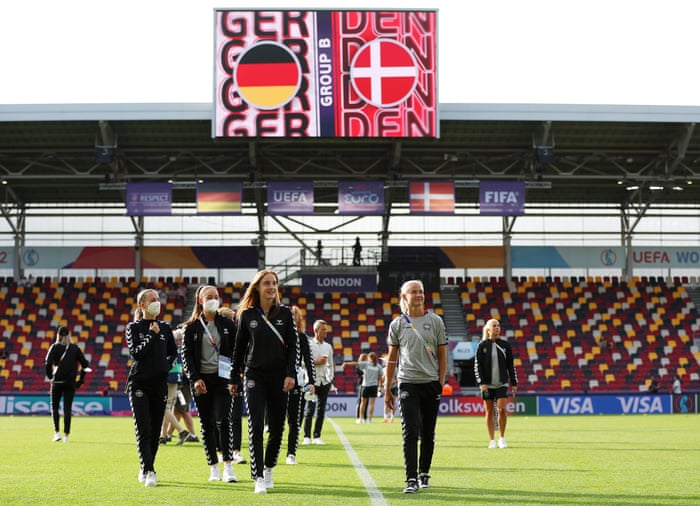 In the other Group B match, tournament favourites Spain have swept Finland aside. After going 1-0 behind early on, they roared back and a Caldentey penalty in injury time gave the scoreline a little gloss. Sarah Rendell was watching that one. You can join her for reaction here before checking back in with me.
Good evening. What a match we have in store for you tonight! The Pernille Harder-powered Danes were runners-up in 2017 and are one of the favourites to win Euro 2022. They are likely to be one of the tournament's most free-flowing sides with experienced manager Lars Søndergaard preferring a 3-4-3 formation with wing-backs.
And if you think this means they might be a bit open at the back, qualifying suggests you'd be wrong. The Danes scored 48 goals and conceded only once to win their group. They beat Austria and Brazil in warm-up games though they did lose 2-1 to Norway, another fancied team in this tournament who got off to a flying start with a 4-1 defeat of Northern Ireland last night.
As for Germany, they have incredible pedigree in this tournament, winning it a record eight times but they are a bit of a mixed bag at the moment and predicting how they will perform is difficult. They have not progressed past the quarter-finals in their last two major tournaments, the 2019 World Cup and 2017 Euros, but manager Martina Voss-Tecklenburg believes this can "lead to a few teams underestimating us". Will Denmark do that at the Brentford Community Stadium? We will soon see.
I'm looking forward to seeing 20-year-old Germany dynamo Lena Oberdorf. The Wolfsburg midfielder is still so young yet plays with the commanding authority of a wily old pro.
My prediction: Denmark 2-1 Germany