"I don't think I could keep going if it wasn't for my wife and daughter."
Article content
Back where his winding football journey brought him 21/2 years ago, then ended abruptly a year later, in the city where his daughter Aaliyah was born, Nick Arbuckle is back in Ottawa — excited for another chapter in his life.
Article content
Much of Arbuckle's football path has not been easy; he has hit roadblocks and resistance, but with a big helping hand from his wife Zakiyyah, he's pushed on. And here he is … again.
With starting quarterback Jeremiah Masoli facing what could be a 10-week to 12-week recovery from a leg injury, the Redblacks Monday traded a fourth-round draft pick to the Edmonton Elks to acquire the 28-year-old Arbuckle, who was under contract to the Redblacks in 2020 — the season that was cancelled by the CFL.
Article content
Back then, he lived in Greely and in Stittsville. And he's anxious to get a chance to really get to see Ottawa, a city that was under lockdown and restrictions for much of the time he was here. He's also anxious to help the Redblacks, a team that's heading into a Saturday showdown in Hamilton — a matchup of two 0-4 teams.
Article content
"I don't think I could keep going if it wasn't for my wife and daughter," said Arbuckle shortly after Tuesday's practice. "My wife is the most supportive person you could possibly imagine. Our daughter is two years old and this is about to be her seventh home in a little over 24 months of her life. This is the second time we've had to go through a mid-season trade where (my wife has) taken over being basically a single mother for the time being — until they can come up here. That's really tough. (The support from my wife) allows me to play football and do the things I love doing."
Arbuckle finished practice with the Elks Monday, then, while he was eating lunch, got a call from his agent — Rob Fry — to tell him about the trade. He got on a flight out of Edmonton around midnight and arrived in Ottawa about 6:30 a.m. Tuesday. He went straight to the stadium to get a physical done. Then he was on the field, wearing No. 19.
Article content
"It's been a rollercoaster in a lot of ways," said Arbuckle. "Just (Monday), I was practising in Edmonton. It was my choice (to be here right away); I knew it was Day 1."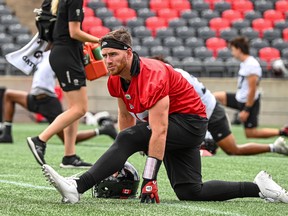 Arbuckle is the kind of guy you have to root for.
The back story to his pursuit of a football career: By his senior year of high school, he was still a backup quarterback with no scholarship offers. In his first year at Pierce College, he broke plenty of records, with 3,774 yards passing and 40 touchdown tosses in 11 games. His team, which had gone 3-7 the previous year, went 9-2 and won the Patriot Bowl. As a senior at Georgia State in 2015, he was first-team all-Sun Belt Conference and was also the conference's student-athlete of the year. Oh, then he worked minimum-wage jobs: He cleaned pools for $600 a week, washed dishes and cleaned tables at a school cafeteria. To help, his wife was working three jobs, including nights in an escape room.
Article content
After getting a look from the Pittsburgh Steelers, Arbuckle joined the Stampeders' practice roster, then was cut. He went to a B.C. Lions mini-camp in 2018, but was released. Thinking his football dream might be over, he sent in an application to drive for Uber. But he got an invite from the Stampeders and won their backup QB job in 2018. With Bo Levi Mitchell injured, Arbuckle got significant time as the Stampeders' starter in 2019. He completed 174 passes for 2,103 yards and 11 touchdowns.
The Stampeders dealt him to the Redblacks, who signed him to be their quarterback in 2020. The Redblacks decided to go in a different direction early in 2021, signing Matt Nichols.
Arbuckle signed in Toronto, then was dealt to Edmonton in late October. He won the starting job out of Elks' training camp, but was replaced by Canadian Tre Ford in Week 4. With Ford injured, the Elks go into Thursday's game in Montreal with Taylor Cornelius as their starter.
There are no hard feelings toward the Elks … or the Redblacks.
"The coaching staff (in Edmonton), they're doing whatever they think is going to help them win," he said. "I've never held any resentment towards the decision-makers (in Ottawa). I'm really excited to be with Coach (Paul) LaPolice and the staff and these players and get a chance to really be a Redblack now — an opportunity I didn't get because of COVID. Better late than never."
Caleb Evans, who got significant playing time a year ago with injuries to Nichols and Dominique Davis, likely will be the starter this week vs. the Ticats. The Redblacks will evaluate from there.
Article content
SUSPENSION REACTION
A day after the CFL announced a four-game suspension to Saskatchewan Roughriders defensive lineman Garrett Marino, who delivered a cheapshot hit on Redblacks quarterback Jeremiah Masoli on Friday (in its ruling, it was broken down as a two-game suspension for a dangerous and reckless low hit which resulted in serious injury and for the subsequent celebration; a one-game suspension for verbal comments made about Masoli's heritage and a one-game suspension for his illegal and reckless tackle of an Ottawa offensive lineman on a previous play), LaPolice was asked for his reaction.
"I knew the league was going to do something," said LaPolice. "It's a good result."
Asked if the punishment was enough, he said: "That's not my world."
Article content
Asked which of the three parts of the punishment bothered him the most, he said: "I don't know if you can parcel out any of them. I'm a fan of this league. I love the players in the league so I never want to see anyone get hurt."
THE END AROUND
The Redblacks' starting lineup at Tuesday's practice looked much the same as it did during the team's 28-13 loss to Saskatchewan on Friday. Not practising: DB Abdul Kanneh (ankle), DB/LB Patrick Levels (knee), WR Justin Hardy (hamstring) and OL Randy Richards (pectoral). OL Ucambre Williams, OL Hunter Steward (ankle) and WR/returner Terry Williams were limited. DL Kene Onyeka (hamstring) was a full participant.