Article content
There are Calgary Flames fans who always feared this possibility, those who have been fretting since long before he reached superstar status that Johnny Gaudreau would someday decide he wanted to play closer to home.
Article content
Someday has arrived.
After 602 games and 609 points in the Flaming C logo, Gaudreau is a goner. The next time he steps on the ice at the Scotiabank Saddledome, it will be as one of the out-of-town guests.
On the eve of Wednesday's free-agent frenzy, the 28-year-old left-winger called Flames general manager Brad Treliving to deliver the devastating news — that he plans to test the market. As soon as the clock strikes 10 a.m. MT, he will be eligible to go elsewhere. You can bet it will be a whole lot closer to his loved ones.
Article content
"It's a disappointing day, to say the very least," Treliving said Tuesday evening, shortly after that franchise-altering farewell call from Gaudreau, who hails from Carneys Point, N.J., and will be an unrestricted free agent for the first time in his career. "I sat in front of you at the end of our season and I think my line and my comment was we would move heaven and earth. I can assure our fans that we have done everything possible to keep John in Calgary.
Article content
"I don't want to speak for John, and I won't speak for John, but it is my strong belief that this was a family decision. And I respect that fully."
Gaudreau's agent Lewis Gross confirmed that, telling Sportsnet's Elliotte Friedman: "The Flames did everything they could. This came down to a family decision."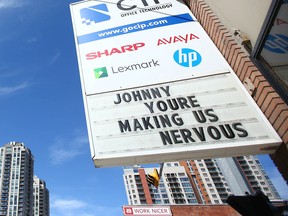 Treliving made a major push Tuesday to get Johnny Hockey's signature on a new contract.
It's believed he bumped Calgary's offer to north of US$10-million per season over the maximum eight-year span. That's a total payday of more than $80 million — a lump sum that likely won't be beat on a seven-year deal in any other market.
If Gaudreau inks Wednesday for less loot, the explanation is simple — location, location, location.
Article content
It's not just about where he wants to chase a Stanley Cup ring but also where he wants to start his family. He and his wife, Meredith, are expecting their first child.
The New Jersey Devils and New York Islanders, both within reasonable driving distance of Gaudreau's hometown, are expected Wednesday to be among the most aggressive bidders for his services.
The Philadelphia Flyers would need to clear some cap-space, but they'll be tempted to take a big swing at landing the ace playmaker who was raised just across the Delaware River.
"I think this was a real hard decision for John," said Treliving, wearing the disappointment on his face after what he described as an emotional conversation with Gaudreau. "He was very appreciative of the organization. He was very appreciative of the fans. He was very appreciative of how he was treated, his teammates.
Article content
"We develop a relationship with these players — we've been with them a long time — and he's a hell of player. So it's hard. I know it's hard for him too. If it was easy, I don't think he would have been agonizing over it … It weighed on him and ultimately he chose what he felt was best for him and his family, and all you can do is respect it."
With Gaudreau's goodbye, the Flames are losing a perennial all-star and fan favourite in the prime of his career. He will not be easily replaced. He won't be immediately replaced, that's for sure.
The puck-on-a-string winger racked up 115 points this past season. That includes 90 scoresheet mentions in even-strength scenarios, the highest total by any NHLer since the mid-1990s.
He finished second in the overall scoring race — only Connor McDavid did more offensive damage — and fourth in Hart Trophy voting while also climbing to fifth on Calgary's all-time list. If he had signed up for eight more campaigns, Jarome Iginla's franchise points record was certainly within reach.
Article content
While the 2021-22 Flames were not a one-man show, Gaudreau is the biggest reason they posted the best regular-season record in the Pacific Division. Darryl Sutter wasn't exaggerating even a smidge when he described No. 13 as "one of the best 200-foot players in the league right now."
Imagine the scowl on Sutter's face when he learned Tuesday that there's now a massive hole to fill on his first line. Elias Lindholm and Matthew Tkachuk will need a new left-winger. With Tkachuk eligible to become an unrestricted free-agent next summer, Lindholm could eventually be working without both.
Treliving had been adamant that re-signing Gaudreau was Plan A.
So what's Plan B?
It probably would have been Filip Forsberg, but he's already re-upped with the Nashville Predators.
Article content
The Flames could enter the bidding for centre Nazem Kadri, a key piece for the Colorado Avalanche in their roll to a Stanley Cup parade, but he's about to turn 32 and not all that long ago nixed a trade to Calgary.
Evgeni Malkin likely won't be looking west. Ditto for Claude Giroux. Those would be short-term solutions anyway.
The truth is that while the Flames now have an extra $10 million to spend when the free-agent window opens Wednesday, the best player on the market is the guy who is leaving town.
"The wrong move right now, I can tell you, is to knee-jerk reaction and just try to rush out and replace a player with the wrong response," Treliving said. "You don't go and pick somebody off the tree tomorrow to replace Johnny's offence and what he did with our team. But you also have to move forward."
ICE CHIPS
The Flames list of unrestricted free agents also includes three defencemen — third-pairing thumpers Erik Gudbranson and Nikita Zadorov and insurance policy Michael Stone — and depth forwards Calle Jarnkrok, Trevor Lewis and Brett Ritchie.