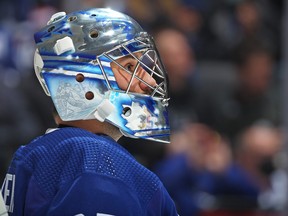 Article content
The Maple Leafs were trying to keep a Plan B for their goaltending open as the crease picture around the NHL changed dramatically throughout Thursday.
Article content
They freed up money for Jack Campbell or perhaps another netminder and erased a mistake from last year, all with a trade of problem-plagued backup Petr Mrazek to the Chicago Blackhawks during Thursday night's opening round of the NHL draft in Montreal.
Just before they selected at 25th overall, general manager Kyle Dubas moved Mrazek and the pick to the Hawks with Toronto dropping to 38th. That took the Leafs out of the first round for the third time in four years, shifting all their picks to Friday, with the Hawks' second-rounder, Winnipeg's in the third (79th overall) and a seventh-rounder (218th).
Article content
The Leafs will save $3.8 million US this year and next with Mrazek moving on.
On Wednesday, Dubas was trying to drum up trade interest, by extolling Mrazek's virtues, writing off his first-year issues in Toronto, including a couple of injuries and an .888 save percentage, as an anomaly. With the deal done, Dubas is moving on from his mistake.
Article content
"With the cap space we have now, every option is available to us," he told reporters at the Bell Centre.
But Campbell will still be looking to at least double and perhaps triple the $1.6 million he was paid last year and get a longer term. That will likely require Dubas to save even more salary as the start of free agent shopping looms on Wednesday.
Toronto hasn't exactly been flush with single-season 30-game winners in net since Felix Potvin, Curtis Joseph and Ed Belfour were each big parts of conference final appearances between 1993 and 2002. Yet Campbell, who is among the top 20 in franchise wins and ranks third in club history with a .916 save percentage (minimum 75 games) can -likely get much more than Toronto can afford with clubs such as Edmonton also looking for help in net.
Article content
Darcy Kuemper has come on the radar as the Colorado Avalanche traded for Alexandar Georgiev as their primary stopper. Georgiev was in Igor Shesterkin's shadow in New York, while Kuemper has the bonus of a Stanley Cup to lure suitors. Dubas said when the prospect he wanted was gone at 25, Dubas got on the phone to Hawks' counterpart Kyle Davidson.
Marc-Andre Fleury, 37 years old but just a year removed from a Vezina Trophy, made a late-day decision to return to the Minnesota Wild for a two-year deal at an AAV of $3.5 million US. Before that, Toronto, Washington and his draft team, the Pittsburgh Penguins were linked to him.
Ottawa's Matt Murray is far more a long shot for the Leafs, but one with a historical connection to Dubas and head coach Sheldon Keefe via their time together with the Soo Greyhounds. Murray is unhappy as one of three Senators' goalies and ready to move after a wonky season of injuries and one controversial demotion. Some buyout or trade voodoo would have to happen to get him to the Leafs or anywhere else, working around the $6.25 million owed the next two seasons. When trade talks with Buffalo heated up this week, with the Senators' first round pick (seventh overall) in play, Murray refused to take the city off his no-fly list.
Article content
The shine came off Campbell in post-season play, with two of the club's six straight first-round failures on his watch. And Dubas must not only be careful with cash where Soupy is concerned, but be wary of the longer term Campbell seeks to take full advantage of his limited free agent window. Dubas already has six players making in excess of $6.9 million up to $11.6 that is eating major cap space.
Dubas insisted the Leafs have good options for a new back-up between Erik Kallgren and Joseph Woll who saw limited action last year.
RUSSIAN AROUND
Dubas is trying to navigate what's going on with Russian hockey in these turbulent times, everything from the possibility of further restrictions on NHL players there now or the potential pitfalls of drafting someone with their club and national teams being banned around the world in the wake of the invasion of Ukraine.
Article content
"Heading into the draft, Russians are eligible," concluded Dubas on Wednesday when asked to assess risk. "It's been a little more difficult gathering the same information on them. We'll evaluate as they come forward on our list."
The Leafs have made scouting Russian free agents from the KHL and researching draft picks a priority in recent years, selecting four Russians the past two years.
"There's so much uncertainly (now), a situation I have not encountered in my time here," Dubas said. "We have people on our staff who were involved when it was very difficult to get players out of Russia for different reasons than today. At that time, a lot of very good players came to the NHL a little later.
"I'm just speaking of hockey decisions. There's obviously a much greater human situation happening there."
Article content
The Leafs have a couple of 6-foot-1 Russian goalies with Kazan in the KHL right now, Artur Akhtyamov (drafted 106th overall in 2020) and Vyacheslav Peska (185th last year).
LIGHTNING STRIKES
Was Dubas pulling for Tampa to beat the Avalanche in the Cup final for better optics after the Leafs failed to finish them in the first round?.
"I never think of things that way. In the end we didn't get it done. To pause the time and space continuum and say we'd have done the same thing … we just have to focus on ourselves. The 'what ifs' don't really help, don't cure the sleepless nights, or make you feel any better. If anything, it's probably a little bit the other way."
"We just have to focus on ourselves in avoiding that same feeling, avoiding the same questions of 'does it make you feel better that this team you played well against was two wins away (from the Cup)?'. We need to be the team in that position moving ahead and we feel we're poised to do that. More important, our players believe they are."
Article content
LOOSE LEAFS
Dubas received one second and one third place vote from executive peers for the Jim Gregory GM of year award, finishing 10th overall behind deserving winner Joe Sakic of the Avs … This is Wes Clark's first draft in charge of Leaf amateur scouting after moving up to replace John Lilley. "His communication with the staff was very similar to John's," Dubas said. "He was excellent throughout the year at hammering home with the staff what he wanted day to day, meeting to meeting, in terms of wanting the guys to supplement all their live viewings with more evidence with video, to check your work. Wes leans heavily on our analysts' department and our research and development" … Dubas did the talking for now on the significant moves this week for the his hockey department, specifically new assistant GM Hayley Wickenheiser and new goalie coach Curtis Sanford. On Wickenheiser becoming the sixth woman to be named assistant in the NHL in a short time, Dubas said "I think it's a great trend. It just shows the many different people, genders, races, sexual orientations, whatever it may be, that are capable of doing great things in hockey. The hirings in the last year and the last week becoming more diverse (including Mike Grier of San Jose as the first Black GM) is great for the future and the state of hockey." New Jersey's new assistant GM, Kate Madigan,  announced the Devils' first pick, defenceman Simon Nemec … Wickenheiser won't likely address her historic appointment until development camp later this month, while Keefe won't comment on Sanford until September training camp … Bringing in Fleury would have continued a rather curious fixation many Leaf GMs have had with acquiring someone else's No. 1 overall pick. Fleury would have been the ninth, after Dale McCourt (Detroit 1977), Rob Ramage Colorado '79), Mats Sundin (Quebec '89), Owen Nolan ('90 Quebec), Eric Lindros ('91, Quebec), Bryan Berard (Ottawa '95), Thornton (Boston '97) and John Tavares (Islanders, 2009).