TK PIC
"I just thought, this is great. I can do a feel-good movie. Let's have the audience feeling that their hearts are full."
There are films that are just so delightful, they're not just fantastic, they're fantastical. Mrs. Harris Goes to Paris (July 15) is just that, and Lesley Manville, playing the title character Ada Harris, turns in a magical performance as a 1950s British widow whose life mission becomes a Dior dress. "She wanted this dress for so long. It's been like an epic mission." Essential to the film was recreating the "iconic dresses" of that day, which the film did by collaborating with the House of Dior and the film's costume designer Jenny Beavan. "Everyone knows them from all the pictures." The Oscar-nominated actress (for 2017's Phantom Thread) is in high demand; she'll next be seen as Princess Margaret in Netflix's The Crown. "It is so oozing with excellence in every department." Known for her many collaborations with celebrated director Mike Leigh (Another Year, Mr. Turner), she credits him for avoiding typecasting. "It's why I'm playing Mrs. Harris while I am playing Princess Margaret, those two completely different ends of the social scale. That's due to Mike."
SUBSCRIBE TO THE PARTING SHOT WITH H. ALAN SCOTT
ON APPLE PODCASTS OR SPOTIFY
How did you respond to the script when you were first offered the role?
I was overjoyed. I mean, first of all, I just thought wow, this title is pretty good as well. I hadn't read the book and I hadn't seen the old Angela Lansbury film. It came from my dear friend Rima Horton, who is Alan Rickman's widow. And Alan and Rima had read the script a long time ago and were huge fans of it and were very interested in being involved in it in some way. Alan is no longer with us, but [Rima] is one of the executive producers on the film. So I thought well, if Rima and Alan think this is a good story, it's got to have something going for it. So Rima said, "I think it's going to come your way. It's been on the boil for a while and you're the perfect person to play it, etc." So then it eventually did come my way, maybe late 2018 or early 2019. Then, of course, COVID happened. We didn't start til September, so not bad really. And having read it, I just thought, this is great. I can do a feel- good movie. Let's have the audience feeling that their hearts are full.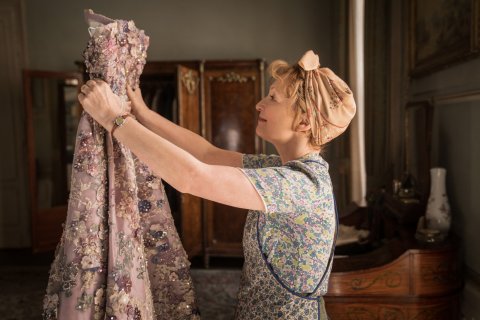 How excited were you to work with all those Dior dresses?
I love clothes, let's just start by saying that. And obviously having made Phantom Thread, I know a lot about that period. I was playing somebody who dealt with high-end couture in the '50s, so I've done a lot of research into Dior. So that whole vibe of the '50s and Dior was very much in my DNA. Dior was involved with the film, but also we had Jenny Beavan, three-time Oscar winner, designing the film. Obviously part of the thing she had to do, specifically for the fashion show, was recreate some of those famous Dior dresses because they are their iconic dresses, everyone knows them from looking at all the pictures from the '50s. I think I'm right in saying that Dior gave her some originals as well. When I was watching that fashion show, which we shot over about three days, I was kind of in awe of it all. And the beauty of it, just the sheer aesthetic beauty. I can't analyze fashion, really, it just pleases me because it's beautiful. It's just as simple as that. It's something beautiful to the eye. That's it for me.
I loved the part where Archie (played by Jason Isaacs) says the Dior dress amplifies Mrs. Harris' beauty.
She wanted this dress for so long. It's been like an epic mission for her to get this dress. And not just the whole geographical journey of getting the dress, it's been such a huge thing for this woman who's never been abroad and doesn't do plane journeys. She's been on this mission like a heat-seeking missile for a Dior dress. And when she's got it, he says, "You've always been beautiful inside and out" and all of that. And you just say, yeah, come on, you didn't look at her when she was in the pub while he was off with the young floozy. What can you say? That's another discussion.
This performance feels very award-worthy. Do you ever think about awards?
No. I got my first encounter with all of that when I did a film called Another Year by Mike Leigh. Everybody said, "Well, you're gonna get an Oscar nomination for this." And I didn't. And then everyone said, "Oh, well, it's because of category confusion. Were you the lead, were you supporting?" You have to make a choice as an Academy member, you get to choose where you put them? Of course, you've got a split vote or who knows? So I got so worked up. And, in terms of movies, I was a little bit greener than I am now. But I kept thinking then, I'm gonna get an Oscar nomination, but I didn't. So you then put it to the back of your mind, and I put it so much in the back of my mind that I was actually rehearsing Long Day's Journey Into Night when the Oscar nominations were being read out for Phantom Thread, and we were just coming out at the end of our lunch break and I was sitting there ready, looking at my lines, ready to go and my best girlfriend rang me and she just went [screams].
That's the perfect way to receive that news.
So we did actually stop rehearsals and have some champagne. It's such a funny game, all that stuff really. I've seen so many brilliant performances over the years that don't get recognized, so it's nice when you do and it's sad when you don't. You have to take it with a pinch of salt.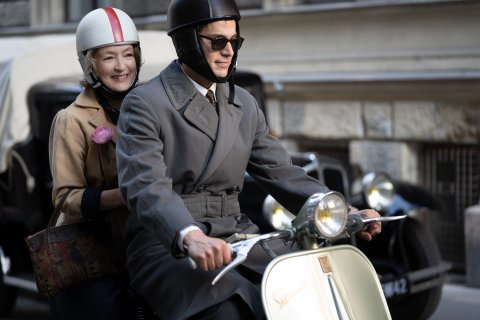 A lot of times when a female character is of a certain age, they're looking for a man or it's about falling in love. All Mrs. Harris is looking for is that Dior dress, she's not defined by a man. Did that stand out to you?
Yes, totally. And I'm always looking for work that allows me that. There's plenty of great plays that I've done that are dealing with women my age, I think television is dealing with it more now. Certainly, television in the UK is and I'm very much part of that. I've been doing quite a lot of television lately, playing some really great roles that are roles where women are not pigeonholed and they are defining their own lives and their destiny and making decisions and not just being the wife or the mother and are allowed to be sexy. There's this feeling of, once you're over 50, who wants to know about whether you're going on a hot date? Well, why not? It's interesting, because all the women over 50 actually want to see that. It helps them have a positive view of themselves, that it's not over. It's far from over, in fact. So I think it's getting better, but I think it's slowly getting better and it needs to carry on getting better. But there's a climate for it. There is definitely an audience for it. Actresses like Annette Bening, Meryl Streep, Helen Mirren, they're still out there plowing on and redefining it all. I'm trailing the blaze right behind them.
What do you think it is that Americans are so obsessed with about British culture?
I suppose historically, and with good reason, we do have some pretty good actors. You've got some amazing actors as well. But I think we've got actors who've had a big theater history. It's a slightly different breed, I think. We haven't had, until much more recently, the kind of film industry that America has had. We've had this great theater history, really good television, whereas America now is making phenomenally good television. I think it's all been sort of swings and roundabouts. I love watching American television. Give me Succession, I can eat that for breakfast, lunch and dinner.
Succession does feel very British.
Yeah, I guess so. It has got a lot of British actors in it as well, hasn't it? I'm loving American television at the moment.
Now I want to start a campaign to get you on Succession.
I actually told my agent that I want to be on Succession, but I think they're shooting the series now and there's no way I could be in it now. Depends if they do another one.
You mentioned Mike Leigh before, a director you've collaborated a lot with. Has working with him changed the type of actor you are?
I met Mike in my early 20s when I really didn't know what day it was. I mean, I certainly didn't know what type of actor I was, what I wanted to do, where I wanted to go. I was kind of blindly just having a very nice career, always playing myself. I didn't go to drama school. I was kind of puffing it and tap dancing and a bit of jazz hands. Then along came Mike Leigh. He was the first person to say you're really good and you can play somebody that's not like you. That's been so formative because it's why I'm never typecast. It's why I'm playing Mrs. Harris while I am playing Princess Margaret [in the upcoming season of The Crown], those two completely different social ends of the social scale. That's due to Mike giving me this enormous range of roles to play. And the way he works, there's no script, but what he does with the actors is do the work of the playwright, the screenwriter, he does that with them, but it's slow. Another Year is a nine-month gig. You create those characters slowly, individually, one-to-one with him over months. And then he starts to put you with other characters, and then you do improvisations. And then you hone it all down and you make it concise, so that it's a script. You never roll the camera and see what happens. You know absolutely what you're saying by the time you're filming it. So it becomes a script, but we just have a different route to get to the script. It's a collaborative thing with Mike and the actors. I've just always found that so liberating and wonderful. Obviously, it suits me. It doesn't suit everybody. I just love the freedom, creating this character and the time it takes and the depths that you go into, and then you create somebody like Mary [in Another Year], who I can still feel and understand. I can look to the chair next to me here and I could visualize Mary there. It becomes so full for you because you've created them.
Considering how much is known about Princess Margaret, and the other actresses who have played her on The Crown, how did you approach finding your version of Princess Margaret?
Well, I knew for a very long time before we started that I was gonna play her, so I had time to read the books and just let it all sink in. And then to watch seasons one to four with Vanessa Kirby and Helena Bonham Carter and use all they brought to her and just observe it. But then the day comes when the scripts arrive and it's like any other job, you're doing the drama. But yes, I've been soaking her up and absorbing her by osmosis and she's been getting into my bones. But then it's a drama and you have to treat the script in any other way that you treat any other script. But it's thrilling. It's a very unique project to work on and it is so oozing with excellence in every department. What an iconic woman to play, and it's a great character to have had the privilege to try and do justice to.
Listen to H. Alan Scott's full conversation with Lesley Manville on Newsweek's Parting Shot. Available on Apple Podcasts, Spotify or wherever you listen to podcasts. Twitter: @HAlanScott