Here are today's Ottawa Sun letters to the editor.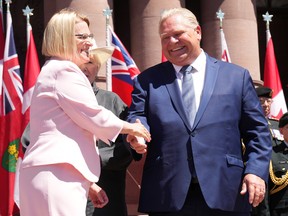 Article content
ON LIFE SUPPORT
Article content
Why is it that our critically failing health-care system continues to be ignored by our politicians? There is article after article about health-care worker burnout, nurses leaving the profession, long emergency room wait times, not having enough hospital beds, people having to go to the U.S. for treatment and paramedics who can't get to emergencies sometimes at all because they're stuck in hospitals.
None of this is acceptable, yet it continues to happen right here in Ontario. Why? I would like to offer my congratulations to our new health minister, Sylvia Jones. Now that she has this honourable position, what does she plan to do with the horrendously failing system we have in Ontario?
Like the many health-care ministers before her, will she turn a blind eye to the dire state our health "care" system is in? Like those before her, will she insist that we have one of the best health-care systems in the world while ignoring the fact there aren't enough doctors and nurses in hospitals? Will she continue to overlook the long emergency wait times? Will she spare a thought to the lack of paramedics there are? Will she worry that they're stuck in hospitals and can't get to critical emergencies when they are so desperately needed? Will OHIP continue to fund out-of-country hospitals instead of putting that money into our system? Will she acknowledge that our system is broken? Will she acknowledge that it was broken before the pandemic? Will she meet with real patients who couldn't get the medical care they so desperately needed when they needed it? Will she personally meet with the family members of those who died while waiting for care that never came?
Article content
Will she make health care a priority?
KAITLIN LOWE
WINDSOR
(You've laid out a busy schedule for her.)
POLICE CHIEFS THE PROBLEM
Re: 'Defund police' just a scam; Communities want more cops, not fewer, research shows, column, July 2
The problem with policing in North America today and in particular here in the Great White North is the people at the top of law enforcement. Look at Toronto, where crime is very high and homicide rates are almost triple that of Montreal. The Big Smoke's top cop, James Ramer, is far too busy virtue signalling, as pointed out by writer Jamil Jivani.
However, Ramer is not alone. One just has to look at our current interim Chief Steve Bell, who makes sure to say all the right buzz words so that he dare not ruffle the feathers of progressives and radical interest groups that are continually critical of the police.
Article content
Ramer, Bell and the rest of their ilk should let the cops do their jobs, especially in disenfranchised areas, where the residents are crying for more protection.
STEPHEN FLANAGAN
OTTAWA
(And, when the police do something to be critical of, we should criticize.)
PEOPLE LOSING FAITH
Re: No secrets at LRT inquiry, July 4
People are losing faith in our elected representatives and this article showed why. Along with other shortcomings, there were 1,600 LRT documents they did not want us to see. Why not?
Buses running empty, drivers the loneliest people in town. The LRT gang is made up of people with no experience in rail transport.
The problem is the people who could do the job don't want it and we are stuck with who we've got. I am lucky, I happen to have one of the better ones because I live in Constance Bay.
LEO D. VILLENEUVE
CONSTANCE BAY
(LRT: The gift that keeps on giving.)