Here are today's Ottawa Sun letters to the editor.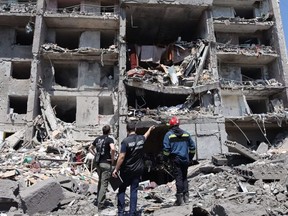 Article content
REBUILDING UKRAINE?
Article content
The cost of rebuilding Ukraine? The subject is presently being discussed by the European Union. Does Russia intend to leave all the areas it has "taken" in Ukraine? I don't think so. Russia will never leave Ukraine, ever, unless it is forced by military pushback by what is laughably termed "the free world." Or if Russian citizens revolt against the present regime and force the withdrawal of military forces from Ukraine. I strongly doubt that event will occur. I rather predict that Russia will gradually eat up Ukraine and that the example set by them will eventually be emulated by other tyrants.
The "free world" is weak. It prefers to let one free country be bullied and taken by Russia in order to avoid what it believes would lead to a world war if it interfered militarily. Doesn't anyone remember what led to the Second World War? Our present world is to be pitied.
Article content
ROBERT LEBRUN
ORLÉANS
(Particularly the citizens of Ukraine)
ITS WORK IS DONE
With the damning evidence coming from the LRT inquiry, this council has lost the moral authority to make new spending decisions. Decisions on additional LRT spending should be an election issue. Spending for the Ottawa airport is so outside the norms of city spending authority that it should not be made by a council on its last legs. As for climate change, million-dollar electric buses that have proven troublesome in northern regions of the U.S. says enough.
This council's work is finished and its members know it.
ROBERT TESKEY
OTTAWA
(Do they, though?)
SHOP SMART
What's for supper, dear? We all must make important decisions daily to keep our lives on a familiar path. As we age, I find one of the most difficult tasks is what am I preparing for the nightly meal. Especially for two people. As seniors, we wish to remain healthy by having our bodies intake proper nutrition daily.
Article content
With our fixed seniors incomes, we are forced to no longer prepare some of our favourite cuisine. With the cost of living and increase in prices, we now usually prepare enough for two, with no leftovers. Other times I will prepare enough to freeze to enjoy at a future date. Your money is well spent in preparing extra at times. Some dishes do not contain what are now expensive ingredients. My chili no longer contains a $10 piece of Italian sausage or pepperoni.
Shop smart and stock up on weekly sale items, and at times substitute a regular three-course meal with a healthy helping of homemade soup and pasta casseroles. We don't always have to dine like royalty at nine all the time. At nine … I'm asleep by eight.
WAYNE KIRK
PEMBROKE
Article content
(Helpful tips.)
FAREWELL, FRANKIE
I am a practising Catholic, but it is high time for this present Pope to write his memoirs. Francis has been the most radical and left-leaning pontiff in decades. He has alienated followers with controversial decrees, including his encyclical environment, where his leftist views were not warmly received by many. He has done a poor job regarding weeding out priests and bishops involving sexual abuse in the church.
A new Pope is needed, and an excellent choice would be one from the African continent, where there are millions of Catholics and that person could perhaps bring us back to the true teachings of the church. Time to go, Frankie.
STEPHEN FLANAGAN
OTTAWA
(Maybe he'll get a nice retirement package?)