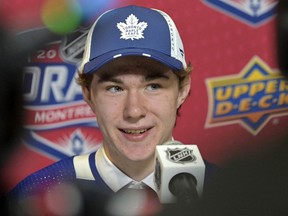 Article content
Were he not positioned so low in the draft and armed with only five picks, the basics of Kyle Dubas' draft haul would have been cause for excitement.
Article content
A couple of 50-point forwards. A big goalie. An NCAA-bound sniper from Mississauga who is a big fan of Auston Matthews and Mitch Marner. A Russian with potential.
But upon further review, the names were far down Central Scouting's list, the first not called until early in the second round and long after any defencemen of note had been snatched up the night before.
Article content
And general manager Dubas, who has only eight picks in total the past two years because of costly trades, might not be kept around by his bosses long enough to see any of this crop reach NHL status.
Yet, optimism abounded for the Leafs as they closed their table at the Bell Centre in Montreal on Friday afternoon, believing they did their best with limited resources, Dubas dealing his way to a couple of extra picks and new director of amateur scouting Wes Clark pumped to make the final call on which kids came to the stage.
Article content
Once finally down to drafting — Dubas making the late call on Thursday to throw the 25th pick into the Petr Mrazek trade to Chicago — the bird dogs went into full fetch mode.
The opening selection at 38th was two-way centre Fraser Minten of the Kamloops Blazers, the No. 28th ranked skater in North America by CSB and 59th best in the draft in The Hockey News' respected draft preview.
"This is unbelievable, the Leafs especially," Minten said. "They're one of the most fun teams to watch. I had a lot of good conversations (pre-draft). I got to know Kyle the past month, he's awesome and hopefully I make this pick worthwhile for him."
If 55 points and 57 penalty minutes in 67 games didn't pump the prognosticators, a point-a-game run in the Western Hockey League playoffs sold the Leafs.
Article content
"He elevated his game when it mattered," said Clark, who moved to the head of the Toronto draft team when John Lilley joined the New York Rangers last year. "That's good to see for a young kid in a tough league."
There was a further hiatus for Toronto's scouts when Dubas paused at 79th in the third round to turn it into two picks. He traded with Vegas for 95th, Chicago Steel forward Nicholas Moldenhauer, and 122nd, overage and over-sized goaltender Dennis Hildeby. The Swede, listed somewhere between 6-foot-2 and 6-foot-6 depending on the source, is the third netminder Toronto has taken in as many drafts behind two tall Russians, Artur Akhtyamov and Vyacheslav Peska.
In the never-ceasing search for a homebrew goalie, those three will develop behind the two Dubas hopes will battle for the backup job next season, Joseph Woll and Erik Kallgren. The No. 1 won't be determined until Jack Campbell makes his move when free agency opens Wednesday.
Article content
Hildeby did not excite many scouts as a junior, but moving to the Swedish Elite League gave him a few games to build confidence and grow into his frame. And who doesn't love a big stopper in the NHL these days?
Moldenhauer, Minten and their families were at the Bell Centre on Friday. Moldenhauer was ecstatic that his hometown team took him, though he could be away a few years once he picks a school for 2023-24. At Chicago, a USHL team the Leafs are very familiar with through assistant GM Ryan Hardy, the 5-foot-11 Moldenhauer had 43 points in 41 games. He can be a right winger or centre.
Dubas knew that picking a Russian in this draft carries a risk, given the current political climate in the world. But it's a market the Leafs have worked in the draft and in free agency and they couldn't resist Nikita Grebenkin. A 6-foot-2 forward with 64 points in 58 games, he could move up full time to Magnitogorsk's KHL senior team this season.
Article content
The Leafs' draft day ended with Saskatoon Blades' Brandon Lisowsky, a 5-foot-9 forward who produces at a point a game pace.
MEET THE LEAFS DRAFT PICKS
(with comments from Wes Clark, Leafs director of amateur scouting)
Centre Fraser Minten, Kamloops Blazers, WHL
CHOSEN: Second round, 38th overall
VITALS: Born in Vancouver. BC, 6-1, 185 pounds, shoots left
STATS: 67 GP, 20-35-55
SCOUT SAYS: "Highly intelligent, highly competitive, he'll be a captain (at Kamloops) at some point. I love everything about his game. (Strong playoffs) was part of the puzzle."
DID YOU KNOW?: Has played piano the past 10 years … Leafs had not drafted a WHLer with their first choice since Morgan Rielly in 2012.
Centre Nicholas Moldenhauer, Chicago Steel, USHL
Article content
CHOSEN: Third round, 95th overall
VITALS: Born in Mississauga, Ont., 5-11, 170 pounds, shoots right.
STATS: 41 GP, 18-25-43
SCOUT SAYS: "He loves playing at the net, he can score and make plays. He's got a runway here as he makes a decision on a (U.S.) school in the near future."
DID YOU KNOW: Leaf fan of Matthews and Marner, he was the 20th overall pick of the Ottawa 67's before his OHL rights were traded to Sarnia.
Goalie Dennis Hildeby, Farjestad, Swedish Hockey League
CHOSEN: Fourth round, 122nd overall
VITALS: Born in Jarfalla, Sweden, 6-5, 234 pounds. Catches left.
STATS: 7 GP, .931 save pct.
SCOUT SAYS: "(Leafs goaltending consultant) Jon Elkin spent quite a bit of time watching him and did a lot of homework as well. It was a short sample (of games), but he raved about him, the size, the mobility, the potential. He's a little older, but he'll be in a good place in Farjestad next year in a tandem role."
Article content
DID YOU KNOW: Fourth of five goalies chosen in Friday's fourth round, the second European.
Right wing Nikita Grebenkin, Magnotogorsk MHL/KHL
CHOSEN: Fifth round, 135th overall
VITALS: Born in Serov, Russia, 6-2 183 pounds, shoots left
STATS: 58 GP. 17-47-64
SCOUT SAYS: "The word that came back to us was he's 'machine-like. I know he's a (draft) re-entry and he'll have to battle for a spot in Magnitogorsk. But we'll see what happens the next couple of years."
DID YOU KNOW: Ninth Russian that Dubas and the Leafs have drafted since 2016. Born on the anniversary of the last Leaf Cup.
Left winger Brandon Lisowsky, Saskatoon Blades WHL
CHOSEN: Seventh round, 218th overall
VITALS: Born in Port Coquitlam, BC, 5-8, 171 pounds, shoots left
STATS: 68 GP, 33-25-58
SCOUT SAYS: "What we've been most impressed with is that we thought it would take him a couple of years, in terms of learning the defensive side of the game, coming from a bantam/midget style of game to our (more structured) game. But he's one of the top players in the league. Clearly, he's taking care of his own zone as well." — Blades GM Colin Priestner via Saskatoon Star Phoenix.