The cook, author and host travelled more than 32,000 kilometres and visited all Mexico's 32 states seeking the flavours he loves for debut book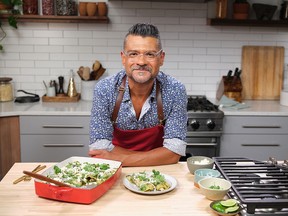 Reviews and recommendations are unbiased and products are independently selected. Postmedia may earn an affiliate commission from purchases made through links on this page.
Article content
Our cookbook of the week is Mi Cocina: Recipes and Rapture from My Kitchen in Mexico by Rick Martínez. To try a recipe from the book, check out: Aguachile (fresh, butterflied shrimp with avocado, cucumber, lime and a spicy serrano salsa), poc chuc (orange- and lime-marinated grilled pork) and pollo al pastor (spicy-sweet chipotle-roast chicken with onion and pineapple).
Article content
In October 2019, Rick Martínez embarked on a life-changing journey. After landing in Mexico City and buying a car, the author, cook and host travelled more than 32,000 kilometres (20,000 miles). He visited 156 cities and covered all Mexico's 32 states, letting his eyes and nose guide his food choices.
Martínez channelled his memories of the extraordinary meals and experiences into his debut book, Mi Cocina (Clarkson Potter/Publishers, 2022). Starting in the centre of the country, he features 100 of his favourite dishes from his travels throughout Mexico's seven culinary regions.
Iconic main dishes — such as aguachile (fresh, butterflied shrimp with avocado, cucumber, lime and a spicy serrano salsa), Sinaloa's unofficial state dish, and Yucatecan poc chuc (orange- and lime-marinated grilled pork) — make up the bulk of the recipes.
Article content
While on the road, Martínez talked to the people who cooked the food and took copious notes. He tasted multiple versions of each dish to establish a broader point of reference when it came to developing his own interpretations for the book.
"Everyone makes food differently. The same dish can have hundreds, if not thousands of iterations depending on the person, the location, the climate — all of those things," says Martínez from his home in Mazatlán.
"I needed to understand what are the commonalities between each of the versions that I'm tasting. And I tried to make it sort of scientific, but it's obviously not scientific by any stretch of the imagination, because I could only eat so much while I was travelling," he adds, laughing.
Article content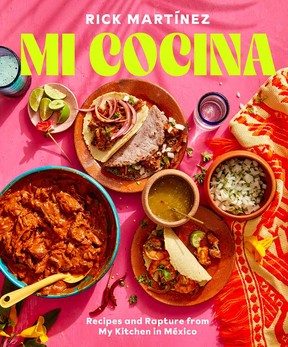 Some cooks were leery of him, Martínez recalls. They'd had encounters with authors in the past, who had recorded how they made certain dishes and published their recipes.
As a recipe developer, recipes are his intellectual currency and property, Martínez says. When he makes something new based on his experiences with chefs, cooks and puesto (market stall) vendors, he considers it a tribute to them.
He pays one such tribute to Doña Lupe, a restaurateur who makes "incredible" enchiladas mineras (salsa-bathed tortillas, with or without chicken) at her eight-seat spot in Guanajuato.
When Martínez arrived, he felt as if he were stepping into his grandmother's house. "If she had just squeezed my cheeks and given me a hug, it would have seemed completely normal to me," he says.
Article content
Lupe showed Martínez how she makes her enchiladas. Later, in Mazatlán, he created a dish that he wanted to eat and home cooks would be able to replicate — salsa guajillo-dipped tortillas with roasted chicken and queso fresco.
Even though the dish is different from the way she prepared it, Martínez says, he thinks she would appreciate it.
"It's my love letter to the person that cooked the food. They made that food with love. With their own personal sazón (flavour). With what they like to eat. With what they could easily access in their community. And I did the same thing," says Martínez.
Mi Cocina captures Martínez's journey in more ways than one. During America's racial reckoning following the murder of George Floyd in May 2020, he began to reconsider the compromises he'd made during his career. He would no longer use words such as "authentic," "genuine" and "cookable" to describe his Mexican recipes.
Article content
White authors routinely feature their takes on recipes that have existed for decades, even centuries, Martínez underscores. But their versions are free of labels such as "authentic," "genuine" and "cookable" — why should Mexican recipes be qualified that way?
"American publishers have done such a good job, unfortunately, of creating this language around non-American food. And you're supposed to look for titles that are 'real,' 'authentic,' 'traditional,' and that is the gold standard," he says.
"So, when I get a good comment by a reader, it's always like, 'This is the most authentic.' Or 'If you're looking for authentic Mexican food…' And it's like, well, no, actually. It's not authentic. It's authentic to me, and that's where it stops."
Article content
Once he felt free to write a book that was simultaneously true to Mexico and appealing to American home cooks, Martínez found joy in the process again.
After his trip, he had planned to return to New York City, where he had lived for 20 years. Instead, he fell in love with Mazatlán and bought a house in the Sinaloan beach town. Mi Cocina's working subtitle, "simple, modern Mexican," became "recipes and rapture from my kitchen in México."
"When you're cooking this food, I want you to be happy. To me, the kitchen is such a happy place. And so, this idea of food and rapture and sharing and love, that's a part of what Mi Cocina really is," says Martínez.
Cook this: Aguachile from Mi Cocina

Cook this: Poc chuc — orange- and lime-marinated grilled pork — from Mi Cocina

Cook this: Pollo al pastor — spicy-sweet chipotle-roast chicken — from Mi Cocina
Article content
Though the framing changed from proposal to finished book, Martínez always intended to take a regional approach with Mi Cocina.
People elsewhere in North America love Mexican food, he says, but many cooks only know of five dishes: tacos, enchiladas, nachos, burritos and quesadillas. As a result, recipe developers create different versions of those few dishes to satisfy people's desire to try something new.
He sees similarities in the way Italian cuisine was perceived 40 years ago in the United States: red sauce, pasta and pizza. When cookbook authors began to write books about regional cuisines, such as Ligurian, Sicilian and Venetian, people's awareness increased.
"Now when you say Italian food, almost the first question that is asked is, 'Okay, what region are we talking about?' And that's what I wanted to do with Mexican food," says Martínez.
Article content
"I wanted to open up this conversation about the regionality. It's a very big country. It's very diverse in terms of population, of Indigenous people, of immigrants, of culture, of climates and geographies, and what grows in those areas. And the food is reflective of all of those things."
Tacos al pastor and tacos árabes exist because of the Iraqi and Lebanese people who landed in Veracruz in the 1930s, he highlights. Mexicans adopted the trompo (rotating spit) the immigrants used to cook shawarma and swapped the lamb for pork — their protein of choice.
Queso menonita, a mild melting cheese renowned in the state of Chihuahua, came from Canada with the Mennonites who settled in Mexico in the 1920s.
Writing a regional Mexican cookbook was a way for Martínez to highlight the ways Indigenous peoples (e.g., Mayans, Aztecs, Zapotecs) and immigrants have influenced cuisines across the country. As a result, he hopes readers will look at Mexican cuisine differently and be inspired to cook regional dishes in their kitchens. But he also wants people to taste them in situ, as he did on his road trip.
"Even here in Mazatlán where I can get really, really good fresh ingredients, I still can't do a Oaxacan mole justice," he says. "But you can very easily and affordably buy a ticket to Mexico and go experience this place and that food in place. And that's what I want you to do. I want you to use the book to open up different regions and explore those regions."