Article content
Pabst Brewing Co. came up with the world's largest case of beer to salute America.
Article content
In fact, it will be hard to top the company's latest publicity stunt: A 1,844-pack of Pabst Blue Ribbon which was brought out for America's July 4 celebrations.
The 1,844-pack celebrates the Pabst's founding year and 250 of them went on sale across the country. The cases were 1.2 metres tall and one metre wide.
"The idea is that the 1,844-pack creates an event wherever it's located. We want people to stop and shoot photos of it and tell their friends about it," Pabst spokesperson Lee Dixon told Forbes magazine.
"Hopefully, it stops people in their tracks and gets them to grab our beer. We wanted to do this around the fourth of July, the biggest beer holiday of the year, because who wouldn't want to show up with a picture of an (1844) pack to a party?"
Article content
Previously, Pabst released a 99-pack (in 2019), and in 2021, they one-upped themselves with five Independence Day-themed 1776-packs to selected partners.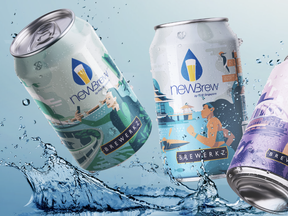 GROSSEST BEER EVER?
Speaking of beer, Singapore has unveiled what some might fear is a crappy version of the beverage.
"NEWBrew" might sound like a delicious blonde ale, but it is made with recycled sewage.
Yes, you read that right.
The beer is the result of a collaboration between the country's national water agency, PUB, and local craft brewery, Brewerkz. It went on sale in April.
"I seriously couldn't tell this was made of toilet water," Chew Wei Lian, 58, told Bloomberg. He had bought the beer from a supermarket to give the brew a try. "I don't mind having it if it was in the fridge. I mean, it tastes just like beer, and I like beer."
Article content
NEWBrew uses NEWater, Singapore's brand of drinking water recycled from sewage, which first flowed from treatment plants in 2003 to improve the island's water security. PUB says the new beer is part of an effort to educate Singaporeans on the importance of sustainable water use and recycling, according to Bloomberg.
Singapore's NEWater is made by disinfecting sewage with ultraviolet light and passing the liquid through advanced membranes to remove contaminant particles.
The concept isn't new, and has been done in Sweden and in Calgary.
"If you don't tell people it's made from waste water, they probably won't know," Grace Chen, 52, told Bloomberg.
Now that's a ringing endorsement.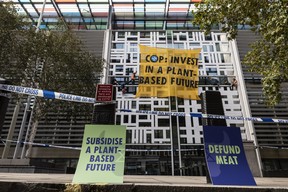 FRANCE'S PLANT-BASED MEATS NEED A NEW NAME
Article content
Just say "non" to animal-based names for plant-based food in France.
That's what lawmakers there decided when they determined plant-based products can't be named the same as food from animals.
No longer will consumers be able to buy vegan "steaks" or "sausage" when the new ruling goes into force in October.
"It will not be possible to use sector-specific terminology traditionally associated with meat and fish to designate products that do not belong to the animal world and which, in essence, are not comparable," the official decree said.
The regulation only applies to products made in France.
The report said that "butter," "milk" and "cheese" are already protected terms in Europe and can't be applied to plant-based products.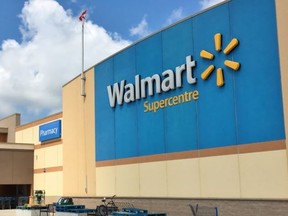 WALMART WOES IN ARIZONA
Police officers in Scottsdale, Ariz., had to warn Walmart customers to take care when ingesting over-the-counter drugs after a pack of laxatives was tampered with at a store.
A customer fell ill last week after taking a laxative which was purchased at a Walmart, according to police.
Officers later found that the laxatives were actually prescribed anti-depressants placed in a box of laxatives and then taped shut.
They later found more tampered-with laxatives at the store and removed them.
An investigation is underway.