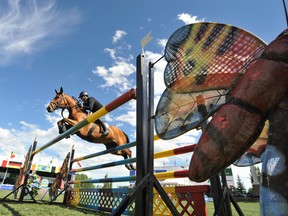 Article content
Let's just say Paul O'Shea gets the vote for rookie of the year at the Spruce Meadows summer series.
Article content
In his inaugural visit to the facility, the 45-year-old scrawled his name on the prestigious ATCO Queen Elizabeth II Cup, winning that grand prix on Saturday with Imerald Van'T Voorhof. O'Shea and his mount posted a single time fault over two rounds, earning his first victory in the International Ring after coming close on a few occasions.
Article content
"It's incredible," admitted the Irishman. "The first two weeks I did not ride well. It really took me a while to get used to the jumps and atmosphere and it just didn't go my way at all.
"Then last week and this week, I've been knocking on the door. Today, everything went good."
For his efforts, O'Shea pocketed a third of the total $500,000 prize pot.
The grand prix, attended by Alberta's lieutenant governor, the honourable Salma Lakhani, was decided under blue skies and brilliant sun, fittingly one of the better days of the entire summer.
Article content
The top 12 returned for the second round, five riders from Mexico, three from both Australia and the U.S., and a single competitor from Ireland.
O'Shea and his 14-year-old partner were the only pairing to negotiate two spotless efforts, the time of 67.54 just over the 67 seconds allowed in the second round.
"I rode the wall quite hard and I tried to slow it down, but I slowed down a little bit too much I think," suggested O'Shea. "I was a little bit lucky in the end that it was enough.
"Imerald is a fantastic partner. He's incredibly scopey. The jumps feel very small when you're on him, no matter how big they are. He's a great water jumper. I had a feeling he'd like it here because he's very brave."
There were seven clears in the first round and just two in the second.
Article content
"This is a championship event, you need all that Spruce Meadows has to offer over the two rounds," said course-designer Peter Holmes. "People expect that and you need to be a champion to jump these courses here."
Five riders finished with a total of four faults and it was Mexico's Eugenio Garza Perez and Contago who copped second spot, one of two clears in the second round. The others, Mexican Patricio Pasquel and Babel, were third. Australian Rowan Willis, riding with a separated right shoulder, finished fourth aboard Blue Movie.
"I'm thrilled with Contago," said Perez. "He's been in our string of horses for six, seven years. Very proud of him and what he's become. It's his first year consistently at this level and it's a pleasure to have a horse like that."
Article content
"Babel is no stranger to Spruce Meadows," said Pasquel of his 15-year-old mount, winner of the RBC grand prix in 2017. "Today he was jumping amazing and I rode, to be honest, a little bad to the Rolex double. I should have added a stride. It was my fault. But then he really tried, so we could be inside the 12. He jumped really well the second round."
Perez and the 11-year-old Contago were the first of the 29 combinations that attempted the class.
"If there's a grand prix that you want to go first, it's this type of format," he conceded, "just simply because what you do in the first round translates what you do in the second."
He may have started the summer off slowly, but O'Shea, who rides out of Wellington, Fla., feels the progression his stable experienced during the series will serve them well for the future.
Article content
"The young horses all learned a lot," he noted. "They took a bit of time to adjust at the beginning but it's been fantastic for them. I had to drop them down a little bit so they could get used to the atmosphere and the fences. But it really brought them on."
Britain's Matthew Sampson added to his successful summer at Spruce Meadows as he captured yet another event, the $75,000 AKITA Drilling Cup winning round. Sampson and his 13-year-old grey mare Ebolensky fashioned another fast performance, finishing the 10-horse second round in a clean time of 41.81. Irishman Conor Swail and Gamble were second (42.65), while Canada's Ali Ramsay and Bonita VH Keizershof Z took third (43.26).
It was Sampson's 10th victory and 19th top-three placing during the Spruce Meadows series. His girlfriend, Calgary's Kara Chad — with whom he runs Maplepark Farms in England — had a fifth-place finish in the AKITA on her top mount Quidamo F.
The North American closes on Sunday with the feature Sun Life derby.