Key events:
33 min: Borges, who has been on the end of some nasty fouls herself, tries to nick possession off Calligaris as she strides out of the penalty area, only to clatter into her. She's lucky to escape yellow there too.
31 min: More trivia.
29 min: Aigbogun, who is already on a yellow, is lucky to still be on the pitch. She lunges in on Borges and misses the ball and leaves her opponent nursing a sore shin. The referee has shown incredible leniency.
28 min: Portugal are still struggling to make a noise on the pitch but their fans are certainly making loads of it off it. The man with the drum is making the Leigh Sports Village shake.
26 min: Portugal spurn a good chance to cause the Swiss some trouble on the counter-attack. Reuteler was caught in possession by Amado, who feeds Borges. She races down the right wing and checks back, but her simple ball inside towards Jessica Silva is misplaced.
23 min: Switzerland win a free-kick on the right. Bachmann lofts it in and, as with the second goal, Portugal struggle to clear it, allowing the ball to drop in the area. Borges blocks an effort from Sow, I think, and after some scuffed attempts, Portugal clear and break through Dolores Silva, who is fouled.
20 min: A moment later Jessica Silva has a half-chance on the right hand side of the penalty area but chooses to try to cut back inside instead of shoot. Kiwic watches her carefully and nicks the ball away impressively.
19 min: Aigbogun is booked for a late tackle after Jessica Silva zipped past her on the right with a jet-heeled burst.
17 min: Portugal have recovered their composure but their next task is to try and make some inroads into this compact Swiss formation. They call for a penalty after Borges goes down after a collision with Kiwic but it is more in hope than expectation.
15 min: Trivia time, with reader Laura Rutishauser: "Hi Gregg. Is there any other team at this Euros where one of the players (the scorer of the first goal Coumba Sow) has a sibling that also plays in the national football team? Her brother Djibril plays for the men's football team. I have time to share this trivia given we are already two up, what a start! Hopp Schwiiz!"
14 min: The two early goals have done nothing to help the flow of the game really. Portugal look happy to hold on to possession in deep areas without taking risks, and the Swiss are content to sit back and admire their two-goal lead on the scoreboard.
11 min: Walti shows her class with a sweeping ball wide after stepping in to win back possession. A moment later, the scorer of Switzerland's second goal, Kiwic, pings a lovely crossfield ball out to Crnogorčević, who is a constant outlet for the Swiss on the right.
9 min: Walti stops Pinto in her tracks when Portugal were trying to get forwards with a rare counter-attack. Portugal win the ball back though and enjoy a little bit of possession. They need it.
7 min: Portugal need to try and settle down and play a few passes to one another. They look overawed. As bad starts at tournaments go, it's up there.
Goal! Portugal 0-2 Switzerland (Kiwic 5)
This is a dream start for the Swiss! Bachmann curls an inviting deep free-kick into the far post, where Kiwic leaps above Amado to head home. That was so simple but Portugal look paper thin at the back. The Swiss look so much more physical.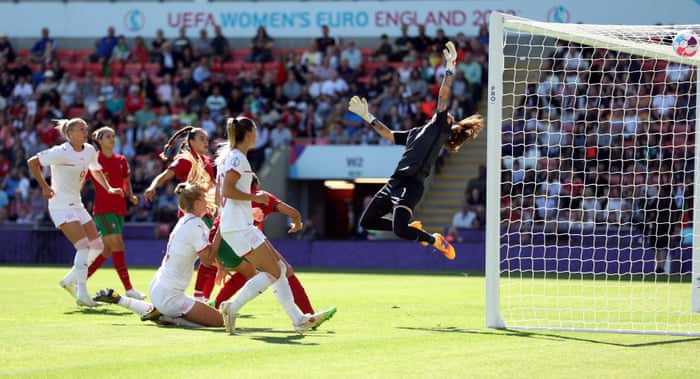 Goal! Portugal 0-1 Switzerland (Sow 2)
What a start for the Swiss! The ball breaks to Sow after a poor attempt to stop a cross from Portugal. The Swiss forward needs no invitation to unleash a drive into the far corner from the edge of the area that Pereira gets nowhere near.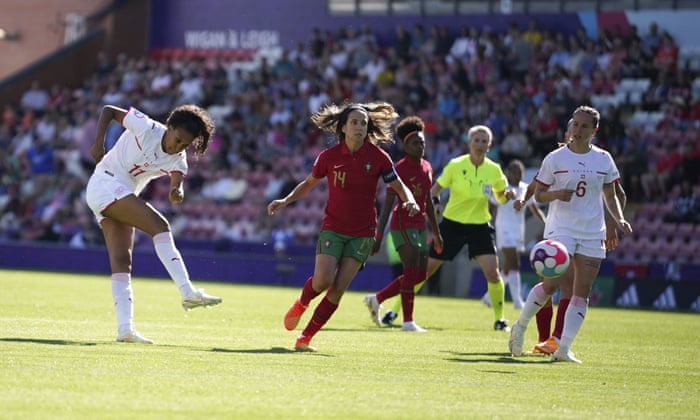 1 min: Peep! We're under way in Leigh. And I should add that Ana-Maria Crnogorčević of Switzerland earns her 136th cap for her nation – a new record. Quite the achievement.
There's a reasonable crowd at Leigh but it's certainly not full. The transport links aren't great so that may be a factor. The Portugal and Switzerland fans who are there sing the anthems with plenty of gusto though –and then somebody starts banging a drum to give it a proper European feel.
The players are led out of the tunnel by their respective captains. Walti has her gameface on as she marches out with her Swiss team in tow. And Portugal's Dolores Silva is completely in the zone as she stares ahead while marching out.
I think he's a Portugal fan.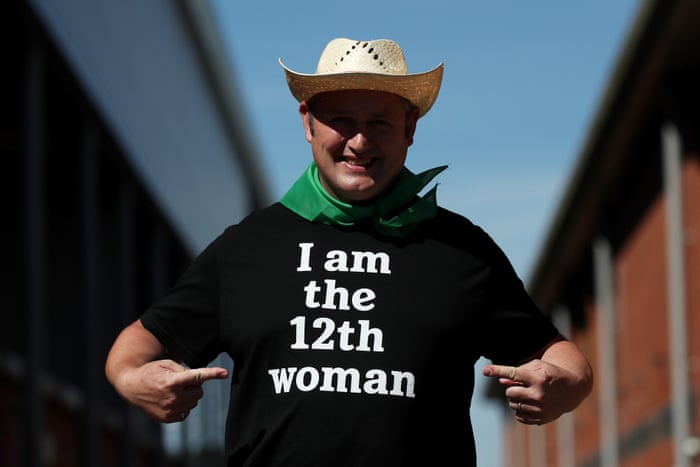 Not long till kick off in Leigh. In case you missed it – Germany were red hot yesterday:
The teams are out warming up on the pitch in Leigh. They won't need to warm up much. There's not a cloud in the sky and it's a perfect 20C.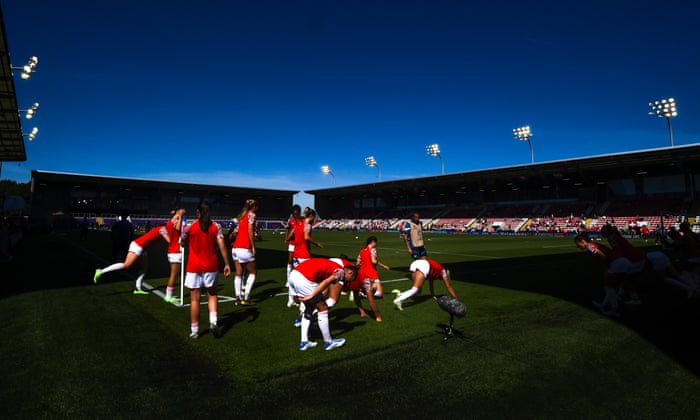 Our reporter at Leigh Sports Village, Will Unwin, has heard that Manchester City's Ruben Dias will be in attendance to show his support for Portugal. He also points out that one stand will be unoccupied because it is not fully all-seater. Uefa doesn't allow terracing at its tournaments. Seems a shame.
A few things to note from the lineups. Switzerland's talismanic captain Lia Wälti will make her 100th appearance for her country – and she's still only 29! And the exciting 19-year-old forward Kika Nazareth has been deemed only fit enough to start as a substitute for Portugal having only had one training session due to a minor injury.
Portugal will likely start in a 4-3-3 formation, with Switzerland playing in a more compact 4-4-1-1 with Coumba Sow playing behind Ramona Bachmann.
I hope the Swiss fans sing Bachmann's name to the tune of this.
Here's how the two teams will line up:
Afternoon! We saw plenty of goals in Group B yesterday – will Group C follow suit today? We kick off with the two less fancied sides. Portugal are only at the tournament because Russia – who they lost a playoff against – were thrown out after the invasion of Ukraine. Portugal's coach, Francisco Neto, said he did not want it to be this way because it means people in Ukraine are suffering.
Ranked 30 in the world, they are a team on the rise and better than they were two years ago. They had some decent results in their three warm-up matches, beating Greece twice, 4-0 and 1-0 and then taking a very creditable 1-1 draw away from a friendly against Australia. Benfica forward Jessica Silva is their one to watch – she missed the Euros in 2017 through injury and will be desperate to make a mark at this tournament. She's full of tricks and is at her peak now she is 27 years old.
Switzerland are ranked 20 in the world but not in the best form of late. They needed a penalty shootout win over Czech Republic to book their place here. "I don't give a shit how we won, we are going to the Euros," said captain Lia Walti afterwards. She's the leader in this team and she'll have to inspire some improved performances if they are to qualify. The Swiss haven't won in their last five matches and in their last three they lost 4-0 to England, 7-0 to Germany and 1-0 to Italy.
My prediction: Portugal 3-1 Switzerland