Toronto director talks about high-tech filmmaking techniques, western touchstones, and finding the perfect Princess Leia.
Reviews and recommendations are unbiased and products are independently selected. Postmedia may earn an affiliate commission from purchases made through links on this page.
Article content
Deborah Chow has directed episodes of Murdoch Mysteries, Fear the Walking Dead, Better Call Saul and The Mandalorian. But the feather in her cap (to date) is helming all six parts of Obi-Wan Kenobi, the Disney+ series that recently released its final episode. National Post film critic Chris Knight spoke to Chow about her accomplishment.
Article content
Chris: Hello fellow Torontonian! What's it like to take a whole series like this through from start to finish?
Deborah: I was really grateful for the opportunity to be able to do the whole thing, largely because of the format, because it was a limited series, and it was only six episodes. I think six you can handle; eight would probably be difficult. But also we were really trying to tell one big story. I was grateful to be able to follow through with the whole thing and really be with the actors for every nuance in the characters.
Chris: Do you have a moment in the series that you're most proud of?
Deborah: I really love doing the Vader stuff. You can't get more power on screen than bringing one of the most iconic characters back. So I really enjoyed doing the stuff in episode three. It was really, really fun getting to do Vader.
Article content
Chris: In directing two episodes of The Mandalorian, you've mentioned that the samurai films of Akira Kurosawa were a touchstone. Anything like that with Obi-Wan?
Deborah: For me, Star Wars always connects to westerns and Samurais in a big way. So the biggest difference between the two shows in terms of references is that if I was looking at classic westerns for The Mandalorian, then here I was looking at things that are a bit more atmospheric, with a bit more character and emotion. Things like The Proposition or The Assassination of Jesse James, so the storytelling has a slightly different lens on the western.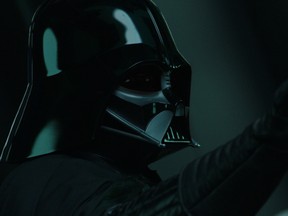 Chris: Can you talk about using StageCraft, which is basically a huge video wall that forms the background for scenes, and which was first used on The Mandalorian?
Article content
Deborah: We did a combination of StageCraft and practical effects. So it was very similar to the The Mandalorian in terms of the technology. What was exciting on this one was getting to develop the material knowing that it was going to go into StageCraft. So I was able to be already thinking in the development of the material about how it's going to play out, and how to use the technology to its fullest potential. Like episode four when we were doing the underwater base, just having the ability to know we can do that. We can put the water on the screens. It really changes the development of the project.
Chris: Are there cons as well as pros to this new technology?
Deborah: There definitely are. It definitely has its strengths, and it's better suited to certain scenes and certain things. So we actually did go out to the desert, and we did do some real location shooting. I think the biggest thing is just finding the right tool for this particular scene or this particular look. I will always love location shooting. So I wish we could have gone and done a ton more, but StageCraft makes things possible that we wouldn't otherwise be able to do, budget-wise.
Article content
Chris: Can you talk about working with Vivien Lyra Blair, who plays young Princess Leia?
Deborah: Casting her, and that character, that was the thing that everybody had the most anxiety about, because you certainly don't want to get that wrong. We looked at thousands of kids all over the world. And the biggest thing for me is that I don't want her to imitate Carrie Fisher. You just can't. A lot of it was about casting somebody that had a similar spirit. I very much told her: don't watch Star Wars, don't watch Leia, don't watch Carrie Fisher, we need to make this your own.
Chris: She's only 10. Had she seen Star Wars?
Deborah: She had. I kind of wish she hadn't honestly. But it was very sweet. She loved droids. So anytime between takes, all I would do is find the droid and then I would find Vivien. It was fun. There was a sense of play, and she was still a child.
Article content
Chris: Was Lola, Leia's little droid, a practical effect?
Deborah: That was a mixture. When it's fully flying, it's a visual effect. But we did do a lot of puppeteering with it. And I think, especially with children, it's so helpful to have the real element there. So we worked with the same people who did Grogu [Baby Yoda]. And you just kind of treat it like it's a character. Happy, sad, this is the arc of what Lola is going through in this scene.
Chris: And where you go from here? Are you thinking to do more in the Star Wars universe, or do you want to do something else?
Deborah: I think right now, honestly, the only thing I'm looking forward to is vacation. I've been on this for three years. So I think I just need to take a moment, have vacation and then figure it out. So I haven't quite got there.
This interview has been condensed and edited. Obi-Wan Kenobi is available on the Disney+ streaming service.