Article content
Creek Young is No. 1 … again.
Article content
That makes two-straight days on top, giving him the clear lead in bull riding in Pool B action of the Calgary Stampede.
And with the bulls making a mess of most of the rides — only three of 11 were taken all eight seconds Wednesday — that's got Young in good shape atop the leaderboard through two rounds.
"It's been a really good start to my Calgary Stampede," Young said. "I've drawn pretty good — two bulls that fit me pretty good, and I'm just blessed to get it done."
Article content
The Missouri man's pocketed $11,000 after another $5,500 won during Round 2 aboard Night Shift. He worked out an 88.0-point trip.
"He was absolutely incredible — perfect bull for my style of riding into my hand," Young continued. "I've rode him the past two years here for good scores, so I knew he was pretty rider-friendly.
Article content
"And we got it done."
The only other good workouts for the bull riders on Day 2 belonged to Coy Robbins, of Camrose, and Maverick Potter, of Waxahachie, Texas. Robbins completed his 85.0-point ride on Controlled Burn, while Potter's 82.5-pointer came in a dance with Night Walker.
On Day 1, just four bulls of 11 were ridden, including one by Young for that round's win, as well.
— He's known as Famous Ladies Man.
And one lady who's truly fallen for him is Kassie Mowry.
Especially after Famous Ladies Man carried her to the Stampede go-round win Wednesday in barrel racing.
And boy, were they fast.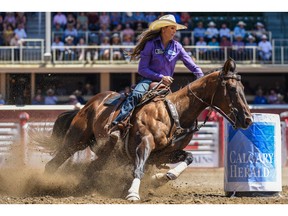 The Texas cowgirl and her horse steered their way to the fastest time of this year's Greatest Outdoor Show On Earth, clocking a quick 17.13 seconds.
Article content
Seems Famous Ladies Man is up for anything.
"He just seems to have the right style for it," Mowry said on Sportsnet. "He seems to stand up in all different grounds and handles all different setups, and he gives me an honest shot every time. He truly loves it and loves to go.
"He's done some pretty impressive stuff, so I never count him out. But I'm just so proud of him to bring it the right time. It's a good feeling."
Mowry grabs $5,500 for the second-round victory, while fellow-Texan Sissy Winn pockets $4,500 after another speedy trip of 17.25s. Pool B's Day 1 winner, Oklahoma's Wenda Johnson, finished third in 17.26 for $3,500.
— Tanner Aus made room for Shane O'Connell on the ride up to Calgary.
So Wednesday, O'Connell returned the favour.
Article content
Indeed, the South Dakota bareback rider made room for Aus atop the leaderboard during the second round, as they shared top marks to split the top-two money slots totalling $10,000. South Dakota's O'Connell scored 84.5 points aboard Dancing Queen, and Minnesota's Aus danced to 84.5 on Buck Wheat.
"It's an honour to get on good horses up here in Calgary," O'Connell said on Sportsnet. "It's an even better honour to have good travelling partners. I broke down on my way up here, so thank God 'Tan Man' picked me up on the way and we get to come down here and share a round. I couldn't be happier."
"Shane's riding so good," 'Tan Man' Aus said on Sportsnet. "He rode outstanding (Tuesday) and caught the last (pay) hole. And if he draws right, he's going to shine — and he did (Wednesday)."
Article content
— Tanner Brunner set the pace Wednesday in steer wrestling.
He was the first cowboy out and bulldogged his way to a quick 4.4-second time.
Then he had to sit and wait out the other 10 competitors before being named the go-round winner.
"It felt really good," Brunner said on Sportsnet. "Just getting the start — that's what I was really focused about and just let all my reactions take over."
Brunner's effort was good enough for the $5,000 first-place prize, just a half-second better than three-time world champ — and defending global king — Tyler Waguespack, who recorded a 4.9s time for $4,500. Nevada's Dakota Eldridge was a tick slower yet for $3,000, as was local bulldogger Harley Cole, of Okotoks.
Meanwhile, the leader from Ramona, Kansas, has a simple strategy in mind for the rest of Stampede week.
Article content
"Just win as much money as I can," added Brunner.
— Ty Harris didn't get the tie-down performance he'd hoped for on Day 1.
A no-time, in fact.
So he came right back on Day 2 with the victory.
The Texan took just seven seconds to wrap up the win and the $5,500 top prize for the round.
"I try not to let the day before affect me too much," Harris said on Sportsnet. "I missed (Tuesday). If I would've let that roll into (Wednesday), it wouldn't have gone very well.
"So I just try and take every day as a new day and have fun and enjoy it. I mean … we're at the Calgary Stampede, so I'm just happy to be here."
So, too, is fellow tie-down artist Tuf Cooper, who followed his first-round triumph with a runner-up time just a whisker slower than Harris.
Article content
Cooper, also from Texas, tied his target down in just 7.1 clicks and now has a commanding aggregate lead of $10,000 in the event.
Oklahoma's Bryson Sechrist turned in a 7.4s effort for $3,500.
AROUND THE CHUTES
Word is Cooper kept his promise to bring his legendary dad, 'Super Looper' Roy, up to the city if he'd won the first round of tie-roping. The senior Cooper, the 1996 Stampede champ, is expected to be here for the weekend to cheer on his kid, who is vying for a third Stampede bronze after triumphs in 2011 and '18 … The Stampede has cut back on the number of Wildcard Saturday entrants in each event — to 10 from 12 — so there is a qualification process now to make the last-chance dance. The top-two cowboys and cowgirls from Wildcard Saturday then advance to Showdown Sunday to join the eight qualifying through the two pools … Day 7 of the Stampede rodeo goes Thursday at 1:30 p.m. (Sportsnet West).