If approved by the provincial government, the average residential bill would increase by $16.91 per month, or $202.92 per year, by June 2024.
Article content
SaskEnergy is proposing to hike rates by 22.7 per cent over the next three years as the Crown corporation deals with higher natural gas prices and consumers grapple rising costs.
Article content
The corporation announced Monday the largest increase of 16.8 per cent is slated to take place this August, followed by smaller increases of 2.9 per cent in June 2023 and three per cent in June 2024.
Should the rate increases be approved by the provincial government, SaskEnergy predicts the average residential customer will pay an additional $11.95 per month come August, an additional $2.43 per month in June 2023 and an extra $2.53 per month in June 2024.
All told, the average residential bill would increase by $16.91 per month, or $202.92 per year, by June 2024.
Mark Guillet, SaskEnergy's acting president and CEO, told reporters on Monday the decision is a result of higher energy prices and inflationary pressures driving costs up.
He acknowledged the increase will likely sting customers already dealing with higher prices for gas, food and other essentials.
"It is a very tough piece, you know, having costs go up," Guillet said. "No one likes to be able to have an increase in cost."
The proposal to increase the rate comes as SaskPower has asked for an eight per cent hike over the next two years. It's recommended the first four-per-cent increase come into effect in September and the second four-per-cent increase in April.
The Rate Review Panel, which reviews proposed rate hikes, recommended on Sunday that the province adopt SaskPower's increases.
Don Morgan, the minister responsible for SaskEnergy and SaskPower, said in a statement the province is looking at the SaskPower recommendation, adding that decisions to increase rates aren't taken lightly.
Article content
He said the government needs to balance "the need to provide a reliable supply of power and ensure the company is on solid financial footing, while also being mindful of the effect that rate increases have on customers."
NDP MLA Aleana Young, the critic for SaskPower and SaskEnergy, told reporters the proposals are hurting customers at a time when they are facing higher costs.
Businesses have also said an incoming PST expansion will take a bite out of their revenues as they predict customers will reduce spending.
"This isn't optional, this isn't cutting out your avocado toast or your lattes; this is keeping your house heated or your home cool," Young said. "And we see a government who just doesn't care. We've seen nothing from them on this."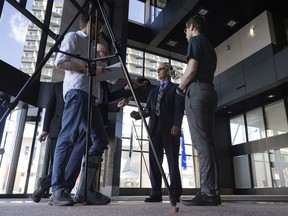 Young recommended the government use extra revenues generated through higher commodity prices to help provide relief to ratepayers.
The province reported an additional $3.66 billion in revenue in its fiscal year end, largely driven by resource prices. The deficit now hangs at $1.47 billion, about $1.14 billion less than the $2.7 billion that was previously projected.
Finance Minister Donna Harpauer has said "everything is on the table" when it comes to providing relief. The province is also considering paying down the debt as windfall revenues come in.
Morgan said while SaskPower has worked on efficiencies, it has paid an estimated $163 million in federal carbon taxes in 2021. He said it has avoided passing those costs on to customers, but said increases in the carbon tax will continue to put strain on the corporation and ratepayers.
Article content
Young accused the government of "pillaging" the Crowns of dividends, arguing the corporations could instead retain the dividends so they don't have to ask for rate increases.
SaskEnergy paid the government a $22 million dividend after posting a total net income of $82 million this past year.
When asked if retaining the dividend would have resulted in not asking for a rate hike, Guillet said he couldn't comment.
"The dividend is a requirement that we need to do and we need to contribute to the Province of Saskatchewan for all of Saskatchewan," he said.
Guillet said SaskEnergy's rates are the lowest in Canada. He said the corporation has a hedging strategy that aims to lock in lower future prices, which provide stability and shield customers from market volatility.
This strategy has meant SaskEnergy can lock in a rate of $4.20 per gigajoule. Some other utilities have had to implement rates of more than $8 per gigajoule, he said.
Young said these decisions rest squarely on the minister and cabinet.
"When they're out on their summer tour, meeting with friends, meeting with hopefully community members from all parts of the province, I know they'll hear this, and I hope they listen," she said.
The news seems to be flying at us faster all the time. From COVID-19 updates to politics and crime and everything in between, it can be hard to keep up. With that in mind, the Regina Leader-Post has created an Afternoon Headlines newsletter that can be delivered daily to your inbox to help make sure you are up to date with the most vital news of the day. Click here to subscribe.