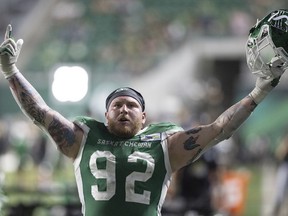 Article content
Top of the mind for the Ottawa Redblacks is winning a football game — they're soon heading to Hamilton to play in Saturday's Battle of the 0-4s.
Article content
But it's proving hard to move past an injury to their starting quarterback, Jeremiah Masoli. And, once they try to look beyond the injury, there are the peripherals, the mess out of last Friday's game in Saskatchewan that Redblacks players, coaches and higher-ups are so far this week biting their tongues on. The way it all went down was sickening: a cheapshot hit, a ridiculous celebration and racist comments by repeat offender Garrett Marino.
Article content
It took five days, but the Roughriders apologized Wednesday. So did Marino, sort of — it seems highly unlikely the words were actually his. To the Riders' credit, they pledged to make a donation in the name of Masoli to the Redblacks Mentorship Program. Good on them. The Riders have long been one of the class organizations of the Canadian Football League. As for Marino, his apology read as if it came off the fingertips of someone else. With the word massaging, it didn't come across as being really that apologetic or that sincere, perhaps at times bending the truth.
Article content
There's plenty to digest here, all coming out of the Redblacks' 28-13 loss. The background: Marino was handed a four-game suspension by the CFL — two games for a "dangerous and reckless" low tackle and for his celebration while Masoli was still on the ground; one game for an "illegal and reckless" tackle of Ottawa offensive lineman Dino Boyd on the previous play; and one game for verbal comments about Masoli's heritage.
Meanwhile, Masoli, who sat on a bench on the Redblacks' sideline Wednesday, waits for surgery that could keep him out for up to three months.
The dirty hit is one thing, something Marino has done before — just watch the clips of him going after opposing players' legs. The celebration is another level — flexing when an injured player down is classless. But racism? The apology from Marino confirms something that has been disputed by a legion of Riders fans: He made an "insensitive and culturally stereotypical remark." And there is never, ever a place for that on the field, in the classroom, in the playground. Nowhere. We haven't been told what Marino said; maybe it's better that way.
Article content
Know this: The league is not treating it with the urgency they should; they really stumbled with what they characterized as harsh punishment. One game lost for a racist comment? A comment there's no question he made, he admitted it? Any other league would throw the book at the offender. One year. Two years. A lifetime ban. Each could have been on the table here.
Players from the league have spoken out.
"I think they should suspend Garrett Marino for the rest of the football season without pay," Montreal Alouettes quarterback Trevor Harris told Natey Adjei a couple of days ago on the All Ball Podcast.
Winnipeg Blue Bombers QB Zach Collaros, a teammate of Masoli's in Hamilton, called it "embarrassing" for the league.
Article content
The Redblacks haven't made Masoli, who's expected to have surgery on his leg in the coming days, available to media. But he released a statement on Twitter on Tuesday night. The highlights: "After playing 12 games and already with a previous ejection and two fines before the incident, it is clear Garrett Marino cannot control himself. It's an unacceptable pattern of behaviour on top of the embarrassing way he celebrated as I was down shows how proud he is of his dirty ways. The worst of it is the vile and disrespectful type of behaviour and racial insults that were made toward me more than once. In the CFL, we say diversity is our strength, so there should be no place for the racial hate. It's been investigated and confirmed by the CFL and should not be tolerated on or off the field. It's sad that the hate and racist attitudes and racial insults are going to be punished with a slap on the wrist. One game for racist insults is simply not enough, in my opinion, and, hopefully, we can use this to promote growth and change for the better. We need to protect the integrity of the game."
Article content
Part of Marino's statement said: "I want to apologize for the actions that day, as I understand they have no place in the game of football. I also want to apologize to Jeremiah Masoli, as I did not intend to injure him. I have tried over the past few days to connect with him directly and will continue to do so. Regarding the comments I made during the game, I regret I said them, as I now understand their consequences. This was not my intent when speaking on the field, nor is it ever my intent in my day-to-day life. I know I play the game with an edge and during the game I made an insensitive and culturally stereotypical remark. I now understand this was hurtful to my peers and I hope I can be forgiven for that misunderstanding."
The statement also declared he would have no further comment on the incident.
Article content
Part of a statement from the Riders said: "The comments and actions of Garrett Marino on July 8 do not represent who we are as an organization or the work we do in the Saskatchewan community."
THE END AROUND: It's looking like Caleb Evans will start at quarterback for the Redblacks on Saturday in Hamilton. Asked if an injury to player like Masoli might inspire the Redblacks, coach Paul LaPolice said: "We tell the guys: Everybody is in this building because we believe in you, we believe you can help us. So, when we have an injury in the back end, we have new guys who have to step in and make plays. We have an injury to a quarterback? It's no different. Caleb's got to step and play. Players expect their teammates to step up and help them win" … Still missing from practice for the Redblacks on Wednesday: offensive lineman Randy Richards (pectoral), defensive back/linebacker Patrick Levels (knee) and wide receiver Justin Hardy (hamstring). Participating in a full practice were: wide receiver/returner Terry Williams, offensive linemen Ucambre Williams and Hunter Steward … The Redblacks are No. 7 in the CFL Power rankings, ahead of Edmonton and Hamilton. East Division foes Toronto and Montreal are at 5 and 6. WInnipeg, of course, is No. 1, followed by Calgary, B.C. and Saskatchewan … Guess it was Hard Rock Wednesday. Early in practice, the Redblacks played Metallica's Enter Sandman and Motorhead's Ace of Spades loudly through the stadium.