Even as development camp starts Monday, GM Pierre Dorion and Co. will be working the phones, too, to prepare for the Wednesday start of NHL free agency.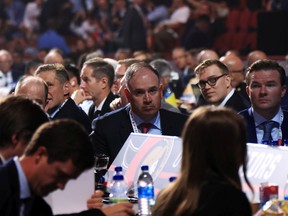 Article content
MONTREAL — There will be no rest for the weary.
Article content
General manager Pierre Dorion, assistant GMs Trent Mann and Ryan Bowness and the rest of the Ottawa Senators' hockey operations staff packed their bags Saturday and headed their separate ways.
The deal to get high-scoring winger Alex DeBrincat from the Chicago Blackhawks on Thursday was a major step in the right direction, but, even though Dorion scored a big fish with the two-time 40-goal scorer, this business is about what have you done for me lately and there's still more to be done to improve the roster.
Article content
After wrapping up the National Hockey League draft with nine new prospects added to the fold Friday, the Senators will welcome approximately 30 players to development camp starting Monday at the Canadian Tire Centre with on-ice sessions at the Bell Sensplex.
Article content
While keeping one eye on those prospects, Dorion and Co. will be working the phones, too, with NHL free agency set to start Wednesday at 3 p.m. ET. Potential trades were discussed at the draft and remain on the table, so we may see moves in the coming days.
Head coach D.J. Smith will be in town this week to watch development camp and to give input on decisions the club will make in free agency or through trades. It's the job of the coaching staff to fit all this together.
Goaltender Matt Murray, who has two years left on his deal with a cap hit of $6.25 million per season, is at the forefront of trade talks. The NHL goalie market is shrinking, but Murray hasn't made a move easy by thumbing his nose at a trade that would have sent him to the Buffalo Sabres on Thursday night.
Article content
There have been suggestions the Senators might buy out Murray's contract, but that doesn't seem realistic. There's enough savings on the $15 million left on his contract, and, if he comes back to camp unable to get the job done, he'll be sent to the American Hockey League affiliate in Belleville.
Troubled by injuries and inconsistency, the 28-year-old Murray would like to stay with the Senators, but at this moment he's the odd man out. Anton Forsberg is the No. 1 heading into camp, and Filip Gustavsson is also signed to a one-way deal for next season to be the backup.
The Toronto Maple Leafs, Edmonton Oilers and Washington Capitals are still looking for help in the crease, and so are the Arizona Coyotes. Say what you want about Murray's play, he's still a two-time Stanley Cup champion and could be worth the risk for a contender.
Article content
Murray was going through a good stretch in the net when he was injured during a March 4 game against the Coyotes. If healthy, he can still be a top NHL goalie because we've seen it at times with the Senators.
Why wouldn't Ottawa keep him, if that's the case? It's because getting that salary off the books would give Dorion flexibility to make other moves. The Senators won't spend to the NHL's $82.5-million U.S. salary cap next season, but they still have get four restricted free agents re-signed before camp in September.
Dorion met face-to-face last week in Montreal with the agents for centre Josh Norris, wingers Mathieu Joseph and Alex Formenton and defenceman Erik Brannstrom. Progress was reported on all four fronts and the hope is that something will get done sooner than later.
Article content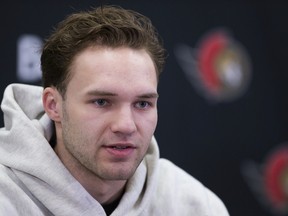 All four will be tendered qualifying offers by Monday's deadline, if they haven't been already. Dorion has stated restricted free agents Adam Gaudette and Victor Mete won't be back. Centre Chris Tierney and winger Tyler Ennis, both unrestricted free agents, are also gone.
Norris will be the most difficult to sign from the group of RFAs, while there's speculation Formenton may be dealt. He would bring a good return if the Senators decide to go that route, but his name didn't come up in trade talks at the draft.
The future of defenceman Nikita Zaitsev remains clouded at best. We're not going to get into the details because we've been through this before, but, if possible ,the Senators would like to upgrade on the back end with a right-shot defenceman.
Article content
The names most-often mentioned include MacKenzie Weegar, an Ottawa native with the Florida Panthers, Coyotes blueliner Jakub Chychrun and, lately, John Marino of the Pittsburgh Penguins.
The latter's name has been thrown out there because the Penguins are willing to move him and the Senators hired former Pittsburgh chief pro scout Ryan Bowness as their assistant GM. Marino is a right-side defenceman who has five years left on his deal with an annual cap hit $4.4 million.
The asking price for the 25-year-old Marino would be a lot less than what the Coyotes would demand for Chychrun. Dorion can also consider trying to upgrade through free agency, so there are lots of options.
The summer weather has kicked in and the changes in NHL circles are also heating up.
Twitter.com/sungarrioch