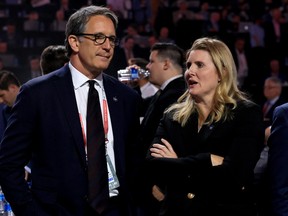 Article content
When Brendan Shanahan took over the Maple Leafs years ago, he talked a lot about the lack of prospects in the organization and the importance of building through the draft.
Article content
He was adamant about increasing the skill level of the Leafs to the highest level and, in that area, he and his general managers have succeeded.
Over time, they've added William Nylander, followed by Mitch Marner, followed by Auston Matthews, in a three-year haul that is almost second to none in hockey. But since selecting Matthews and the good fortune of winning the draft lottery, the Leafs have stumbled in trying to enhance their roster and stumbled certainly in attempts to hold on to their first-round picks.
Article content
They acquired Jake Muzzin for a first-round pick in 2019. That was decent value. The troubles started before Muzzin and really after him. In 2020, they traded away Patrick Marleau's contract for a first-round pick. In 2021, they got Nick Foligno for their first-round pick. This year, they successfully rid themselves of Petr Mrazek's contract in exchange for their first-round pick.
Article content
That was general manager Kyle Dubas making a terrible signing go away and costing himself a first-round pick to bury the mistake.
In the six drafts since Matthews was selected first, the Leafs passed on Robert Thomas and selected Timothy Liljegren. The year later they took the now restricted free agent Rasmus Sandin and they're not sure what he is at this point in time.
Now the cupboard is almost bare the way it was when Shanahan arrived. The only difference is the roster is top-heavy now. The roster ranks near the best in the NHL in names and talent. But the opportunity to get better and deeper was lost in bad contracts and ordinary selections. The plan was fine: The execution in recent years has been lacking.
THIS AND THAT
Article content
Dubas needs a starting goalie. That will probably be returning Jack Campbell or Colorado free agent Darcy Kuemper. Campbell, for the most part, can handle Toronto. Those who know Kuemper best wonder how he'll operate in a pressure-filled market like this one …. Kuemper would cost the Leafs more salary and more term. But he'd also play more games than Campbell … Dubas is kidding himself if he believes that one of Erik Kallgren or Joseph Woll will be his backup goalie this coming season. But, then, the other day he said he believed in Mrazek, which is why you can't tell what's truth and what's spin from the blue and white noise around the Leafs these days … Backups matter. Tampa has the veteran Brian Elliott as a backup to Andrei Vasilevskiy. Colorado has the veteran Pavel Francouz, who will play behind the newly acquired Alexandar Georgiev. If the Leafs sign a 50-game goaltender as a starter — Kuemper can play more than that — they'll need someone solid for 30 games. They can't be guessing wrong again on this, a la Garret Sparks or Michael Hutchinson … Jesse Puljujarvi confuses me. He's a winger playing on a team with Connor McDavid and Leon Draisaitl. If you were a winger, wouldn't you just about kill to play on a line with McDavid or Draisaitl? … It must be so concerning for NHL teams who have players, people they care about, in Russia and they're not certain as to the status of them for the coming season or for the immediate future … Shouldn't the NHL Draft be in Montreal every year? They brought in the kids of Guy Lafleur and Mike Bossy to open the event. They brought in Serge Savard to hand out the general manager of the year award. They brought Canadiens coach Martin St. Louis to the stage. The whole thing was so Montreal, so perfect.
Article content
HEAR AND THERE
If you're Seth Jones Jr. and you're signed with the Chicago Blackhawks until 2030, what could you possibly be thinking watching your team trade away 40-goal scorer Alex DeBrincat, and trade away big centre Kirby Dach, and bringing in Mrazek either to play goal or eat up payroll space? … The Montreal Canadiens think more of Dach than I do. He was given a great opportunity to star in Chicago. He never grabbed the ring … In the department of please explain: Montreal trading away emerging 22-year-old defenceman Alex Romanov. The history of trading away young defenceman is a history full of mistakes … Marc-Andre Fleury signed on the cheap in Minnesota for just $3.5 million a year for two seasons. The Leafs would have paid upwards of $5 million for Fleury, wouldn't they? … It doesn't matter where you are drafted, but that you are drafted. Cale Makar at No. 4 is a superstar and Nolan Patrick at No. 2 is trying to find his career. David Pastrnak was taken 25th overall. Roman Josi was drafted 38th. Tomas Kaberle, just about the best pick in Leafs history, was taken 204th in 1996. What matters, once drafted or even signed as a free agent, is what you do when you get that opportunity. Among those never drafted: Martin St. Louis, Ed Belfour and Curtis Joseph, with combined career earnings of more than $150 million … I worry about Liljegren, the first-round pick still trying to find himself. I worry about any player who is still learning and says they don't watch playoff hockey … You can't get through an NHL draft without some funny Arizona Coyotes moments. One, newly drafted Logan Cooley talking about how excited he was to be drafted by such a classy organization. The other came when someone on Sportsnet wondered if "they got a deal on their suits" when all the Arizona people showed up on the podium dressed exactly the same, looking like an ad for Korry's.
Article content
SCENE AND HEARD
Who should be most nervous about the sagging state of the Blue Jays? President Mark Shapiro? General manager Ross Atkins? Manager Charlie Montoyo? The Blue Jays had the 12th-best record in baseball heading into Saturday night in Seattle. With a payroll of $171 million US, that's unacceptable … Yeah, I believe Yusei Kikuchi has a neck strain. Doesn't that come from watching the home runs and line drives hit off you? … New name for the home of the Jays: Blackout Centre … Not enough is said about the surprising consistency of Ross Stripling with a Blue Jays pitching staff that is all but falling apart …. Vladdy Guerrero Jr. and the unexplainable Alejandro Kirk will be starting in the all-star game for the American League. And who had that parlay when the season began? Alek Manoah should be joining his teammates in Los Angeles for next week's festivities as well … You can bet it will mean something special to Sarnia's Rob Thomson to manage his first game in Toronto Tuesday when the Philadelphia Phillies come to town … It makes sense for the Raptors to wait on Kevin Durant. There's no rush to make a deal, even if there's a deal to be made. You know what you have to offer. You know that it might have more players of quality than anyone else can offer. You might as well let the circumstances play out — just as long as you have no intention, under any circumstances, of trading Scottie Barnes … Did you know the Raptors will have 10 coaches and just 15 players when the season begins … I'm proud to have written this in 2020 about Mike Grier and his brother, Chris, now general managers in the NHL and the NFL. If you didn't read it then, I'd suggest reading it now. It's a rather remarkable and unusual sporting story. And now it's historical (https://tinyurl.com/yc5p66rp). … On Friday, many of us had no phones, no television, no internet, no texting, no news outlets, no NHL draft, no social media, no banking, and, after the initial shock of it all it, seemed surprisingly serene and peaceful. A nice day, a good book, what could be bad?
Article content
AND ANOTHER THING
If you're not bothered by the Montreal Alouettes, maybe you should be. The Als fired Khari Jones, one of two black head coaches in the CFL, fired his defensive coordinator Barron Miles, a black man, benched Vernon Adams Jr., one of two black starting quarterbacks in the league, and fired two coaches at the end of last season, both black men. Now they have a white head coach, a white defensive coordinator, white receiver and secondary coaches, and a white starting quarterback. Not a good look … You pay good money to go and watch sporting events live. So why is it, at Argos and Blue Jays games, the people at home watching on television, essentially for free, get better replays on close plays than those who are paying to watch at Rogers Centre or BMO Field? The in-stadium operations at both places need to be far more fan friendly … Pinball Clemons is more patient than I am — so far. After Brandon Banks' tantrum and scrapping on the sidelines on Monday night, I would have said goodbye to him on Tuesday morning. No team needs that kind of selfish nonsense. Yet Banks is still an Argo — for now. On a short leash … Great to see Pierre McGuire back on television, doing what he does best … When the Blackhawks won three Stanley Cups over six years — a semi-dynasty in these salary-capped times — the collective MVP of those three championship runs was Duncan Keith. He averaged 29 minutes a game, recorded 51 points when offence wasn't really his gig, and did everything for Chicago. Next stop for the retired Keith, the two-time Norris Trophy winner and two-time first all-star and the Conn Smythe winner: The Hockey Hall of Fame … Happy birthday to Andre Dawson (68), Bob Bailor (71), Kevin Nash (63), Chico Resch (74), Sergio Alcantara (26), Adam Foote (51), Mark LaForest (60), Willie Wilson (67), Darryl Talley (62) and Sammy Garza (57) … And, hey, whatever became of Munenori Kawasaki?
Article content
[email protected]
twitter.com/simmonssteve
ALEJANDRO POZUELO WE HARDLY KNEW YOU
If you add them all up, all the MVPs and MOPs from Toronto teams over the years, modern era, the number is only 12.
Auston Matthews is the most recent, obviously, and the only Maple Leaf of this century to be so awarded. Doug Flutie is the only two-time winner from his two seasons with the Argos. The only Blue Jays in history to take home MVP awards were Josh Donaldson and George Bell. Carlos Delgado deserved one, but didn't get it. And no Raptor has ever been close to winning MVP, although Kawhi Leonard did take home a playoff MVP.
All of which makes the quiet departure of Alejandro Pozuelo all the more confusing. He was MVP of Major League Soccer in 2020, five years after Sebastian Giovinco won top honours. He came here in the pandemic, and didn't speak the language, we never really got to know him or what he was about.
Article content
That's the way it has been in recent years with pro athletes. There aren't any conversations with them and much of their availabilities are controlled.
It wasn't that way when Pinball Clemons won his MOP in the CFL, and the same is true of Chad Owens, Damon Allen, Condredge Holloway, and Bill Symons, all of whom took home the largest prize. We knew them more than we know most athletes today.
Of all the MVPs this city has known, Pozuelo might be the least known, because of the sport he plays and the league he plays in, and because of the circumstances of his stay. The work is never diminished. Winning an MVP, any time, in any league, means something. Only 12 have done it around here. Only five outside the CFL, only three if you discount CFL and MLS in any way. None of them quieter than the win and the eventual departure of Alejandro Pozuelo.
Article content
BRYAN MARCHMENT GONE WAY TOO SOON
For someone who never intended to make any friends, Bryan Marchment sure left a lot of them behind.
He played as rough and dirty a game as almost anyone who has ever played in the NHL. He was, by today's standard, a knee-on-knee suspension waiting to happen.
In his own words: "I don't expect guys on other teams to respect me. I hope my teammates, and the people around me, respect me. I'm not out there to make any friends on other teams. I'm out there to take abuse and give abuse."
And for 17 years, with nine different teams, Marchment took abuse and gave abuse as an NHL defenceman.
He wasn't a goon. He wasn't a designated fighter. He wasn't a player without skill. He was a rough-and-tough guy who played a rough-and-tough game and for those who would question it, he said more than once: "Go play tennis."
Article content
The playing part of Marchment's career ended 16 years ago and since then he had been scouting, mostly junior players, for the San Jose Sharks. He played four years in the OHL for Belleville before he was drafted by the first go-round of the Winnipeg Jets. One night, the Oshawa Generals were handing it to the Belleville Bulls, and the coach of the Generals, considering the circumstances ordered his players not to fight. This didn't make Marchment happy. He went to the penalty box late in the game, wanting to take his frustration out on someone and he saw Generals GM Sherry Bassin not far from the box.
"Mr. Bassin," he said to the GM, "You're the last person I thought would have a team full of sucks."
That story was told a few times on Thursday and Friday after Marchment was found dead in a hotel room in Montreal, the day before the NHL draft. That, and a whole lot more of them. This hit Leafs president Brendan Shanahan particularly hard.
The pair played minor hockey together and against each other in the old MTHL. They played against each other in the OHL. They were roommates together at the 1987 NHL draft. They played most of their NHL careers against each other. "I'm gutted," said Shanahan, speaking for himself and maybe not knowing he was speaking for so much of the hockey world.
Bryan Marchment didn't just leave bruises behind: He left a mark and left us way too soon at the age of 53.