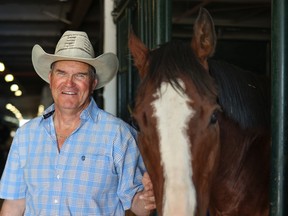 Article content
The man they call the Captain wants to keep it on cruise control.
Article content
At least for a couple more years.
Veteran chuckwagon driver Kirk Sutherland turns 66 in September and the Calgary Stampede has a rule that Cowboys Rangeland Derby competitors can only compete up until the age of 65.
"I'm going to ask them if they'll invite me back," said Sutherland, who added he still has lots of racing left in him after missing the entire 2020 season due to the COVID-19 pandemic followed by a scaled-back version of the World Professional Chuckwagon Association tour in 2021. "Hopefully they'll invite me back. The world has changed quite a bit the last 10 years on ages and that. It's their rule. They can change it if they want."
Article content
Since the Rangeland Derby didn't run in Calgary the last two years, Sutherland maintains he was robbed of a couple of years of racing at the biggest chuckwagon show in the world.
Article content
"That two years off, I'm not saying I should or I shouldn't, but I'm willing to compete next year," he said. "I'm competitive, so I'll see if they're going to stick to their guns or not."
Kirk's son Mitch definitely believes that dear old Dad still has what it takes to compete against the best in their profession.
"He's healthy and the horses are working, so I don't know if it's quite his time yet," said Mitch, who joined his father on the WPCA tour as a driver in 2004. "I don't think it should be determined by just an age. The guys know when they're ready physically and mentally when it's time to shut 'er down. He's as fit as anyone."
Following a two-year absence, the Sutherlands are pleased as punch to be back competing on the Rangeland Derby track in front of fans in the GMC Stadium stands.
Article content
"It's very nice," said Kirk, who was sitting sixth in the WPCA standings heading into the 10-day show in Calgary. "It's just about impossible to run a wagon without being here. Just it costs too much. It's a big boost for my sport."
Through five nights of racing action at the Greatest Outdoor Show On Earth, the veteran reinsman from Grande Prairie, Alta., is sitting in 12th spot overall with hopes of rising up in the standings.
"I'm having a good year, I'm just not having the Stampede I anticipated, but it's a long ways from over," said Kirk, who finished second in Tuesday's fifth heat in 1:15.26 aboard his Silverhill Acura outfit. "It's not over yet, but you've got to stay in the hunt; otherwise it gets too far away."
Meanwhile, Mitch guided his Canada Malting wagon around the track in 1:14.47 to win the fourth heat, which helped him rise from 15th spot to 13th in the standings.
Article content
Off barrel 1 in the seventh heat, Chad Fike (Shaw GMC Chevrolet Buick) posted Tuesday's fastest time of 1:12.97 to win the top day money prize of $6,000.
Meanwhile, Layne MacGillivray took over top spot from Chance Vigen, who was assessed eight seconds in penalties in the ninth heat. Driving his Spray Lake Sawmills outfit, MacGillivray has a total time of 6:09.35, which is just 15/100ths of a second faster than four-time Rangeland Derby champion Kurt Bensmiller (Custom Truck/Dynamic Capital).
Both Kirk and Mitch brought enough horses into their barns to run three outfits each throughout the 10 nights of racing.
"They have a new guideline where you can only use a horse six times, so that's going to have a bearing towards the end of the meet — just you've got to have that extra outfit now and you've got to use them," said Kirk, who outraced Jason Glass, Vern Nolin and his son in the 2016 dash for cash in Calgary to win his first and only Rangeland Derby title. "I had an outfit back then that everybody agrees it's one of the top that there was. I think it was muddy just about all week, too, I remember that."
Article content
Although he would have liked to win, it was still a career highlight for Mitch to finish second behind his dad.
"It was pretty memorable — the smile on his face," Mitch said. "All the hard work had kind of come to fruition. He had been driving a wagon for 40 years and chasing the Calgary title for 40 years, so that's pretty special.
"I remember it was a wet year. I think it rained every day except for one day. It was all sloppy, but for whatever reason the horses liked it. We had a fun week."
Without the support of sponsors like Silverhill Acura and others that bought his tarp throughout the season, Kirk said he probably would have had to have packed it in a long time ago.
"Me and my son, we have some financial support, that's the biggest thing," Kirk said. "We have businesses that help pay for the wages and the fuel and stuff like that to go down the road. Then in the oil field, you get to know quite a few guys and stuff like that. The oil patch is a big contributor to the wagons. It's surprising."
Article content
CALGARY STAMPEDE RANGELAND DERBY
Tuesday — Night 5
Driver, Sponsor, Time, Faults, $, Total (place)
1. Chad Fike, Shaw GMC, 1:12.97, 0, $6,000, 6:10.94 (4)
2. Chance Bensmiller, Flynn and Partners, 1:13.04, 0, $5,200, 6:14.43 (10)
3. Kurt Bensmiller, Versatile Energy Services, 1:13.21, 0, $4,600, 6:09.50 (2)
4. Darcy Flad, Equi Pride, 1:13.32 0, $4,200, 6:11.51 (5)
5. Obrey Motowylo, Shel-Bar Electronic Industries, 1:13.56, 0, $3,900, 6:10.71 (3)
6. Layne MacGillivray, Spray Lake Sawmills, 1:13.58, 0, $3,600, 6:09.35 (1)
7. Evan Salmond, MobSquad, 1:14.12, 0, $3,500, 6:14.43 (11)
8. Codey McCurrach, Western RV Group/Simco Mgmt., 1:14.24, 0, $3,400, 6:20.14 (20)
9. Mitch Sutherland, J Vair Anderson, 1:14.47, 0, $3,300, 6:15.70 (13)
Article content
10. Danny Ringuette, Genesis Aviation, 1:14.62, 0, $3,200, 6:17.05 (17)
11. Doug Irvine, Private Sale Financing, 1:14.81, 0, $3,100, 6:12.66 (7)
12. Kris Molle, Visit Lethbridge.com, 1:15.02, 0, $3,000, 6:12.55 (6)
13. Cody Ridsdale, Dream Catcher Log Homes, 1:15.13, 0, $2,900, 6:16.96 (16)
14. Kirk Sutherland, Silverhill Acura, 1:15.26, 0, $2,900, 6:15.46 (12)
15. Troy Dorchester, Cam Clark Ford, 1:15.34, 0, $2,700, 6:16.60 (15)
16. Ross Knight, SummitESP, 1:15.39, 0, $2,700, 6:17.76 (19)
17. Mark Sutherland, Cowboys Casino, 1:15.41, 0, $2,500, 6:12.78 (8)
18. Jordie Fike, Kazen Auto Group (Summit), 1:15.45, 0, $2,500 ,6:20.27 (21)
19. Dallas Dyck, Friends of the Balance Found., 1:15.54, 0, $2,500, 6:21.24 (23)
20. Jason Glass, Birchcliff Energy, 1:15.61, 0, $2,500, 6:13.59 (9)
21. Troy Flad, Quick and Quality Projects Ltd., 1:15.76, 0, $2,500, 6:36.32 (27)
22. Vern Nolin, McCaws Drilling & Blasting Ltd., 1:16.25, 0, $2,500, 6:17.15 (18)
23. Roger Moore, National Motor Coach, 1:16.59, 0, $2,500, 6:22.97 (24)
24. Kris Flanagan, Arminox, 1:16.88, 0, $2,500, 6:28.75 (26)
25. Chad Harden, AK Casing & Tubing, 1:18.09, 0, $2,500, 6:27.88 (25)
26. Todd Baptiste, Sore Oilfield Services, 1:20.60, 5, $2,500, 6:21.21 (22)
27. Chanse Vigen, Philip Millar Lawyers PC, 1:20.63, 8, $2,500, 6:16.22 (14)