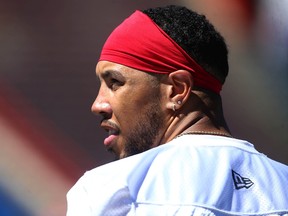 Article content
Reggie Begelton isn't stressing about the numbers.
Article content
If a few more passes came his way, the Calgary Stampeders receiver surely wouldn't complain about it.
If critics are pointing to his receiving yards this season and thinking he isn't making an impact, though, he thinks they're missing the point.
"I'm playing my part, I'm doing what's allowing us to get to the next win," Begelton said. "We're trying to go 5-0 and whatever it takes from me to help this team get to 5-0, that's what really matters.
Article content
"Just because it doesn't show up on the stat sheet, that doesn't mean I'm not doing anything out there."
Begelton has always been a team-first player. It's part of his identity as a football player and a big part of why the Stampeders were so eager to bring him back last season after his two-year journey with the Green Bay Packers.
Article content
There are, understandably, some people who are wondering why he isn't seeing more of the ball this season.
Through four games, he's been targeted 19 times and has come down with four catches for 160 yards and one touchdown.
It's certainly down from his per-game averages from seasons past, but there are a couple things worth noting.
First of all, Begelton has been a primary target in big moments when the Stampeders have needed a big play.
Secondly, opponents are focusing in on preventing Begelton from getting the ball in his hands, and that's creating openings for guys like Malik Henry and Richard Sindani, both of who have had big games this season.
And thirdly, the Stampeders are 4-0. What they're doing is working.
Article content
"It's early in the season, we have multiple athletes on this team, it's not just me and for the guy I am, I'm loving that," Begelton said. "It takes the pressure off me and it is what it is. We'll see what happens throughout the year. It's a long year.
"If we go 18-0 and win the Grey Cup, they're going to really care what the stats are? At the end of the day, no."
The Stamps themselves would obviously love to get Begelton more of the ball, but there doesn't appear to be even the slightest bit of friction about his contributions or usage.
They won't force the ball into his hands.
"Not force, but I'd love to give him looks," said Stamps head coach Dave Dickenson. "I try not to overthink things and just let the ball find the receiver that's open. I think Reggie is an unselfish person by nature but he'd love to have a big game. It'll come but right now in the system, it hasn't been there."
Article content
NOT SURE JUST YET
Jonathan Moxey increased his work at practice on Wednesday, but it's still not entirely clear whether he'll be available for Friday's game.
The Stamps boundary corner sat out Tuesday's practice and was limited on Monday because of a hip injury.
"I think Mox is going to be a game-time decision," Dickenson said, hours before he was listed as exactly that on the Stampeders injury report. "I'm not sure if I can trust (that he'll play for) 60 minutes, but I'll see what I can do and let him have two more days so that certainly is something where I'd like him to play, I think he's one of our best.
"Also, I've got to be smart, though. I'm just not there yet."
Cameron Judge was also limited at practice and is listed as questionable for Friday's game. The Stamps will definitely be hoping he's their weakside linebacker against the Winnipeg Blue Bombers, especially after he had a monster game last weekend against the Edmonton Elks.
"He was limited," Dickenson said. "A lot of heat here and he was unable to go. I need him, I'll be smart, though. Same as Mox."
Receiver and kick-returner Jalen Philpot will officially miss Friday's game after missing all week of practice with a shoulder injury. With Sindani out, that likely means Luther Hakunavanhu and Colton Hunchak will see lots of time at the Canadian receiver positions, with Tyson Middlemost getting an increase in playing time, as well.
On kick returns, it's possible Shawn Bane will return to the lineup after being on the practice roster for the past couple of weeks.