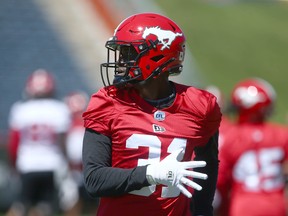 Article content
You could see how badly Tre Roberson wanted to get into the endzone.
Article content
The Calgary Stampeders boundary corner had just come down with his first interception since 2019 – his last full season in the CFL – and was sprinting down the sideline before cutting to the right and then back to his left before hitting the turf at Commonwealth Stadium about 15 yards short of a touchdown.
Article content
So yes, he really wanted to complete the pick-six.
Coming up short didn't take away from the thrill of finally getting another pick, though.
"Man, it felt real good. Glad to be able to get the ball in my hands and continue to play in coverage, continue to play good technique and good things happen," Roberson said.
"I wanted to get in so bad, I lost a little energy when I was running up the field so I tried to cut back and ease my way in but it didn't work, I just ran out of gas."
Article content
Roberson's late-game interception pushed the Stampeders' season total to seven, which is already more than they had in the entirety of the abbreviated 2021 season.
It was also the second of the game for the Stampeders DBs, who had been hearing all about how their linebackers had three picks on the year and defensive tackle Mike Rose had one prior to the game.
Trumaine Washington had the earlier interception for the Stampeders and acknowledged with a smile that it was nice to quiet down the playful chatter from the linebackers a little bit.
"Oh yeah, that was pretty dope, just finally making a play. It's been a long time coming, that was nice," Washington said. "The d-line and the linebackers are always kind of teasing us about them having the most picks, but it's go-time now, the DBs are gonna rack them up."
Article content
With the seven interceptions, the Stamps are only one behind the Winnipeg Blue Bombers – who they face Friday night – and the Saskatchewan Roughriders, who both have eight. For a team whose defensive backfield has been hit hard by injuries early this season, that's a pretty impressive place to be.
NO CHANCE
Do not expect the Stampeders to say anything in-advance of Friday's game that the Bombers might use as bulletin board material.
The Stamps are obviously well aware that this weekend's matchup is between the last two undefeated teams in the CFL. A win would make be a statement-of-intent, for sure, and amount to the Calgary crew staking its claim as the team-to-beat in the CFL.
If the league's marketing people have any idea what they're doing, Friday's game will be promoted as the heavyweight slugfest that it is.
Article content
Just don't expect the Stamps to say anything similar.
In multiple post-practice interviews Monday, head coach Dave Dickenson and the Stamps all downplayed the significance of the game.
"We're just trying to get better, we just want to play better," Dickenson said. "If you put too much stock in who you're playing you lose track of what's important. As a team, you want to get better."
Roberson – who never talks trash in the media – stuck with the same message.
"I mean, it's a game," Roberson said. "It's a big game and we know it's a big game, but every week is a big game for us so we're going to work our tails off to go there and put forth our best effort."
WILLIAMS OUT, BUT POSITIVE
The Bombers have a defensive line that is capable of being absolutely destructive, so the Stamps definitely need a healthy o-line this weekend.
Article content
Starting left-guard Zack Williams missed Monday's practice with a foot injury, but it doesn't sound like the Stamps are worried about his availability.
"I hope to see him tomorrow," Dickenson said. "Gotta have him, though. It's a tough group to go against."
Williams has been as good as anyone in the league at left-guard this season, so it will be worth monitoring how much he practices. His absence would be a big blow to the Stamps' chance, although Bryce Bell is certainly capable of playing if Williams isn't ready to go.
The Stamps also added some Canadian o-line depth on Monday morning when they re-signed Jonathan Zamora.
The 25-year-old was a third-round selection by the Stamps in the 2020 CFL Draft and was with the Stamps for most of last season before getting pick up off the practice roster by the Toronto Argonauts.
He was released on July 2 and the Stamps opted to scoop him back up.
"When John left us, it wasn't that we didn't like him, kind of played by the rules and he was claimed off the practice roster so when he was available we thought we'd take another look at him," Dickenson said. "He does need to improve and it sucks that we didn't' have a chance to work with him in training camp but I'd like to see him get better and be part of our team and play some good football."