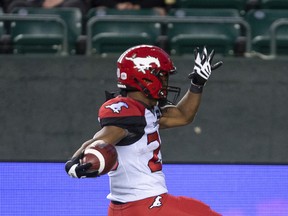 Article content
Peyton Logan wasn't even supposed to return the missed field-goal.
Article content
The Calgary Stampeders' plan was for Malik Henry to be out on the field in case the Edmonton Elks missed their attempt at kicking the ball through the uprights, but Logan asked his teammate to switch things up.
The switch-up worked out. Logan ran the ball back 122 yards for one of his two touchdowns on the night, and on Tuesday his efforts saw him rewarded with league-wide recognition as one of the CFL's three performers of the week.
Article content
"I wasn't getting the punt returns like I wanted and I was like, 'I want to play more,' so I was like, 'Malik, want to let me get that field-goal miss?' " Logan explained. "He was like, 'Yeah,' so when I got it, I just went and scored it. It was perfect blocking from my teammates, though. Nobody touched me."
Article content
Logan also had a 21-yard touchdown run in the third quarter, and his 199 all-purpose yards at game's end made it pretty much inevitable he was going to get a little love from the CFL.
The kick-return touchdown might not have been enough on its own, but contributing in two phases made him impossible to deny.
"Happy for him, I think he did a great job," said Stamps head coach Dave Dickenson. "I felt like Cam Judge could have been up in there and we had a couple other guys, we also know that sometimes when you're part of a lopsided score sometimes you don't get as much play but Peyton probably won those recognitions from special teams and on offence, he did a good job on both. Young player who is taking advantage of his opportunity and it's good."
Article content
Logan has been something of a revelation for the Stampeders so far this season. He's been a great second option at running back behind Ka'Deem Carey, providing a change of pace the team was sometimes missing last season.
And he's proving himself to be a more-than-capable punt-returner, too.
"I've liked him since he came in in training camp," said Stamps special-teams coordinator Mark Killam. "I love his centre of gravity, it's low, he's an explosive player and he fields the ball well and he wants to do well for his teammates and make plays and he's embracing what we're doing."
Logan, by the way, is the fourth Stamps player to be named as one of the CFL's top weekly performers this season. Rene Paredes and Titus Wall were selected in Week 2, while Henry got the nod after Week 3.
Article content
KEEP AN EYE ON IT
With Jonathan Moxey not participating in practice on Tuesday, the Stamps had to shuffle things around in their defensive backfield.
Moving DBs around has been a trend since the start of the year for the team, and the latest shuffle could see Elie Bouka getting his first start of the year.
That's not guaranteed, though.
"The one we're trying to wait on is Moxey," Dickenson said. "If Moxey can play — and I think he has a real good shot — if he can play, then Raheem (Wilson) can slot back in and work at the free safety. We worked (Diontae) Ruffin as well at the field corner. I feel I've got options."
The Stampeders were also short on Canadian receivers on Tuesday, as Richard Sindani missed another practice with a hamstring injury and Jalen Philpot was out with a shoulder injury.
Article content
Fortunately, the team does have options in Luther Hakunavanhu, Colton Hunchak and Tyson Middlemost. They have ratio flexibility, too, especially if Bouka is starting at safety, so there's no real telling how it will all play out.
QUICK HITS
Zack Williams was back at practice on Tuesday after missing out on Monday's session. The offensive guard has been excellent in every game he's played this season, so it's a big boost for the Stamps that he should be available against a Bombers team that boasts a dangerous defensive line … There's enough controversy around the CFL right now that it's really not worth getting too upset about something like Judge not getting recognized as one of the CFL's Top Performers this week. The Stamps linebacker had a great game on Friday against the Elks, though, and there doesn't seem like there's much harm in recognizing that here. If people outside Calgary aren't seeing how great Judge has been this year, it's probably inevitable that they'll notice soon enough … If Philpot can't play, I've got to assume Shawn Bane will be back in the lineup returning kicks. He did well in that spot earlier this season and the decision to bump him to the practice roster wasn't based on anything that Bane himself did wrong.