These are rocky days for tech companies, but the Canadian scene looks stronger than it used to be
Article content
If tech investors and start-up entrepreneurs were nervous about the recent market volatility, their concern was not immediately obvious during the sold-out Collision conference in Toronto last week.
Article content
Some 35,000 people from 130 countries flocked to Canada's biggest city for the first live edition of the popular gathering of the technology industry's jet set since the pandemic forced the event online in 2020. This year's crowd was nearly 40 per cent bigger than the one that gathered in 2019, despite the destruction of hundreds of billions of dollars in paper wealth that has come with the collapse of tech stocks and crypto assets this year.
Still, despite the numbers, there was no denying the 2022 tech wreck clouded the celebration. Collision came amid unsettling market volatility. Canadian startups are laying people off or putting hiring freezes in place, and many younger entrepreneurs — many of whom started their businesses during the pandemic — are staring down their first-ever bear market.
Article content
Even the cryptocurrency industry, which was on such a roll ahead of the conference that planners gave crypto entrepreneurs and investors their own stage, couldn't escape the storm clouds, coming under pressure in recent weeks as the price of bitcoin briefly dipped below the critical US$20,000 mark earlier in June.
Michele Romanow, co-founder of Toronto-based CFT Clear Finance Technology Corp., the startup fundraising company better known as Clearco, acknowledged that the economy could be headed for a recession as central banks rapidly raise interest rates to put a lid on inflation. Still, she said she's optimistic about Canada's entrepreneurial resilience, pointing to the innovation boom the country has been seeing in recent years.
Article content
"The Toronto ecosystem is on fire and continues to be," said Romanow. "I think we're going to go through that recession that's going to affect every one of us, but right now, there's… been a lot of great companies, last year was a record year in funding (with) $70 billion invested in Canadian companies."
Indeed, 2021 was a record-breaking year for venture capital, with $14.7 billion invested and a total of 752 deals, according to data from the Canadian Venture Capital and Private Equity Association. While deal counts declined in the first quarter from the final three months of 2021, the association noted that 2022 started with the second-highest quarter for venture capital investments with $4.5 billion raised.
Article content
Collision was an opportunity for startup entrepreneurs to bump elbows with the nearly 800 investors who were in attendance and pitch their business ideas. The event also featured a long roster of speakers and panel discussions focusing on themes such as cryptocurrencies, venture capital, diversity and technology.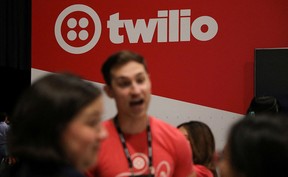 Sometimes, there were generational clashes. The event kicked off on June 21 with Vancouver-based Dapper Labs Inc. chief executive officer Roham Gharegozlou pushing back against Bill Gates' doubts about Web3, a recent buzzword in tech circles describing the "next iteration" for the Internet based on blockchain technology.
"With all due respect, I don't worry too much about people who don't see the future," Gharegozlou told a crowd at the event's centre stage.
Article content
At other times, there were heavy doses of Canadiana, as local organizers and officials used the event to make their case that Canada belongs in the big leagues. Canadian author Margaret Atwood shared thoughts on a changing society on the main stage after Toronto mayor John Tory, who boasted about the city's growing tech ecosystem during opening night festivities. In 2019 and 2020, Toronto was the fastest-growing tech market in North America with a 26 per cent boost in high-tech job growth, according to CBRE Group Inc.
And, perhaps in an attempt to offset the gloom, Collision made room for offbeat characters, including "Brampton Batman," the caped crusader often found patrolling the city's streets at night, who promoted the Brampton Innovation District. Dude With Sign also made the rounds.
Article content
Whether the party-goers are globally recognized thought leaders or people made famous through meme culture, the conference was largely a celebration of innovators and entrepreneurs, many of whom struggled to reach the point in their careers when they can discuss their successes and challenges on stage.
There could be new struggles around the corner, but Collision suggests Canada's technology industry could prove more resilient to recessions than it has in the past. The sector is now dominated by hundreds of promising companies, and no longer dependent on a handful of big-name companies such as Nortel Networks and Research in Motion.
Central bank digital currencies poised to be the foundation of the financial system, BIS says

FTX Exchange plans launch in Canada through Bitvo acquisition

WonderFi to become first Canadian-regulated crypto exchange listed on TSX
Article content
Romanow acknowledged that the next downturn will be challenging for most entrepreneurs, and hard lessons will need to be learned to navigate the bear market ahead. To get a sense of how these Canadian tech companies could fare moving forward, Romanow points to their established track record in clearing hurdles in the past.
"These companies are being built… with Canadian technology and Canadian talent and we've come a long way," Romanow said. "I started here in this ecosystem 15 years ago, and there was very little early stage capital, very little early stage talent, and so we've come a long way."
• Email: [email protected] | Twitter: StephHughes95