Key events:
"Hi Luke, pavé side here on sector 10, Eswars to Paillencourt," emails Steve Horne from over in France.
"Having ridden the sector I can honestly say it's like a carpet. It's hot and dry so it's going to be a super-quick stage. Hoping for a good showing from Thomas and Pidcock."
Very interesting Steve, thanks. Servais Knaven of Team Ineos was on Eurosport earlier saying that the time of year will make a big difference on the cobbled sectors, given the drier conditions … and your photo appears to prove his point. Is it possible that rather like the bridge on stage two, the cobbles won't be as dramatic as some are anticipating? Wind will still be a factor, of course, even if the road surfaces are much easier than they would be in the spring.
133km to go: The three chasers have joined the three escapees, so we have a six-man break up front. The riders in it are as follows:
Neilson Powless and Magnus Cort (EF Education–EasyPost)
Simon Clarke (Israel-Premier Tech)
Alexis Gougeard (B&B Hotels – KTM)
Taco van der Hoorn (Intermarché–Wanty–Gobert)
Edvald Boasson Hagen (TotalEnergies)
The gap between break and peloton is 1'12". The question is how the GC teams, as well as those who had hoped to target the stage win, want to play this. Are they going to try and pull the break back before we get to the cobbles after about 80km?
136km to go: Max Walscheid (Cofidis) is off the back of the bunch after crashing. He gave a thumbs up to the camera a little while ago so all appears to be well, if you don't count the crash.
139km to go: The average speed so far today, according to letour.fr, is 52.5km/h. Wowzers.
140km to go: Neilson Powless (EF Education–EasyPost), Simon Clarke (Israel-Premier Tech) and Alexis Gougeard (B&B Hotels – KTM) have joined forces and they are trying to bridge across to the three riders at the front. They are 27" behind the leaders. The gap between break and peloton is 48". This is looking like it's going to be a fast, fast day.
145km to go: A Froome fact, via the official Tour site live blog: "Bouvines, 18.9km, is where Chris Froome abandoned the 2014 Tour de France on stage 5 from Ypres to Arenberg-Porte du Hainaut after two crashes."
147km to go: This is fast and furious. The bunch is strung out behind the break – clearly there are plenty of teams and riders who are not happy to let those three riders up the road. But the gap is up to 17".
150km to go: The three riders up front now have a gap of 11sec. It looks like this is going to stick, but there are others trying to come across.
The riders in front are:
Taco van der Hoorn (Intermarché–Wanty–Gobert)
Magnus Cort (EF Education-Easypost)
Edvald Boasson Hagen (TotalEnergies)
155km to go: Taco van der Hoorn (Intermarché–Wanty–Gobert) was one of the first riders to attack. Magnus Cort, in polka-dots, is also having a bash now for EF Education-Easypost and he has joined Van der Hoorn along with Edvald Boasson Hagen (TotalEnergies). Those three riders have a little gap of about three-four seconds from the bunch.
We're racing on Tour de France stage five!
Christian Prudhomme does the necessary, waves the flag, and the attacks begin immediately off the front of the bunch.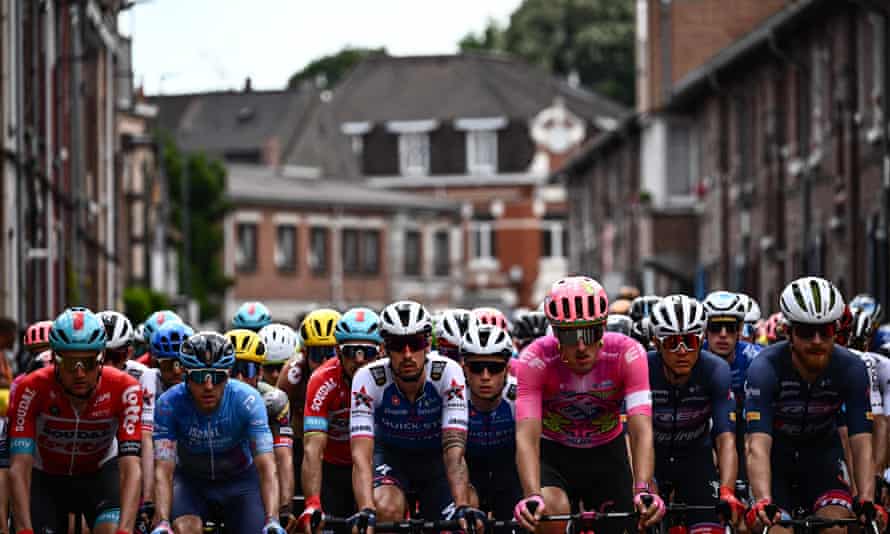 Lots of riders have dropped back to the team cars in the past few minutes, but the flag is about to drop up front. Any breakaway hopefuls need to be right up at the front of the bunch maintenant.
A small crash in the peloton with under three kilometres to go in this very long neutralised zone. No serious problems for anyone, thankfully, it would seem.
Wout van Aert of Jumbo-Visma, in yellow, shares a joke with Jasper Stuyven of Trek-Segafredo (left) while they ride behind an official race car in the neutralised zone.
Did you know? Jasper Stuyven owns a chocolate shop in Belgium. Textbook stuff.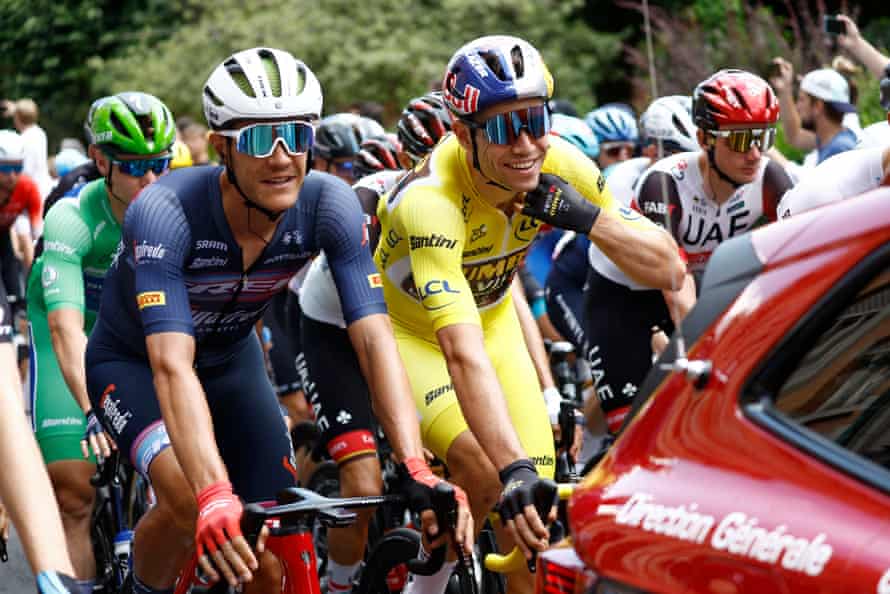 It's a long old neutralised section today. Still 10km to go. Looks like Peter Sagan has a mechanical and he has dropped back to the car. "He'll be hoping this is his problems over for the day," says Sean Kelly on commentary.
A few moments ago on Eurosport, the overall race leader Wout van Aert was asked how he is feeling before today's stage: "Excited … it's super nice to hit the cobbles again and I think it's something that really suits us. It will be important to stay out of trouble, and be in the front, but I also think we should make a move in the GC … maybe in the final there will be opportunities for myself, but we have to wait."
The riders are out on the road in Lille, rolling through the neutralised section, being cheered all the way by thousands of fans lining the roads.
A Lille less conversation, a Lille more action, please.
Mathieu van der Poel has a chat with Eurosport and is asked about his form: "It's not as good as I hoped … yesterday that was clear, on the climb at end, I couldn't follow. I also don't know why, but it's not going as I hoped."
He adds that he is not feeling ill.
"It's difficult to give an explanation but I hope to get better legs in the coming days," Van der Poel continues. "As we saw yesterday, Wout is on another level, so I think it will be really difficult to get the jersey … it will be the case the whole day to stay out of trouble … the classics teams are going to go for it but the GC teams are going to try and be in the front, too, so it's going to be really hectic."
On Eurosport, Adam Blythe is doing some analysis on the cobbled sectors. Sector five is ranked as one of the hardest and he also pinpoints sectors six, seven and eight as key parts of the race. Wind is going to be a factor, and due to the winding nature of the route, the wind will switch between a tailwind, headwind and crosswinds at different times.
"There's going to be carnage, there's going to be chaos, there's going to be a lot of drama," says Blythe.
In 2018, the Tour rolled across the cobbles to Roubaix and the German John Degenkolb completed an emotional stage victory after fighting back to fitness following a very serious crash in training. His friend Mark Cavendish was pretty happy for him:
Tributes have been paid to Richard Moore in the start area in Lille today, the journalist and broadcaster who died in April. Rest in peace, Richard.
Speaking of Wout van Aert, why not catch up on Jeremy Whittle's stage four report from Calais?
"Van Aert was monster yesterday but am I the only one who spends half their time wishing Cav was there!" emails Jeremy. "I still can't believe they didn't take him and if he had won one stage and then retired for ever I would have been happy! Looking forward to the mini Paris Roubaix today."
I am sure you are not alone, Jeremy. Although Jakobsen's win on Saturday would suggest it was the correct call, selection-wise.
What are your predictions and expectations for today?
Please send me an email or get in touch via the magic of Twitter.
Wout van Aert of Team Jumbo-Visma, following his swashbuckling stage four win in Calais yesterday, enjoyed a glass of champagne with his teammates last night.
He told them: "We had a good plan, I saw a committed team … in the final we really hit the peloton hard, made a great show. I want to thank all of you for giving me this opportunity to win a stage in the yellow jersey, it's really special to me … tomorrow, we try again."
That 2014 stage win for Lars Boom over the cobbles, as Chris Froome was left floundering behind, was a good day for the Tour's pun-peddlers.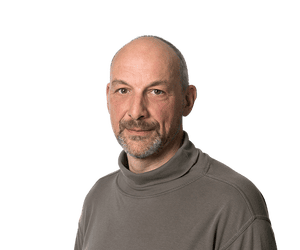 William Fotheringham
This is the first decisive day, with 11 stretches of treacherous cobbles in the final 80km. There will be a huge battle to be at the front for the first section at Villers-au-Tertre and that is bound to lead to crashes. In 2014, Vincenzo Nibali effectively won the Tour in a similar stage; this year, the big favourites will be Wout Van Aert and Mathieu van der Poel.
Today's route is more or less flat as a pancake, but that doesn't mean it's going to be easy …
The Hell of the North?
Today's Tour de France stage, dubbed a 'mini-Paris-Roubaix' by the BikeExchange-Jayco team sports director Matt White, comes loaded with danger for the general classification contenders. As a result it is also loaded with opportunity to gain time on rivals and, potentially, put some of them out of the GC picture altogether.
"Roubaix," as it's known for short, is consistently one of the most demanding, chaotic and entertaining races on the calendar. A puncture at a bad moment or a crash can end a rider's hopes in an instant as the peloton thunders over the iconic pavé. The difference today is that this one-day classic-style route has been inserted as a single chapter in this three-week, 21-stage Tour de France.
The route runs for 157km between Lille Metropole and Arenberg Porte du Hainaut – there is one intermediate sprint after 45km at Mérignies – after which the peloton's attention will turn to 11 cobbled sectors, starting at de Villers-au-Tertre à Fressain after 79.7km. It's going to be a nervous day for many and one the yellow jersey hopefuls will be relieved simply to negotiate with no major mishaps. And it should be great fun to watch.
Pre-race reading and more coming right up.
Stage stage time: 12.25 BST