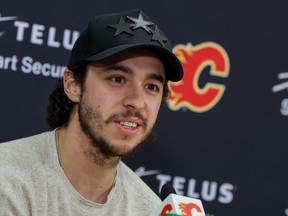 Article content
The Calgary Flames were awfully quiet at the 2022 NHL Draft.
Article content
That is not necessarily bad news.
As the Flames' brass hustled to catch Friday's flight home from Montreal, general manager Brad Treliving insisted that he remains optimistic that he'll be able to re-sign Johnny Gaudreau. The superstar left-winger is eligible to hit the unrestricted free-agent market next week.
Article content
"If I didn't think it was possible, then we'd probably have turned our attention somewhere else," Treliving told reporters at Bell Centre. "That's not to say it's a slam-dunk, but when you think there's a deal there to get done, you keep working at it."
The Flames made a lucrative long-term pitch to Gaudreau shortly after being eliminated from the playoffs and are apparently still waiting on an answer from their current face-of-the-franchise.
Article content
While that must be causing some stress for those at the Saddledome, Treliving hasn't lost his sense of humour.
He realizes Gaudreau's future was among the hottest topics in Montreal. He knows there has been no shortage of speculation on social media about what might come next if Calgary's best player bolts for another city.
"I was kind of hoping the cell-phones would go down a lot earlier," Treliving quipped, referring to the Rogers outage. "And maybe stay down."
Unless, of course, Johnny is trying to get through — preferably to say that he'll be sticking around.
If he doesn't ink an extension with the Flames, Gaudreau will headline Wednesday's free-agent frenzy. There might not be enough parking on his street for all the Brinks trucks. These sorts of offensive talents aren't often available.
Article content
Gaudreau racked up a career-high 115 points this past season. That includes 90 in even-strength scenarios, a new club record and the most by any NHLer since the mid-1990s.
The ace playmaker finished second in the leaguewide scoring race and fourth in Hart Trophy voting in 2021-22. He's already climbed to fifth on Calgary's all-time charts, with 609 points to show for his 602 appearances on behalf of the organization that drafted him as a fourth-round long-shot in 2011.
Treliving has repeated over and over again that he hopes Gaudreau — soon to turn 29 — will remain a fixture at the Saddledome. During a meeting with his agent this week in Montreal, he undoubtedly delivered that same message.
It's believed the Flames have tabled an eight-year contract offer with an average annual value of between US$9-10 million. No other suitor is allowed to go beyond seven years.
Article content
"I think both sides are focused on trying to get a deal," Treliving told reporters after welcoming three prospects — all forwards — on the second day of the 2022 NHL Draft. "These things take time. We've seen it in the past. Listen, Johnny is a real good player so there's going to be lots of attention, but this isn't the first player who's gone four or five days to free agency, and he won't be the last. I think it's real genuine on both sides that we're working to get a deal done.
"These things, there's a process to it," he continued. "What I've found in our business, too, is deadlines push decisions. We're creeping up on one. But I genuinely think that everybody's hearts are in the right place. We want to get the player signed, and I think he wants to be in Calgary. It's a big decision. It's a life decision. He's earned this opportunity, if he doesn't sign with us, to look at the market. That's something he has to consider. For us, it's just trying to get our player signed, and we'll keep working at it."
Article content
The uncertainty about Gaudreau's next move — and the impact it will have on their salary-cap structure — wasn't the only thing preventing the Flames from making a major splash on the floor at Bell Centre.
With only three picks, they didn't have a lot of draft capital to wheel and deal. They wound up selecting centre Topi Ronni at No. 59, left-winger Parker Bell at No. 155 and pivot Cade Littler at No. 219.
Treliving also needs to set aside some cap-space to re-up a hat-trick of key restricted free agents in Matthew Tkachuk, Andrew Mangiapane and Oliver Kylington. Qualifying offers are due Monday, and Calgary's boss indicated to media in Montreal that there will be "no big surprises there."
"I think our situation is pretty well-known — we have some players that need contracts, important players," Treliving said. "Our whole focus has been getting these guys signed and like I said the other day, we'll continue to do that. In Johnny's case, up until we can't. But we remain optimistic. They're important players, and that's what we're going to focus the next few days on.
"Our focus is on Plan A. And until such time as Plan A is not a reality, we'll focus on that."
Twitter.com/WesGilbertson